Apple (NASDAQ:AAPL) is a unique company due its size ($335B), earnings growth rate (125%), and volatility (1.3β). I have recommended option strategies on Apple since 2010 with tremendous results. For reference, please view the first and other articles in the series to fully understand the strategy and its strong potential returns.
Click to enlarge
A brief recap of this week in Apple [Down $14.13 (-3.6%)]:
Apple has held up remarkably well over the past month considering the economic uncertainty in the market, but the volatility continues. To put the price movement in context, this week's $14 decline was the least volatile week since early August.
click to enlarge images

Click to enlarge
Think about this: if Apple was up after Steve Jobs announced his retirement from the CEO role should Apple be down after the AT&T (NYSE:T) negative news? Amazon is expected to announce their new color Kindle soon but all reports point toward it competing more with Barnes & Nobles' (NYSE:BKS) Nook Color rather than the iPad. With the only other real competitor left, Samsung, rumored to be buying HP's (NYSE:HPQ) webOS it is becoming clear that Apple has won the tablet wars. Amazon (NASDAQ:AMZN), Research In Motion (RIMM), and the other Android tablets will have to fight for the remaining 30% market share as Apple has a stranglehold on the market.
I cannot stress enough that this not the time to panic but is a buying opportunity and chance to take advantage of the huge option premiums. If you can stomach the extreme volatility of the past few weeks then you can beat the market with the option strategies below.
Below I present three possible scenarios and the potential returns for the September 9 weekly options (Source: TD Ameritrade). The first scenario represents a negative outlook for Apple while the final two scenarios are more reasonable. These scenarios are just projections and there is no guarantee that they will come to fruition. As a general rule, selling calls with higher strike prices has greater potential return but additional risk of loss due to the lower (or lack of) downside protection. For more information on the fundamentals of covered calls, consult Investopedia.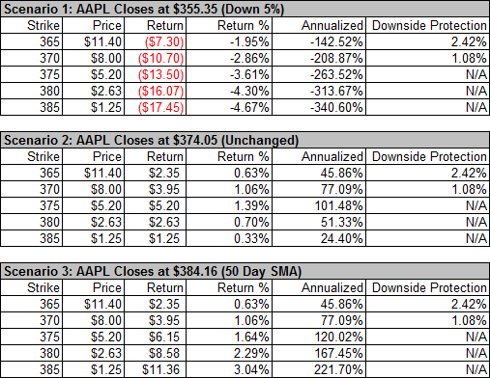 Click to enlarge
Additionally, if you would like even more information, I have prepared a sensitivity analysis for absolute return and percent returns, respectively. After studying the information above, these two charts make it easy to pick a strike price based on where you believe Apple will close on Friday.

Click to enlarge
With this information, executing a buy-write on AAPL September 9 (Weekly) 380s is the optimal risk-return strategy. If you are uncomfortable with this strategy I suggest an ordinary buy-write 375s or 385s. Additionally, if you are confident that the volatility will persist buying a 380 Call/375 Put Long Strangle to profit from these extreme price movements. An alternative approach is to sell out-of-the-money 370 puts and collect the premium without having to purchase the stock outright but even this is quite risky now. Note that if the stock declines to the strike price, you are obligated to buy the stock (or closeout the position).
Disclosure: I am long AAPL, T and plan to write AAPL September 9 385 Calls.