Most Chinese internet service firms were created from great concepts that originated in the developed market. The founders of Chinese internet companies made slight modification to the established business model and their businesses later enjoyed tremendous success in the largest internet market. For example, Baidu (NASDAQ:BIDU) first got its idea from Google (NASDAQ:GOOG) and now commands the largest search market share in China. Ctrip.com (NASDAQ:CTRP), which is similar to Expedia (NASDAQ:EXPE), is the leader in China's online travel agent (OTA) market with over 50% market share. Sina (NASDAQ:SINA) and Sohu (NASDAQ:SOHU) both provide web portals to Chinese internet users just as how Yahoo! (NASDAQ:YHOO) is the widely used portal in North America.
E-Commerce DangDang (NYSE:DANG) started off as an online book seller just as Amazon.com (NASDAQ:AMZN) once did and now is branching out to the fast growing general merchandise sales. And RenRen (NYSE:RENN), which not only copied Facebook's concept but also its color schemes, is now one of the top social networking sites in a country where foreign social networking sites are blocked.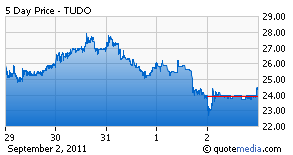 While some of the developed business models, such as internet search, web portal, OTA, e-commerce, and social networking, can succeed in China with slight or no modification, the established online video and streaming model that is widely successful here in North America is facing strong headwind due to China's different market dynamic and lack of regulation on intellectual property rights. Chinese companies, such as Youku (NYSE:YOKU) and especially Tudou (NASDAQ:TUDO) could potentially create no shareholder value because both companies rely heavily on the established business model to generate profit.
Unlike Tudou, Youku is actually better positioned for monetization because a majority of Youku's database consists of licensed Professionally Produced Content (PPC), such as movies and TV shows, which are more relevant to the majority of Chinese online viewers and the increasing viewer traffic ultimately translates to rising advertising revenue. In addition, Youku's focus on premium paid-content could be accepted by white collar viewers who prefer high picture quality and instant viewing provided by Youku's premium service over pirated content that has lower picture quality and requires substantial download time.
The market leading position and brand awareness among users, content providers, and investors allow Youku to raise additional capital if needed. However, such might not be the case with Tudou, which is suffering from declining market share and is lagging behind rivals in content acquisition and brand recognition.
Tudou, whose motto is "Anyone Can Be The Director of His Own Show", was the first user generated content (UGC) website in China. The company has over 90 million registered users, and over 200 million monthly unique visitors. In addition, daily video uploads are approximately 47,000. The company has a market cap of approximately $700 million and no earnings.
Even though it operates in the world's largest internet market, Tudou's attempt to replicate YouTube in China is backfiring due to the unpopularity of UGC among Chinese online viewers. The UGC model is successful in the developed market because of massive interest from online-video viewers, which directly contributes to YouTube's popularity in North America and Europe.
For example, some of YouTube's "Most Viewed" UGC are titled "Minecraft Survival," "Jay-Z Is Pregnant," and "Woman Punches Bear in the Face." However, Chinese viewers prefer PPC over UGC. On a quick visit to Youku, Sohu TV, or Ku6.com, users will notice the large quantities of movies and soap operas on the home pages. The difference in user preference creates an obstacle for Tudou to successfully operate in China because the company does not have the right product to attract online viewers.
Because it lacks a relevant content library that can attract viewer traffic, Tudou has the weakest growth in the online-video advertising market and is losing market share to Youku and Sohu. As of the most recent quarter, Tudou's market share in the online-video advertising market fell to 14% from 17% a year ago, while Youku gained 2% to 23% and Sohu's share jumped to 13% from 7.9%. The loss in market share could partially be attributed to a lack of relevant content that interests online viewers. As a result, advertisers allocate their budget to the largest player Youku, and increase spending on Sohu due to the growing acceptance of Sohu's Sogou search engine and Sogou browser, which is the 3rd widely used browser in China with a 23% penetration rate.
To address its weak content library, Tudou set out a strategy that focuses on content acquisition, hoping that movies and TV shows can increase viewership. However, this strategy is flawed because it does not differentiate Tudou from Youku, Sohu, Qiyi (which is owned by Baidu) and Ku6 Media (NASDAQ:KUTV), and monetization of paid video content in China is also impractical due to the wide availability of pirated content. By shifting its business model from providing UGC to PPC, it is an indication that Tudou's management is admitting that UGC is an unsustainable business model in China and the company's only monetization route is by providing PPC to attract viewers.
The shift in business model could still prevent Tudou from flourishing because, unlike the developed market where there is a strong intellectual property right protection and where viewers are accustomed to pay for premium contents, China's intellectual property right protection is still very weak and viewers are not accustomed to pay for content due to the availability and access to pirated content online and offline.
Despite these facts, Tudou's management still hopes to use approximately $60 million out of $174 million they raised via IPO on content acquisition and in-house development. This raises the question whether the company has a viable and practical strategy to monetize its website through means other than acquiring content in which prices have on average risen over 200% over the past year, a fact that both Youku and Sohu admitted recently during earnings calls.
Even if it succeeds in acquiring additional content, Tudou's content database also lags behind that of rival Youku, which already partnered with Warner Brother and Dreamworks Animation to provide over 400 movies, including Dark Knight and Kung Fu Panda, to its premium viewers. The recent partnerships allow Youku to develop its brand as the leading online-video site in China among content providers, creating a network effect that attracts future licensing agreements, which could hinder Tudou's pace of content acquisition.
On a final note, some investors believe that the Chinese government will eventually increase its intellectual property right protections, paving the way for online viewers to gradually accept paying for content. While that day will eventually come as China's regulation approaches the international standard, it is unlikely such change can take place in the near future, mainly because protecting intellectual properties of mostly foreign content producers is probably the least important issue on the government's agenda when it is facing challenges on inflation, construction of millions of affordable housing, increasing gap between rich and poor, social unrest, corruption, an upcoming political succession, and a potential weak export sector due to stagnant US economic growth. Without strong intellectual property right protection, monetization of paid-content is a failing business model in China's current market landscape.
When Tudou (Chinese term for "potato") first started in 2005, founder Gary Wang named the company according to the English idiom "couch potato," with the goal of moving couch potatoes from the TV screen to the computer screen. Regardless of whether it is in front of a TV or a computer, a couch potato ultimately has no income, much less a bright future.
Disclosure: I have no positions in any stocks mentioned, and no plans to initiate any positions within the next 72 hours.