You didn't imagine it.
Equity markets endured an exceptional amount of volatility in August. The CIVIX-20 [1], which measures absolute volatility, hit 90%, a level exceeded only during the stock market panic of 1987 and the financial crisis of 2008.
Does this mean the market is in for another massive sell-off? We don't think so. There are two main causes of stock market declines:
Over-valuation: a long bull market that leads to a particular sector becoming highly valued and a subsequent trigger event that causes stocks to become repriced at lower valuations. We saw this with the tech bubble in 2001, when "dot-com" companies with little or no revenue, let alone profits, were being valued in the billions. In 2008, over-valued and over-leveraged financial services companies were the cause of, and most hard hit by, the bear market for stocks.
"Risk-Off" Trades: A 'risk-off' trade is when investors sell equities and buy government bonds in response to global economic events regardless of the profitablity of the underlying companies. The Russian debt crisis of 1998 and the Mexican peso crisis of 1994 are examples of when investors 'flew to safety' for a short period before returning to equities.
The debt-ceiling drama in July, followed by the downgrade by S&P of US government debt in August is a classic case of a "risk-off" trade.
Investors sold the securities of cash-flow positive businesses to buy the securities of cash-flow negative governments. They did this, even though we saw continued evidence of an improving economy:
Initial claims for unemployemnt insurance continued to fall, and are back at their long term average with 1 out of every 320 workers filing per week (up from 1 out of every 180 workers filing in January 2009).
The private sector labor force grew for the 17th straight month in a row.
Business confidence [2] is at an all-time high.
Industrial production [3] was up month-over-month and year-over-year.
So, in the presence of economic growth, reasonable equity valuations and low interest rates, a 'risk-off' trade makes little sense to us: the best use of capital is probably not buying 10-Year US Treasuries yielding 2%.
Owning companies makes more sense. So what about daily volatility?
Can it be predicted? Can it be avoided? Should it be avoided?
The chart below shows the CIVIX-20, which gives an indication of intraday volatility over a 20-day period over the last 28 years. The periods of high volatility in 1987, 1998, 2002, 2008 and August 2008 stand out.
[Click to enlarge]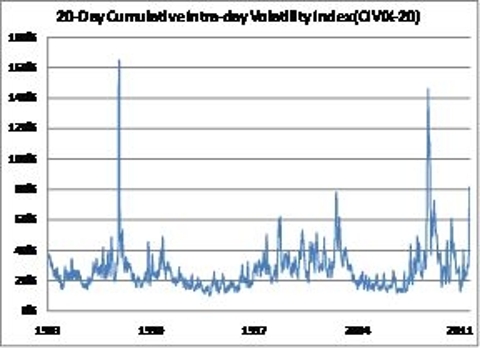 There is a general belief that volatility goes hand-in-hand with portfolio losses. But an analysis of the data during different periods of volatility reveals something else.
| | | | |
| --- | --- | --- | --- |
| Volatility Level | Low | Medium | High |
| CIVIX-20 | 0-20% | 20-40% | 40%+ |
| Avg. Daily Return | 0.034% | 0.037% | 0.038% |
| Avg. Daily Range | 0.83% | 1.39% | 2.79% |
| % of Days with Gains | 52.1% | 51.2% | 50.1% |
| Average Gain | 0.47% | 0.80% | 1.71% |
| Average Loss | -0.49% | -0.84% | -1.82% |
We don't believe that volatiliy can be predicted with a reliable degree of certainty. Even if it could, we know that periods of high volatility have slightly higher average daily returns. And what would it cost to avoid them? We ran a 28-year simulation that went to cash during periods of high volatility – it underperformed the S&P 500 by 110bps per year.
Relative to their expected earnings, global equities have fallen 18% since the end of June and are as inexpensive (10.5 x forward earnings) as they were in February 2009. The last time equities were this inexpensive, stock prices nearly doubled over the following 12 months.
We don't know if history will repeat itself again – but in the presence of low interest rates, moderate commodity prices, economic growth (albeit faster elsewhere than in the U.S.) and corporate profitability, it seems reasonable that more investors will put their money back into equities over the coming months – and this will boost stock prices, which would be good news for all of us.
Sources:
[1] The CIVIX-20 (20-Day Cumulative Intra-Day Volatility Index) is our proprietary volatility measure. It is the sum of the daily trading range – expressed as a percentage - of S&P 500 Futures Contracts over 20 consecutive trading days.
[2]Conference Board Index of Leading Indicators