Dollar General (NYSE:DG) is the largest discount retailer in the United States by number of stores with 9,500 locations in 35 states. Dollar General is one of the few, that had an excellent quarter in a tough economic environment.
The latest jobs report showed that U.S. Employers added no net jobs last month, and the unemployment rate stayed at 9.1 percent. I expect Dollar General to keep on growing sales in the coming quarters, especially if the economy were to continue to slow. The latest jobs numbers show that the economy may not be doing as well as many on wall street expected. This will benefit Dollar General as consumers look to cut costs and move more of their shopping to discount retailers like Dollar General.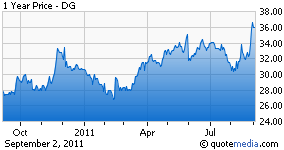 Here are some points I like about the Dollar General story:
Operating profit was $350 million, up 16% from the prior year. Margins did decrease, but this mainly had to do with the strong sales increase in consumable goods.
SG&A as percentage of sales improved by 54 basis points to 22.3%. This is primarily due to strong sales performance and better leveraging store labor.
Dollar General repurchased all of its outstanding 10.625% senior notes due 2015.
Net income for quarter when excluding the impact of the debt repurchase was $181 million, an increase of 25% over adjusted net income of $145 million in the 2010 quarter.
The year-to-date period saw net sales of $7 billion, an 11.1% increase over last year.
Same store sales based on a 52 week period are expected to increase 4-6%. This is an increase from Dollar General's previous expectation of 3-5%.
Dollar General plans to open approximately 625 new stores and remodel or relocate 575 stores in 2011. Dollar General opened 301 new locations in the second quarter and it looks to continue to increase its store footage by 7% this year.
Sales of Dollar General's private brands saw sales growth of 15% year-to-date outpacing overall sales growth. I see this as a great opportunity for Dollar General and I expect to see further growth in this area.
Dollar General is in a great position to take advantage of customers that are looking for more value. I look for this trend to continue and for Dollar General to be a big beneficiary of that trend. I'm bullish on Dollar General and I'm look for its initiatives to reward shareholders. Dollar General's growth plans as well as its private label brand will lead the company's growth going forward.
Disclosure: I have no positions in any stocks mentioned, and no plans to initiate any positions within the next 72 hours.