Many here on Seeking Alpha look to the holdings of large hedge funds for investment ideas. The market activity of the past weeks has highlighted one of the risks of following along. When a hedge fund with a large ownership position liquidates its holdings in a company, the stock price can get hit hard. Witness the stalactite like charts of C, WFC, and BAC. All had large downward moves on huge volume, no doubt exacerbated by the exit of hedge fund investors.
Tanzanian Royalty Exploration (TRX) may be particularly at risk for a sharp liquidity driven drop. Recently, trading volume has evaporated. Investors focused on the long side have pointed out to me that the short interest days to cover has dramatically increased from about 10 days in May to a peak of over 24 days at the end of July. The August 15th data shows that days to cover has declined to a still high 15 days as volume has increased. During the same time short interest has remained stable at slightly over 5 million shares. With the recent decline in the stock price and issuance of over 5 million new shares, I think that the likelihood of a short squeeze is minimal. I think that the risk lies in the opposite direction and that the liquidation of a large position would drive the price down dramatically.
Geier International Strategies Fund managed by Chris Gibson owns 9,679,791 shares of TRX, roughly 10% of the outstanding stock after giving effect to the recent equity offering. Based on recent volume, the number of days to liquidate this position would be in the 40 day range.
From the publicly available information, it appears that this is an extremely large position for the fund. Geier Capital filed Form D with the SEC in February 2010 showing sales of interests of $32,237,971. Less than one year later on 12/21/10, Geier International Strategies Fund made a 13-G filing with the SEC showing ownership of 8,276,739 shares of TRX. At the time, the stock was trading at around $6.80, making the market value of Geier Capital's position approximately $56 million.
In order to determine if that is a meaningful position for the fund, an investor would need to know the size of Mr. Gibson's fund. Section 13(f) of the 1934 Act requires institutional investment managers with investment discretion over $100 million or more of certain equity securities to file quarterly reports disclosing their holdings. The quarterly reports are filed on the so called Form 13F.
Chris Gibson/Geier Capital/Geier International Strategies Fund did not make a 13-F filing within 45 days of the end of 2010, leading me to conclude that the fund had less than $100 million assets under management at the end of 2010. Based on a range of assets under management from $32 million to $100 million, the position in TRX represented somewhere between 176% and 56% of the assets of the Geier International Strategies Fund. Clearly a position of that size would be a meaningful contributor to the p&l of the fund.
Since the 13-G filing in December 2010 only tells investors when a purchaser crosses the 5% threshold, we have no way of knowing the cost basis of the position in the fund. Roughly speaking the 5% threshold was 4.7 million shares. Therefore, based on the original 13G filing, I conclude that Geier International Strategies Fund bought around 3.5 million shares in the $6.80 range.
The balance of the shares could have been purchased at any time since inception. Below is the TRX chart since Geier Capital launched.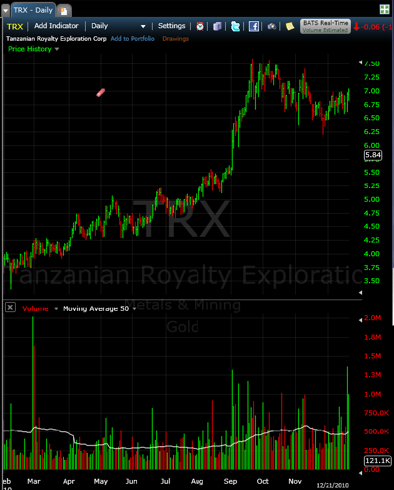 Based on the above chart, the fund could have had a significant unrealized gain at the end of 2010. Since the purchase price of the first 4.7 million shares could have occurred any time during the period, for the purposes of my analysis I will assume that the purchase was close to inception in the $3.90 range.
The table below is my estimate of the average price of the purchases in 2010.

Shares (millions)
Price
Inception

to Dec. 2010
4.7

$

3.90
21-Dec
3.5

$

6.80
Total

8.2

$

5.14
Tanzanian Royalty Exploration closed the year around $7.30. Very nice trading by Mr. Gibson, producing perhaps $17.7 million in unrealized profits on TRX and potentially a gross return for his fund of somewhere between 17% and 55%.
Fast forward to August 2011. If Geier International Strategies Fund has standard hedge fund terms, that $7.30 price for TRX corresponds to the high water mark of the fund. With the decline of TRX to the $5.80 range, Geier International Strategies Fund is below its high water mark as represented by the horizontal line on the chart.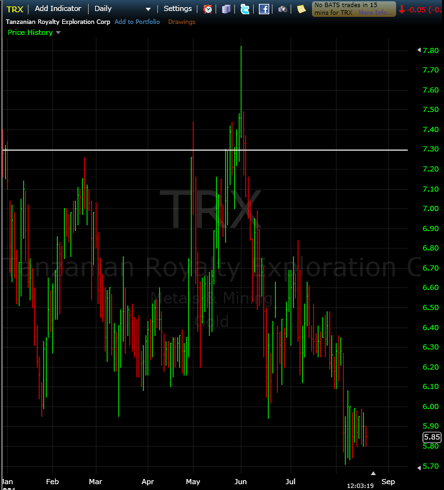 Additionally, according to a 13-G filing on May 2, 2011, Geier International Strategies Fund bought an additional roughly 1.5 million shares.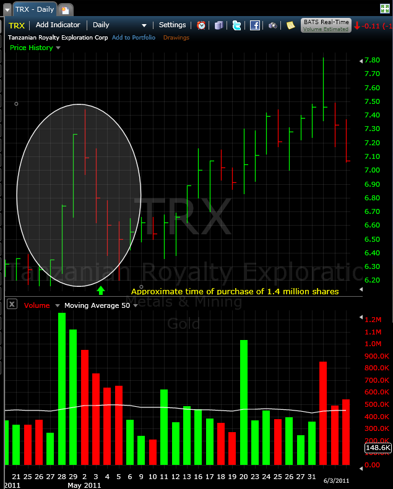 Besides having unrealized losses on the Dec. 2010 and May 2011 purchases, my estimate of the fund's cost basis moves up to $5.39.

Shares (millions)
Price
Inception

to Dec. 2010
4.7

$

3.90
21-Dec.
3.5

$

6.80
May 2011
1.5

$

6.80
Total

9.7

$

5.39
On Sept. 2nd, the stock closed at the $5.88. TRX is a short move from my estimate of Mr. Gibson's entry price. In tandem with the sell off in gold on Aug. 24th, TRX broke through the $5.70 offering price and traded as low as $5.38. At that level, based on my estimate, all of Geier Capital's unrealized gain disappeared. If the stock remains weak, the prospect that the fund sells shares increases.
Mr. Gibson was predicting a short squeeze in the piece he wrote of Seeking Alpha:
Worse yet, this short position in relation to average volume is very high. If it were to be covered over a period of one month, it would nearly double average volume every one of those days; imagine the marginal price impact of a sustained doubling of demand. When the dam breaks on this, there will be nothing but atrocious options available to this short.
The inverse is true as well. Geier International Strategies Fund holds a position twice as large as the aggregate short position he describes. Geier International Strategies Fund could conceivably hold the stock forever and hedge fund managers can tolerate unrealized losses. While I speculate that there are a variety of scenarios under which the fund would either be forced to sell or elect to sell.
1) Investor redemptions. Losses or lackluster performance are key determinants of a fund investor's decision to sell. I would venture, that with the stock price decline from $7.30 at year end to $5.88 on Sept. 2, that Geier International Strategies Fund has a negative YTD performance. Further individual investors in a fund may have a different return than the overall fund. An individual fund investor's return is dependent on when the investment was made. Additionally, losses in other investments may also cause an investor to redeem a profitable investment. This is especially true in a very volatile market. A manager has no control of an investor's other investments.
2) Poor performance. If the stock languishes, a portfolio manager might choose to sell. A portfolio manager only makes money if he produces returns for his fund. 3) Margin call. If the position is margined, a decline in price could trigger a margin call. Brokers have more stringent in house risk parameters with respect to concentrated positions within a fund and with respect to the liquidity of the position.
Realistically, I think that the stock would have to decline below $4 for this to be an issue. Given the liquidity in the stock, if any one of these scenarios unfolds, I predict that the stock price will come under extreme pressure.
Disclosure: I have no positions in any stocks mentioned, and no plans to initiate any positions within the next 72 hours.