A diverse product portfolio, innovative pipeline, geographic diversity, high-switching costs, and an inorganic growth strategy are crucial components of a durable competitive advantage in the medical device industry.
Risks And Opportunities
Stryker faces the industry-wide challenges of increased scrutiny by third party payers, regulatory headwinds, and intense competition from large players in the medical device market. For Stryker, the ongoing initiatives by government agencies, hospitals and third party payers to limit the growth of healthcare costs, particularly the efforts towards reducing price increases on orthopedic implants, poses a threat for the company's future operating results as 59% of the company's total sales comes from its orthopedic implants segment.
It has been reported that the roughly $3 billion spent on orthopedic devices represents ~3% of U.S. "overspend" on drugs and devices and 0.45% of total healthcare overspend. The cost of hip and knee implants make up about 40% of the total cost of the hip and knee surgical procedure. These devices will no doubt be the subject of continued cost-containment efforts.
In addition to pricing pressure from third-parties, the 2010 Patient Protection and Affordable Care Act (PPACA) contains provisions that mandate manufacturers, producers, and importers of taxable medical devices to pay an excise tax of 2.3% of device sales; this will substantially impact Stryker's core segments as it is unlikely that Stryker will be able to pass all of these costs on to customers through price increases.
Stryker competes with Zimmer Holdings (ZMH), Biomet Inc, DePuy (a subsidiary of Johnson & Johnson (NYSE:JNJ)), and Smith & Nephew PLC (NYSE:SNN) in this segment. While Zimmer is the market leader in the Hip & Knee sub segments worldwide with 26.4% market share, Stryker has a market share of 21.3% and DePuy has 23.7%. Stryker also holds a 9.1% market share in the worldwide sales of the Spine sub segment.
The economic downturn has led to hospitals delaying capital expenditures, impacting the MedSurg segment. This has been partially offset by increase in capital spending by hospitals helped by government stimulus. The increased capital budgets for hospitals, along with the need to replace aging equipment, will benefit the MedSurg equipment segment of the company.
Working in their favor to protect device manufacturers from these pressures are product innovation, patent protection and high switching costs involved with changing orthopedic medical devices. For example, during surgical procedures, a sales representative from the device manufacturer is often present in the operating room to assist the surgeon with product selection and usage.
This dynamic allows manufacturers to maintain premium pricing by developing brand and rep loyalty from surgeons. When hospitals try to negotiate implant prices by threatening to switch to another implant manufacturer, they risk opposition from surgeons. Payscale.com estimates that the hourly rate paid to an orthopedic surgeon with more than 10 years of experience to be $90- $290. Taking the midpoint of the range ($190), and assuming the surgeon would require 100 hours of training on a new device in case the hospital decides to change the device that it is willing to purchase, it would cost the surgeon $19,000 in opportunity costs to switch vendors due to the need to train on new devices.
For hospitals, switching devices can lead to cost-savings; for surgeons, switching manufacturers means switching reps and having to train on new implants, equipment, and procedures, which will reduce their billable hours and thereby, revenue.
How a company develops and leverages its intellectual property is critical for a device manufacturer's long-term competitive advantage. Patent protection creates a barrier to entry for new entrants who must to develop their own technology, obtain patents, and obtain approval through regulatory channels to access the market. This factor does not act as a complete protection against threat of new entrants, as the cost of new product development is estimated to be only $60 million, compared to $1.2 billion for developing a new drug and, as mentioned before, Stryker competes against large and well-capitalized multi-national companies. Similarly, the typical duration of a new product from the development phase to the market launch is only 3 years, whereas in the drug industry it can be 10 years or more due to longer development cycles.
The increasing obesity and aging of the US and Western populations present long-term opportunities for orthopedic implant manufacturers as the population is more prone to arthritis and other orthopedic related problems. However, with a persistently high unemployment rate, delays in orthopedic procedures have pressured growth in this segment in recent years.
Stryker's product portfolio is well diversified with orthopedic implants and MedSurg products. Recent acquisitions have broadened the portfolio with Neurotechnology and Spine products adding to the product roster.
Stryker has seven new products in different stages of clinical development in its pipeline featuring various equipment types- joint reconstruction, spinal surgery, surgical devices and orthobiologics. Stryker Joint Preservation, a business unit of Stryker's orthopedics group, launched the VersiTomic G-Lok on July 7th, 2011. VersiTomic G-Lok is designed to provide suspension fixation of soft tissue to bone during orthopedic reconstruction procedures and has good growth prospects.
Though sales growth in the orthopedic implant market is expected to remain sluggish in the near term, Stryker is expected to gain market share through new product launches, product acquisitions and from future products from the R&D portfolio.
Results of the last few quarters demonstrate the diversification of Stryker's business model across segments. The company is also geographically diversified, with international sales contributing ~35% of total sales and room for improved contribution from international sales in the future. Increasingly cost conscious third-party payers, both public and private, and the weak economy pose challenges for Stryker but erect tremendous barriers to entry for smaller players and large players with benefits of scales are better equipped to survive in this environment.
The company continually invests in R&D. In 2010, the R&D expenses were 5.4% of total sales or $395 million, while in 2009 and 2008 it was 5.0% ($336 million) and 5.5% ($369 million) of total sales, respectively. The strong product pipeline indicates that the company is leveraging the continuous investments in R&D towards the development of innovative devices.
In addition, the company has leveraged its strong balance sheet to pursue inorganic growth opportunities such as acquiring the Neurovascular division of Boston Scientific and Gaymar Industries in 2010, with both these acquisitions valued at $1.65 billion. So far in 2011, the company has acquired Orthovita and Memometal Technologies S.A, with both these deals valued at $516 million. On August 31, the company announced the acquisition of Concentric Medical for 135 million in cash, further bolstering its Neurovascular division.
In sum, despite numerous headwinds, Stryker has secured a wide economic moat in the medical device industry and will likely continue its track record of achieving returns in excess of its cost of capital. It is likely that Stryker will achieve its sales and earnings growth guidance of 11-13% and 10-12% respectively.
2Q 2011 Result Highlights
Stryker has announced its second quarter results for the period ended June 30, 2011. Net sales were $2.05 billion for the second quarter of 2011, representing a 16.3% increase over net sales of $1.76 billion for the second quarter of 2010. The growth in sales of orthopedic implants segment continued to lag growth in Medical Surgical (MedSurg) segment as it has been since the start of 2010 registering a growth of 7.4%, while MedSurg product sales surged 15.0% on YoY basis. In constant currency terms, sales of orthopedic implants increased 1.8% and MedSurg product sales increased by 11.9%.
While MedSurg product sales declined in 2009, due to weak macroeconomic conditions, it was the orthopedic implants that came to the rescue. Since the start of 2010, the lag in growth in orthopedic segment has been offset by the growth in MedSurg segment. The addition of the newly formed Neurotechnology and Spine division adds further diversification to the product portfolio. The Neurotechnology and Spine product sales constituted 17.4% of total sales registering $356 million.
SWOT Analysis
Strengths
Innovative R&D platform
Product and geographic diversification
Strong financial position
High switching costs and "sticky" relationships with physicians
Weaknesses
Regulatory compliance issues involving FDA warning letters and legal issues involving shareholder lawsuits
Large exposure to the orthopedic implants market
Opportunities
Changing demographics of population in developed economies
New product launches set to gain market share
Opportunities to grow inorganically through acquisitions
Expanding middle class in emerging markets
Threats
Intense competition
Increased scrutiny of pricing by government and managed care organizations
Stringent government regulations
Key Growth And Profitability Metrics
The company has generated an average ROIC of 18.2% in the last 5 years which is much higher than its closest competitors Medtronic Inc (NYSE:MDT) (13.3%), Zimmer Holdings (12.2%) and Biomet (ROIC is negative). This indicates that the company possesses durable long-term competitive advantage over its competitors. A breakdown of the ROE components based on the DuPont analysis is shown below.
Table 1: DuPont Analysis (all components are 5-YR averages)
| | | | | |
| --- | --- | --- | --- | --- |
| | Net Profit margin | Asset Turnover | Leverage | ROE |
| Stryker | 16.5% | 0.8 | 1.4 | 18.7% |
| Medtronic | 18.3% | 0.6 | 1.9 | 21.0% |
| Zimmer | 19.0% | 0.6 | 1.3 | 14.0% |
| Johnson & Johnson | 20.0% | 1.4 | 2.7 | 26.9% |
The company has been able to sustain its ROE in the range of 18-20% in the last 10 years and the last 5 year average is 18.6% helped by a net profit margin of 16.5% which is slightly lower than its peers. It can be noted that though the company's net profit margin is lower compared to Zimmer, it has generated a much higher ROE than Zimmer with the help of a higher asset turnover.
While Medtronic and Johnson & Johnson have generated an higher ROE, this is mainly because of higher leverage in their balance sheets. Moreover, though Johnson & Johnson competes with Stryker in the orthopedic implant and medical devices segment, it also operates in the pharmaceutical and FMCG industries, so comparisons with Stryker should be viewed with caution.
Overall, the analysis indicates that the company has been able to generate high ROE with a lean asset structure and less leverage compared to competitors.
click to enlarge images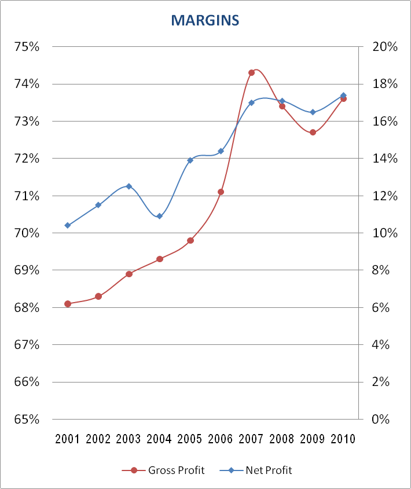 Stryker has been able to achieve increasing margins in addition to revenue growth in double digits in every year in the last 10 years except for 2009 and 2010. Revenue growth was stable at 11-12% in the three years preceding 2009. In 2010, the company's revenues increased by 8.9%.
While domestic revenues increased by 11.0%, international revenues increased by a mere 5.0%. While the company's orthopedic implants segment, which contributes nearly 60% of revenues, grew by only 5.0%, the medical surgical equipment segment revenues increased by 16.0%. The earnings growth trend has been fluctuating and it peaked at 45.0% in 2005 and it seems to have stabled in the 12-15% range.
While the company has been able to generate FCF growth above 20% since 2005, in 2010 it grew by only 2.7%. The company has the ability to continue generating double digit FCF growth at least for the next 5 years. While Stryker has demonstrated stability in margins, returns has shown a slightly declining trend. The revival of returns will largely depend on the successful integration of various recently acquired businesses.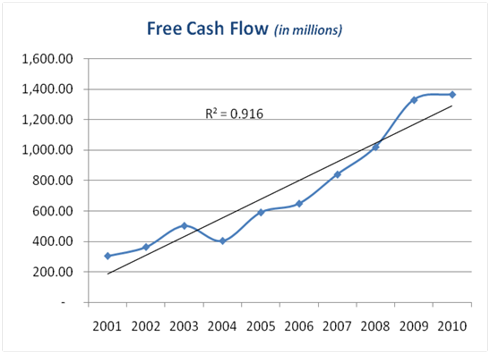 Balance Sheet Data And Financial Health
Stryker's financial position is strong with its debt/equity ratio of 0.14; below the industry average of 0.21. Its liquidity position is also strong as measured by its current ratio of 4.10, which is also higher than the industry average of 2.78. Its cash position is also very strong with cash and marketable securities of roughly $2.9 billion, constituting 25.7% of total assets, leaving enough ammunition for the company to make strategic acquisitions.
Efficiency And Management
| | |
| --- | --- |
| Receivables Turnover | 6.20 |
| Inventory Turnover | 1.90 |
| Fixed Assets Turnover | 9.30 |
| Day Sales Outstanding | 58.87 |
Discussion of Table: While the receivable turnover of 6.20 is higher than the industry average of 4.38, which indicates better credit policy to buyers, the inventory turnover of 1.90 is much lower than the industry average of 4.15 which indicates that the company is suffering from capital locked up due to high inventory levels, this is likely a result of inventory acquired as a result of acquisitions. But, the fixed asset turnover of 9.30X is much higher than the industry average of 4.8X and it has also been historically higher, indicating efficient asset management.
Stephen P. MacMillan was appointed President and Chief Operating Officer of the company in June 2003 and Chief Executive Officer as of January 1, 2005. He was also appointed Chairman of the Board on January 1, 2010. Prior to joining the company, he served as Sector Vice President, Global Specialty Operations for Pharmacia Corporation, which he joined in 1999. Prior to Pharmacia, he spent 11 years at Johnson & Johnson ("J&J"), most recently as President of Johnson & Johnson-Merck Consumer Pharmaceuticals, a joint venture between J&J and Merck. Prior to joining J&J, he held various marketing positions at Procter & Gamble.
Curt R. Hartman, was appointed Vice President and Chief Financial Officer in April 2009 and was the Vice President, Finance of the company since November 2008. He had previously been President, Stryker Global Instruments since 2006 and President, Stryker Instruments since 2003. After joining the company in 1990, Mr. Hartman held several functional leadership roles at Stryker Instruments before being promoted to Vice President and General Manager, Stryker Instruments in 1999.
Corporate Governance Practices
As far as board composition is concerned, even though the majority of the board remains independent, best corporate governance practice advises the chairman of the board and CEO to be different individuals as the CEO heading the board may affect the independence and objectivity of the board in different matters. Moreover an evaluation of the company's disclosure controls and procedures was carried out under the supervision and with the participation of the company's management, including the President and Chief Executive Officer and the Vice President and Chief Financial Officer (the Certifying Officers).
This evaluation should be carried out and certified by an independent third party as the credibility of the evaluation and certification by the company's management themselves may not fully reveal the effectiveness of the control procedures. The fact that the company has been faced with two lawsuits in 2010, adds more concerns.
Dividend Payout
Table: Dividend Payout - 2006-2010
| | | | | | |
| --- | --- | --- | --- | --- | --- |
| | 2010 | 2009 | 2008 | 2007 | 2006 |
| Dividend payout ratio | 20% | 9% | 14% | 14% | 12% |
Though the company does not have a high dividend payout ratio, this is justified by the above average ROE generated by the company historically.
Share Repurchases
The company repurchased 17.4 million shares of common stock in the open market at a cost of $ 1.0 billion during 2008. Apart from this, the company has not authorized any significant share repurchase program in recent years.
Valuation Metrics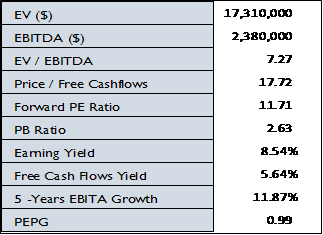 | | |
| --- | --- |
| Discounted FCF Model | 62.31 |
| Benjamin Graham's Formula | 68.95 |
| Discounted Earnings IV | 71.03 |
| Weighted IV | 67.43 |
Using an estimated cost of capital of 9.5% in our DCF and EPV models, we calculate Stryker's current earnings power value (using Professor Greenwald's formula), which assumes zero future growth, to be $51.81, indicating low expectations of future growth and attractive valuation.
The current trailing P/E of Stryker is 15 while the average trailing P/E for the industry is 18 and for Zimmer Holdings the trailing P/E is 17. Stryker's P/B ratio is 2.6, consistent with the industry average of 2.5. The weighted valuation models value Stryker at ~$67/share.
In sum, our valuation models value Stryker in the range of $62 - $71 per share. The recommended target acquisition price for Stryker is $47. At this price, there is a sufficient margin of safety (30%) for this wide-moat stock.
Disclosure: I am long SYK and acquired it at $45.25 and $50.00