I've heard a joke around AAPL fanboys that went like this...
Two Wall Street analysts walk into the bar one night and find a stunning woman sitting by herself. After hours of observing her, they deduce that since no one picked her up (after running a monte carlo analysis on their netbook), they convinced themselves that there must be something wrong with her! Logically, they concluded that if she was such a hot babe, she wouldn't be there as someone would have picked her up already!
The inference is, of course, that the reason for Apple's (NASDAQ:AAPL) stock reaction (or the lack of) to its recent blowout quarter is that the majority of the market participants believe that the future potential has already been "priced in" the stock.
IF this was true, does it imply that "stock picking" is dead? Does it then follow that all the great investors of our time have just been lucky? Before we delve into the matter, a bit of a perspective would be helpful.
AAPL is at $375; Steve just resigned and has taken the chairman's role.
SPDR Dow Jones Industrial Average ETF (NYSEARCA:DIA) is at $112.28
HP (NYSE:HPQ) will be shedding the consumer PC market, has discontinued the TouchPad and fled upstream, ala IBM. Dell (NASDAQ:DELL) reported lackluster PC sales and Best Buy (NYSE:BBY) is offering discounts on the Playbook. Next up? Ammazon (NASDAQ:AMZN) is rumored to launch a $299 tablet!
Congress has just gone thru a sad exercise of "lifting" the debt ceiling; while it was generally expected to happen, the drama caused a lot of angst. QE3 is expected.
Greece (surprise!) isn't doing well; its fallout is feared to affect us as well. Riots in the U.K.!
Unemployment is at 9% (excluding part timers who want full time work).
Oil has fallen by 25% off its high.
I won't bore you with the rest as no doubt, you've been frightened enough. With all this "noise", it reminds me of a phrase from "Desiderata"...
"Go placidly amid the noise and haste, and remember what peace there may be in silence..."
And Sir John Templeton once said that "bull markets are born out of pessimism..."
From a "short term" perspective, markets are almost always dictated by technical and sentiment factors. The market's long-term trend, bull or bear, is determined by the monetary, economic, valuation, sentiment, supply/demand, and momentum factors.
Clearly, investors worldwide are freaked out (usually related to market bottoms). A cursory look at the world markets paints the gloomy scenario.
[Click all images to enlarge]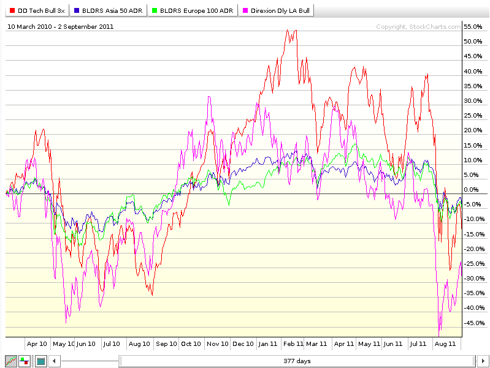 When the "masses" are fearful; isn't this the time for the few to be greedy? 10 year Treasuries have hit a 10 year low (1.99% on Aug 18th) as recession fears mount. If this is euphoria, I must be in the wrong planet! We can therefore surmise that sentiment is definitely skeptical and pessimistic.
The Macro Perspective:
Here is an interesting chart...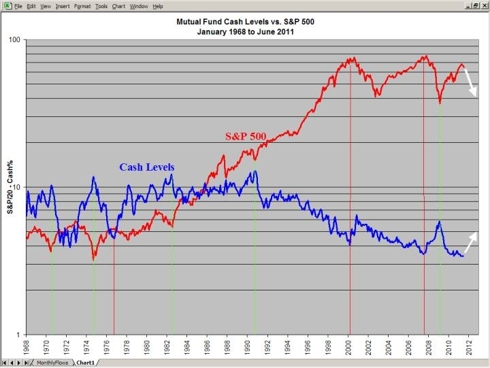 Given:
All of the "noise" mentioned above and...
The fact that Institutions own 68% of AAPL's outstanding stock and...
That Funds may be raising cash expecting a dreary September and...
Given the dreary economy (who can afford extra cash into their 401Ks)...
Is it a surprise why AAPL has barely moved?
However, despite this negative backdrop and Jobs' resignation, AAPL seems to be "climbing a wall of worry".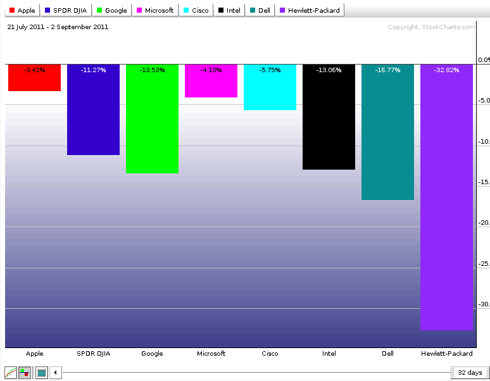 Given the above, does it follow then that as the sentiment turns (as they always do), money will finally flow back into the great growth stories?
The Micro Perspective:
Much ado have been made of Steve's departure. As per my previous article, he picked the right successor in Tim. Here are the reasons why:
AAPL, the stock, surprisingly didn't sell off that hard after the news. Another example of "climbing a wall of worry?".
We seem to underestimate Tim's capability to manage AAPL (throwing assumptions like "he isn't visionary" and et al...). Supply chain management (for AAPL's size) ain't simple; he has certainly proven himself by consistently delivering results over the past 13 years. Just like Steve and all the other great managers, his challenge will be trying to continue to surround himself with a great team that can execute flawlessly. The Detroit Red Wings are the perfect example of a winning "DNA" that seems to consistently win despite changes in player personnel or coaching.
Despite Steve's resignation, I believe the "Steve discount" will continue until this issue is finally settled. Tim's performance (and AAPL's), regardless of how great they are, will continue to be overlooked as long as Steve is still in the shadows. As a simple analogy, think about it as the Rodgers/Favre scenario. It took Favre to leave for GB to find out how good Rodgers really was. It is because of this that I have no grand expectation that AAPL will trade with forward P/E over twice the markets' P/E regardless of its exceptional growth rate. I'll be happy to be proven wrong. I'd be happy with a 35% return year after year.
Of all the contacts and choices Steve had in 1998, why did he choose Tim? After spending all this time with Steve, it wouldn't be far fetched to assume that Tim would know "what Steve would do" in certain situations.
AAPL continues to fundamentally trade at a discount when compared to the market or its peers, despite having a better growth and financial profile.
According to Digitimes, FoxCon is rumored to ship 20M units of iPad in Q3. If accurate, that is a new record for iPad shipments. As I have pointed it out before, iPad is gaining traction faster than expected and has found willing users in the school system.
iCloud, Lion, iPhone5? and a revamped iPod touch? are due to launch anytime soon.
I personally think that AAPL currently has 4 sleeper hits (think about them as Trojan horses) in its ecosystem. They are:
Facetime
iMessage
Airplay mirroring via Apple TV
Gaming apps via iPad/iPod (combined with Airplay)
The upcoming iOS5 and its integration of all these in the AAPL ecosystem further "binds" the end user to the hardware. I think Facetime and iMessage have the biggest potential to disrupt how we communicate today and in the near future. The only limiting factors I see right now are: the cost of the data plans and the quality of the camera. As far as I am concerned, the company is firing on all cylinders.
The Technical Perspective: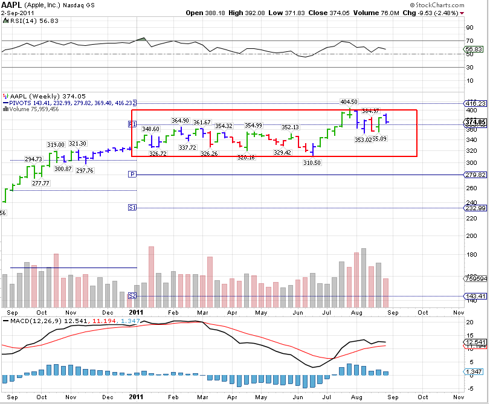 Based on AAPL's weekly charts, it would be a fair statement to say that it has traded in a tight sideways channel (red) for the past 9 months, till its June low ($310), before it went on its earnings run to a new high of $404. I'll continue to watch the $350 area to make the decision of adding more calls and a break out of the $404 high to add more shares. Who knows, we may continue trading in a sideways pattern for the next 3 months or so. Again, pick your spots as your mileage may vary.
It took an observation of an AAPL to fall for Newton to discover gravity (so the story goes...), maybe, just maybe, Steve leaving is what it takes for the market to gradually discover that AAPL is indeed NOT a one man show and that Tim is as great of a manager as he is (after all, the AAPL never falls far from the tree!).
Disclosure: I am long AAPL and may add to NFLX short position.