Despite some horrific employment numbers being released last week, there was some good news in that back-to-school sales were strong -- better than this time last year. This can mean a few things. The first is that the economy isn't really as bad as the media makes it out to be and American spending habits will not waver in light of debt ceilings, credit downgrades, earthquakes, hurricanes, and tropical storms. The more likely explanation is that the American consumer has yet to come to terms with the lower standard of living that she will eventually have to become accustomed to. By this I mean that on average, individuals are not worth as much and are not earning as much as they were five years ago. At some point, lavish consumerism with have to concede to prudent, rational spending, but until that happens we can discuss some big names in the retail game.
Thanks to Nike's (NYSE:NKE) success as a stock, let's examine its battle with the ever-growing giant that is Under Armour (NYSE:UA).
History and Sales Drivers
Nike has roughly 40 years on Under Armour and has therefore had time to grow into all that NKE has become. Nike started in the mid-1960s with the objective of selling track shoes (out of the back of a car at the time). Under Armour, on the other hand, started in 1996 with the goal of making the premier moisture wicking athletic t-shirt. Each has accomplished its goals and much more, but what investors are concerned with is what these companies are doing now.
Both companies now operate in the athletic apparel sector, manufacturing t-shirts, shorts, cleats, sneakers, etc. They have also both broken into the sports apparel and equipment industry. Nike has gone above and beyond, beginning decades ago, into the casual wear sector, which is where the back to school sales figures tie in. Nike derives about 2/3 of NKE's revenue from footwear, casual and running/athletic. Of the remaining third, a large chunk is apparel and the remaining is equipment. Conversely, Under Armour has 80% of its sales from apparel, 12% from footwear, and the rest from accessories and licensing. Nike has a lot more stores than Under Armour does and also has a much more global presence, but of course this comes with time. Nike products are sold almost anywhere where retail goods of that nature are sold, whereas it is well known that Under Armour relies on Dick's Sporting Goods (NYSE:DKS) and Under Armour outlet stores for a significant portion of its sales.
Branding
Under Armour is no more than 15 years old and that is why UA's only subsidiaries are UA Retail and UA Europe. UA is expanding UA's line-up consistently though. UA's footwear line was only introduced a few years ago, and you can see more and more Under Armour brand products walking around in non-traditional sports venues. For instance, Under Armour is obviously known for UA's Cold-Gear line and this technology has been utilized in designing snowboarding jackets and pants, which is logically followed by gloves and beanies.
Nike, through the years, has embraced the M&A game, as well as pushing NKE's own lines into dominant players in the industry. We'll start with the Nike-initiated brand lines, which include Jordan Brand and Nike Golf. These were formed off of strategic alliances with huge names in sports marketing: Michael Jordan and Tiger Woods. Of course, the former is currently more famous for underwear commercials and the latter is dealing with his own problems, but now Jordan is being carried by the likes of Kobe Bryant, Lebron James, and Dwyane Wade and the Nike Golf line has more than enough non-Woods products to push sales. Nike also owns Cole Haan (classic, trendy dress shoes), Converse (classy, trendy sneakers), Hurley (surf and skate apparel), and Umbro (a huge name in international soccer).
Metrics and Technicals
Nike is more than 10 times the size of Under Armour in terms of market cap, with a lower price-to-earnings, lower beta and a dividend, but NKE still professes that NKE is a growth company. This begs the question, how much growth, since a 1.5% yield is not enough to warrant a purchase. This is where Nike's size really benefits NKE: NKE's margins are better than Under Armour's. NKE's forward P/E is under 15, whereas Under Armour's is just under 30, and yet its earnings are growing steadily.
[Click all to enlarge]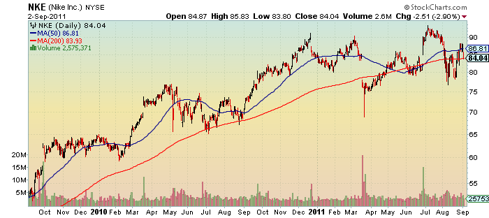 Click to enlargeAbove is Nike's two-year graph. NKE has had some success, but so has a lot of the market. Technically speaking, Nike is flirting with NKE's 200-day moving average and has been dealt some volatility over the last month. However, this volatility is on relatively low volume so is it not really substantiated. Nike has one-year targets around $100, 19% higher than where NKE currently sits. This seems a little optimistic given the economic climate, but the back-to-school sales have shown the average consumers' willful blindness to the media. Nike is a powerhouse in casual footwear, so assuming NKE hits NKE's mark on this one, the next big test would be holiday spending.
Under Armour is more poised as a growth company, since UA carries more risk than Nike does. UA's revenue is not spread over as many products as Nike and UA is more reliant on American sales. This of course means that UA has so much room for expansion and is expected to grow at a faster pace than Nike, which is accounted for in UA's higher PEG rate. So the biggest issue presented to Under Armour is whether or not UA will capitalize on these growth opportunities and continue UA's performance for years to come.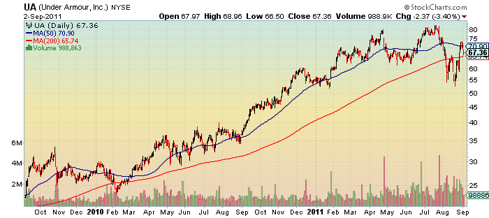 Click to enlarge
Under Armour is a relatively low volume stock, which is surprising. I have owned Under Armour in the past, and there is some serious volatility there/ I would have thought the day traders of the world would have tried to capitalize more on this. Over the last two years, UA has outperformed Nike, basically tripling from around $25 to a high of $80. UA is right around its 200-day, especially after Friday's beating.
Conclusion
I think that each of these companies has room to grow even in rough market conditions. If pressed, I would take Nike over Under Armour because of my risk aversion; NKE is much larger, NKE's casual line is tried and tested, NKE's products are less expensive, NKE is more diversified, and I prefer the global exposure NKE offers. With that being said, each may have to compete with cheaper alternatives and vogue brands like Luluemon (NASDAQ:LULU), but their strong brand names should prevail.
Disclosure: I have no positions in any stocks mentioned, and no plans to initiate any positions within the next 72 hours.