Apple's (NASDAQ:AAPL) PE has fallen off a cliff.
Long-time Apple owners recall when the stock was valued at a richer PE of 250. Why, only four years ago, Apple traded at almost a PE of 50!
Now 14, Apple's PE has taken quite a tumble!
Yet, Apple shares the growth characteristics of companies with loftier valuations.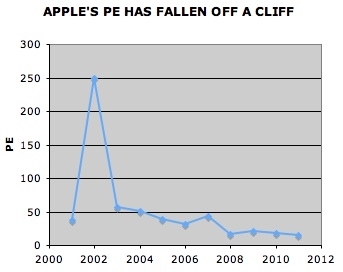 For instance, Intuitive Surgical (NASDAQ:ISRG) , Green Mountain Coffee Roasters (NASDAQ:GMCR), and Chipotle (NYSE:CMG) have pricier PE, P/S, and P/CF ratios. Surprisingly, Apple's earnings and revenue growth equals or beats these market favorites.

Apple Revenues Are Still Sprinting
No one wants to pay up for a stock unless sales are booming. All four of the companies -- Apple, Intuitive Surgical, Green Mountain Coffee Roasters, and Chipotle -- have been increasing revenues for at least 9 years. A far tougher nut to crack is for a company to possess accelerated revenue growth (ARG). With ARG, you not only sell more this year than the last but you grow your sales at an increasingly faster rate. Every year, the bar gets raised.
Green Mountain Coffee Roasters, the maker of the Keurig, is the king of ARG. Almost every year, Green Mountain Coffee Roasters sells a higher percentage of product than it did the year before. The company has done that for practically every one of the last 12 years, a remarkable accomplishment.
In contrast, Intuitive Surgical and Chipotle have slowing growth rates. Intuitive Surgical's growth has slowed over the last 5 years while Chipotle's growth rates have been declining for 10 years.
Apple's still sprinting. It's had over 20% revenue year over year growth in each of the last 7 years. During the last two years, revenue growth has accelerated. Remarkably, this $350 billion market cap company is seeing its greatest revenue growth in 12 years. At 82.5%, Apple is a champion revenue grower. Not bad for a company sitting on the low end of the PE totem pole.
The charts below show revenue and earnings growth percentage year over year from 2001 to 2010. Year 2011 is the revenue and earnings growth for the first 6 months of the year over last year's analogous period.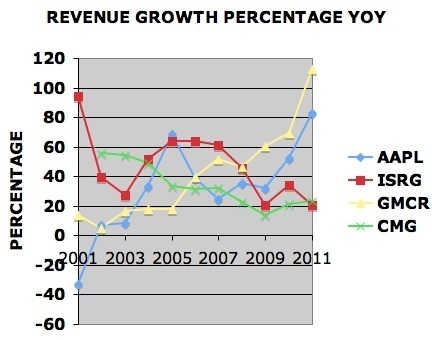 Apple's Eight Years Of Earnings Growth At 38% Or Greater And It's Not Done
No one makes money like Apple. The company saw its largest EPS gains in 2004 and 2005 reaching an astronomical 339%. The question, of course, is: What have you done for me lately? Earnings are accelerating again, climbing 108%. Notice that Apple leads the pack in earnings growth. It's not done. Earnings are moving into a sweet spot.
(A side note: Apple and Intuitive Surgical earnings growth rates coincidentally mimic each other. Intuitive Surgical is just slightly out of phase with Apple. We'll have to see whether Intuitive Surgical can pick up the pace as Apple just did.)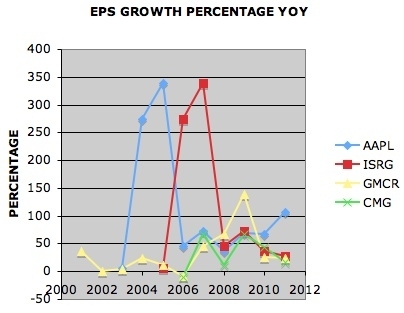 Apple belongs in the pantheon of high PE stocks. Its earnings and revenue growth equals or beats that of more highly valued companies. The low PE is an opportunity to buy a great stock at a marked discount.
Disclaimer: The opinions in this document are for informational and educational purposes only and should not be construed as a recommendation to buy or sell the stocks mentioned. Past performance of the companies discussed may not continue and the companies may not achieve the earnings growth as predicted. The information in this document is believed to be accurate, but under no circumstances should a person act upon the information contained within. We do not recommend that anyone act upon any investment information without first consulting an investment advisor as to the suitability of such investments for his specific situation
Disclosure: I am long AAPL. I may initiate a short position in CRM over next 72 hours.