In my latest article, I used S&P 500 companies' recent quarter earnings and next few quarters' projected earnings as the basis to give my bull view on the market's long-term direction. I believe that S&P 500 will have a good chance to see 2,000 points within two years.
Further more, markets have entered a traditionally golden season (September - January) after August's big drop. That is, the year-end rally could start any month now. Of course many believe that September will still be a weak one, but this is not always the case.
No matter how the market performs in September, it is better to prepare ahead and start to look for possible winners before their upcoming runs.
To identify possible winners, we try to make it simple: let analysts do it for us. That is, we use analysts' average one-year target price (target) for a stock against its last Friday's close price (close) as the key parameter to scan our database. The following are our scan criteria:
Stock price > $1.00;
Average three month trading volume > 100k;
Stock has at least two analysts coverage;
Analysts did not reduce their average target price during the last four weeks;
Gain > 100% (gain = (target-price)/price x 100%);
Exclude Chinese ADRs
The table below gives 20 stocks analysts think should be more than doubled within one year: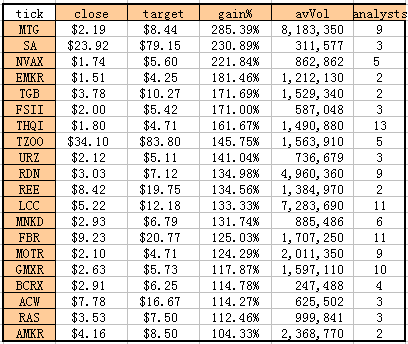 Tick: stock symbol
Close: stock's last Friday (09/02/2011) close price
Target: analysts' average one-year target price
Gain%: gain% = (target-price)/price x 100%a
AvVol: three-month average daily trading volume
Analysts: the number of analysts who currently cover the stock
Of course this is not a complete list, but it can be used as the first step to dig out possible winners. Let us look at some of them:
Radian Group (NYSE:RDN) ($3.03) and MGIC Investment Corporation (NYSE:MTG) ($2.19) - Both are in mortgage (surety and title) insurance sector. This sector as a whole suffered the biggest hit after housing bubble. They have been losing money quarter by quarter since 2008, and may bring the trend into next year. On the other hand, both still have huge cash reserves. RDN has a total cash of $5.60 billion against $1.21 billion debt. Book value is at $8.48 per share. They also continue writing new policies, which may have much less chance of default. Both are still traded well above their 2009 lows, $0.70 for both of them. Those two stocks are also quite volatile and may skyrocket on any good news. RDN, for example, had a huge run (from $1.98 to $3.50) recently on the news that PMI Group (PMI) may stop writing new policies. The same happened on MTG.
Amkor Technology (NASDAQ:AMKR) ($4.16) - In semiconductor sector. The company expects to earn $0.55 this year and $0.91 in 2012. Its 2009 recession low was $1.50. All time low of $1.25 was achieved after tech bubble in 2002. Except these two cases, the stock spent most of the time at above $3.00. This year low was $3.83 in August 19.
FSI International (NASDAQ:FSII) ($2.00) - In semiconductor equipment sector. The company has 27 million dollars in cash and zero debt-with-book value of $2.35 per share. It expects to make $0.24 profit this year and $0.44 per share profit in 2012. The stock crashed to as low as $0.20 in 2009 recession.
RAIT Financial Trust (NYSE:RAS) ($3.53) - In REIT sector. The company's stock has been traded in $3.00 - $10.50 range in the last three years. After stopped its dividend payment to its common stock shareholders at the end of 2008, the company resumed its "regular" dividend payment of 6 cents. The company has never stopped its preferred dividend payment. Its 2009 low was $1.35.
Novavax, Inc. (NASDAQ:NVAX) ($1.74) and BioCryst Pharmaceuticals, Inc. (NASDAQ:BCRX) ($2.91) - Both are in biotechnology sector and the stock prices are heavily influenced by bird flu (H5N1). The stocks in this subsector were pushed much higher on the latest news that bird flu may return in Asia counties.
EMCORE (NASDAQ:EMKR) ($1.51) - It is the only stock in solar sector, which, analysts still believe, can be doubled within a year. This is a US solar company which started to build its manufacturing plan in China. The company expects a turnaround year in 2012.
Taseko Mines Limited (NYSEMKT:TGB) ($3.78) - A Canada company in metal sector. Stock jumped over 20% August 26 after news that the Canadian government accepted its project $1 billion proposal for possible gold-copper mine in British Columbia. This company has been profitable.
MannKind Corporation (NASDAQ:MNKD) ($2.93) - In biotechnology sector. No revenue, but one drug just completed Phase III testing and a few others are in the pipeline. All-time low is at $2.00 and high was at $10.00. It's a speculative stock.
US Airways Group (LCC) ($5.22) - In airline sector. High fuel prices have been the main drag to airline stocks. LCC gave up all the hedging on fuel prices, and its stock price will be influenced by fuel costs more than other stocks in this sector. The good news is that the companies in the airline industry now are in better shape than they were during the 2009 recession. They have found more ways to collect money from passengers, and they are doing better in cost control now.
Accuride (NYSE:ACW) ($7.78) - In trucking and vehicle manufacturing sector. The company expects to earn $0.46 this year and $1.40 in 2012.
In addition to the stock listed above, there are quite few that are close to a double from analysts' views, such as United Continental Holdings (NYSE:UAL) (+81.81%), Micron Technology (NASDAQ:MU) (+95.23%), JDS Uniphase (JDSU) (+78.63%); AK Steel Holding (NYSE:AKS) (+93.24%); Arch Coal (ACI) (+94.84%); Cirrus Logic (NASDAQ:CRUS) (+83.09%), etc.
Do your own due diligence before investing into any one of these stocks.
Disclosure: I am long RAS, AKS, ACI, FSII, NVAX, LCC, GMXR.
Additional disclosure: I do not intend to take new positions within the next 72 hours.