General Dynamics (NYSE:GD) is a market leader in business aviation; land and expeditionary combat systems, armaments and munitions; shipbuilding and marine systems; and mission-critical information systems and technology. The company was founded in 1952 and has continued to grow, acquiring an additional 50 companies since 1997, growing its workforce from 29,000 to 90,000 personnel, and building revenue growth from $4B to $32B. Its most recent acquisitions have been Fortress Technologies and Network Connectivity Solutions.
GD is currently trading at $60.94 at a $16.39 (21%) discount to its 52-week high. Its key financials are EPS of 7.01, PE of 8.70, Dividend rate of 1.88 and delivering yield to investors of 3.085. Market capitalization is currently $22.05B. From April 2006 through 2011, GD has paid a consistent increasing dividend providing a cash flow return to investors, ranging from $0.23-0.47 per share. On two occasions the company has conducted a 2:1 stock split: March 27, 2006, and April 3, 1998. Its most recent financial performance results (Q2, 2011) can be viewed here.
As a company, GD is primarily a manufacturer of military hardware, and a service provider of military solutions. The business model of the company is split across four key operating divisions: Aerospace, combat systems, information systems and technologies, and marine systems. One of GD's key strengths is that it has a diversified project base across a range of military programs. As I wrote on Boeing (NYSE:BA), this type of business model assists in sustaining cash flow for the company, as military capability projects come with two defined cash flow streams: Acquisition (purchase of the platform and initial spares) and ongoing integrated logistic through life support (maintenance, spares and capability enhancements or upgrades). The length of these programs is significant and is measured not in years, but in decades.
One of the key challenges looming for GD is how it will weather the impacts of a reducing US defense budget, as well as for allies of the US who are also undergoing strategic defense reform (the United Kingdom and Australia are two similar examples). The US government, for example, seeks to trim $100B off the defense budget over the next five years, and new capability acquisitions will be a key target of these cuts. That said, improving overheads in maintain maintenance contracts and/or short term projects will assist in sustaining revenue cash flow while diversifying further into non military dependent projects will also help to diversify the company's revenue income base. Some of its recent successes with its military commitments include a $20M contract for submarine repair work for the US Navy (through September 2012), a $900M contract to make portable communication systems for the US Air Force (through 2016), and a $3.7B contract to deliver the Command Hardware Systems-4 contract to the US Army (through 2016).
The last project is also an indication of how GD can diversify its risk by entering into strategic alliances to deliver complex projects. In this case, GD is in partnership with Lockheed Martin (NYSE:LMT), Raytheon (NYSE:RTN) and Tognum (OTC:TGNMF). The evolving nature and complexity of military operations today requires complex hardware and software systems, often beyond the capability of any one manufacturer, and requires a lead project company which can develop, integrate, manage, and maintain these complex systems. Establishing sound business practices will not only reduce overheads and improve the manner in which complex projects are delivered, but will also help develop a more sustainable business model which can continue to thrive during extended periods of global security stability and through periods of government defense thriftiness.
Historically, GD has demonstrated a patter on sustained capital growth (in value per share) and dividend return to investors. This graphic shows sustained upwards growth from 2003-08, and then a return to upwards growth post-GFC from 2009-11 (noting two key downward pressure points in mid-2010 and mid-2011).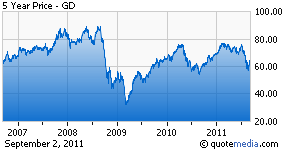 Five-Year Price Pattern for General Dynamics
Over the last month, GD has traded in a price brand with a lower price resistance of ~$58 per share and an upper resistance of ~$64 per share. If we look at the different time frames, while the lower price resistance remains the same, the upper band shifts depending on time frame: ~$70 per share over three months, ~$75 per share over one year, and ~$80 over five years.
The next 12 months will present challenges to GD as the economy battles to recover and the government tightens its defense spending purse strings. That said, GD is a time proven performer and has demonstrated it can sustain both capital growth and revenue growth while maintaining a dividend cash stream return for investors. It is a slightly more complex industrial company to invest in because it has market influences from external commercial, political and security influences, the last of which is one which many industrial companies don't usually need to worry about. For those with a nuance for and interest in these aspects, I consider GD to be a suitable candidate for investors with a higher than normal risk appetite willing to take a long position (three to five years) to add value to their overall portfolios.
Disclosure: I have no positions in any stocks mentioned, and no plans to initiate any positions within the next 72 hours.