The surprising reversal in economic health in August contributed to further stock selloff in the stock market. Companies that were already facing its own challenges in maintaining earnings growth and market share sold off faster.
As long as the U.S. GDP shrinks, companies already struggling prior to the slowdown will see even greater share price declines. However, these companies are also poised to offer above-average returns if they are able to reverse their misfortunes by exercising more prudent, effective management.
With technology stocks, the pressure on shares is so fierce that second-place companies by market share, capitalization, and profit margins are excessively discounted.
Discounted technology stocks to consider as investments that may double are those that have fallen faster than the main index, and may or may not have fallen faster than its peers.
AMD (NYSE:AMD) vs. Intel (NASDAQ:INTC)
AMD recently named a new CEO from Lenovo. If the new chief can steer the company in a manner implied by past successes, AMD shares would be a great investment. The executive team still has many challenges ahead: the server processor, Bulldozer, is delayed. The HTPC processor E-350 is not as appealing as Intel's Atom+Ion offering. Still, the E-series processor is facilitating computer manufacturers in lowering the cost of laptops. This should provide AMD with upside earnings results for the quarter. AMD has a market capitalization of $4.37B compared to Intel's $103B. AMD is poised to double, if it can produce unit sales growth for budget laptops, and deliver the highly anticipated Bulldozer processor in the quarter ahead.
Yahoo (NASDAQ:YHOO) vs. Google (NASDAQ:GOOG)
Yahoo! Inc. has a market capitalization of $16.25B. Ever since the company refused a takeover offer from Microsoft (NASDAQ:MSFT) many years ago, the company and its stock price drifted downwards. Further, Yahoo has no real play in the mobile space like search engine leader Google. The former search engine leader did not exhibit mush success in social networking initiatives, unlike Google (via Google Plus).
Much of Yahoo's valuation is supported by the company's Asian investments and partnership with Softbank, Yahoo Japan, and Alibaba. That partnership continues to be strained, further pushing down the value of Yahoo.
With nearly 15% of its market capitalization representing cash and equivalents, and its current CEO depressing shares, Yahoo is an attractive takeover target. The company started to get back into the content business for finance (Yahoo Vision). If the company continues to improve on streaming original content, Yahoo will more likely double in share price in the next year. Even an ouster of the CEO would quickly boost Yahoo's share price.
Western Digital (NYSE:WDC) vs. Seagate Technology (NASDAQ:STX)
The hard drive storage market is a commoditized market, yet both Western Digital and Seagate Technology are able to maintain respectable margins. Western Digital is a more attractive investment than Seagate due to size and product diversity. Seagate has a market capitalization of $4.49B compared to Western Digital's $6.4B.
Still, as Seagate's purchase of Samsung Electronics' hard drive division is completed, having one less competitor will benefit both companies. Soros has a position in Seagate. Seagate has a slight edge in the laptop hard drive space, with its hybrid SSD/Hard drive. This device has been on market for a year, but shareholders still sold off Seagate ruthlessly since July. As sales for the hybrid increase (SSD drive prices are dropping, but are still expensive), Seagate could reach its previous $18 high, nearly double its most recent closing price.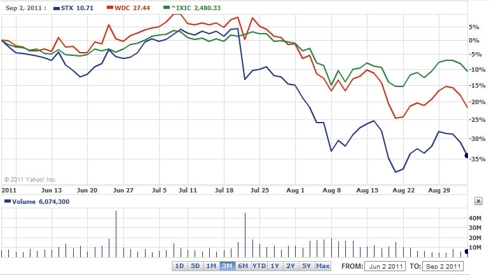 Disclosure: I have no positions in any stocks mentioned, and no plans to initiate any positions within the next 72 hours.