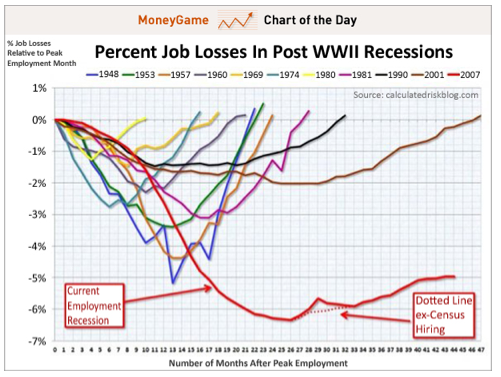 Click to enlarge
The four-day week is not looking like it will be a particularly great one. The market is likely to see a hangover from last week's weaker than expected jobs report, and there is not a lot of data to break us out of this slump. The coming week is highlighted foremost by President Obama's jobs speech on Thursday, but the ability for the president to say much or produce significant results will most likely be a non-starter for the market.

The data for the week is pretty limited. Tuesday gives us the ISM Services number. The Fed Beige Book is on Wednesday. Jobless claims on Thursday, and finally, wholesale inventories are on Friday. Overall, the data is not particularly stimulating.

So ... we turn to the speeches.

Can Obama say something to get us going? Can something exciting come from Europe? GOP? Or are we headed for another retest of the lows we saw in early August?


We are not too bullish on these speeches. Obama will offer up some jobs ideas that are rather obvious, and he may try to talk about tax cuts or stimulus programs that could help. Yet, where does the funding for new programs come from? GOP debates will most likely offer up ideas about how to change the country, but they will be ideas for the future as bargaining chips for elections.

The market continues to be heavily influenced by Europe, and a catalyst from overseas may be the market's best hope of getting something going. Thursday is the big day as the ECB holds its next policy meeting, and there are a number of important announcements that could come out of the meeting. What does the ECB want to do about eurobonds? Could they cut interest rates? Either of these announcements out of the meeting would be unexpected and should get the market moving to the upside again.

The big meetings are not until Thursday, and while there should be some telegraphing to market makers of what to expect, Tuesday and Wednesday could be fairly weak. Additionally, if Thursday's ECB meeting and President Obama's speech have no impact ... we could be looking at a long week.

Finally, we have very limited earnings this week. The only ones of significance come from Verifone (NYSE:PAY), Navistar (NYSE:NAV), Kroger (NYSE:KR) and Lululemon (NASDAQ:LULU).

What are we playing and/or looking at playing this week?

Oil - We have been suggesting shorting oil since last week, and we believe that this week is yet another time for a pullback to oil. Last week, we got inventories moving above 5M and weak jobs data. In the short-term, a combination of weak data and continually slowing growth in the economy is going to place more pressure on oil. We believe the $80 line should hold up this week, but oil should make a run for that line this week. Additionally, oil will be even more negatively impacted if the euro starts to drop in value against the dollar. A strengthening dollar causes weakness in oil. Dropping interest rates and more attention to Europe's issues will cause the dollar to continue to strengthen. We like shorting oil with Proshares Ultrashort DJ-UBS Oil ETF (NYSEARCA:SCO). One can also short the United States Oil Fund (NYSEARCA:USO). Moves may be volatile, so we suggest sticking to ETFs rather than playing them with options.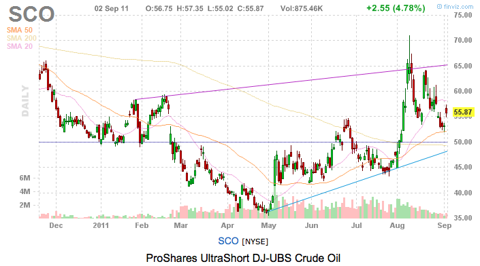 Here are stocks that could make significant moves to the downside this week:

Advanced Micro Devices (NYSE:AMD) - The stock dropped from $7.75 to nearly $5.50 in the first major pullback, and it recovered to $7 before moving back down. The stock is in a strong downward price channel with resistance at the 50-day MA. The company did pop on the last earnings report, but they have been falling ever since. The company seems really weak technically and has been hit very hard on pullbacks with heavy volume. Pops have been on much lighter volume and have not been with much conviction as they could not break out of MAs or its current price channel. Watch for them to get back to $6 if not retest $5.50 if this week really takes a turn for the worst.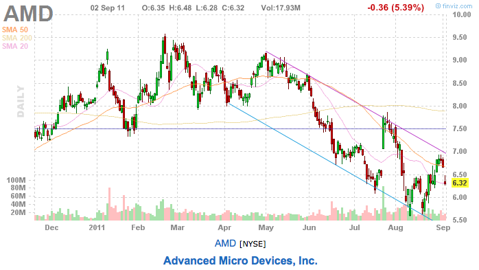 Freeport-McMoRan (NYSE:FCX) - FCX, along with other commodity-based stocks, could be slashed this week as well. Commodities have done quite well in the bounce back in late August, and FCX enjoyed the ride. We look for this stock to retest $42 this week if commodities start to come off in a more convincing fashion. The company does not have tons of resistance above it, but they will follow copper prices this week, and we cannot see much of a reason for those to rally.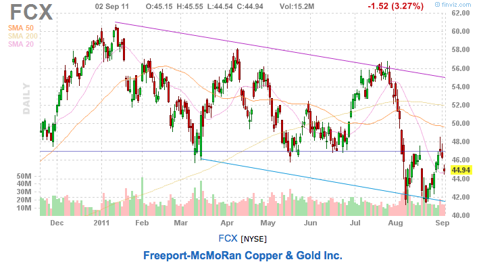 Navistar (NAV) - It could be a long week for Navistar. The company, which produces commercial trucks, RVs and other large vehicles is reporting earnings. We do not have a lot of faith in the company's earnings for this week and believe the stock is setting up for a sell-off into the report. The company has done poorly in the last two reports, and the time now does not seem like a comeback for commercial trucks and RVs. The company is expecting a decline in EPS from 1.83 to 1.35, and competitors Paccar (NASDAQ:PCAR) and Winnebago's (NYSE:WGO) latest reports have not given us much confidence. The stock seems to be turning over currently, and it could be in for another significant drop into earnings.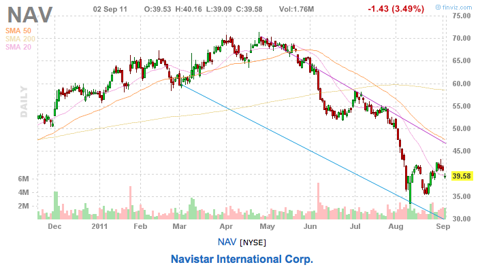 For upside:

Lululemon (LULU) - After its magical run to $65 (really $130 considering the recent split), the stock is under some significant pressure. The company still operates with a future P/E of 39, but the company has had some pretty significant rises after its last earnings reports. At some point, the earnings growth will not allow for inflated P/E levels, but the company is expected to see a 35% increase in revenue and jump in EPS from 0.15 to 0.22. If the stock has another pullback to start this week, it is a pretty good speculation play between the $46 - $48 area. The company could make another nice move post-earnings.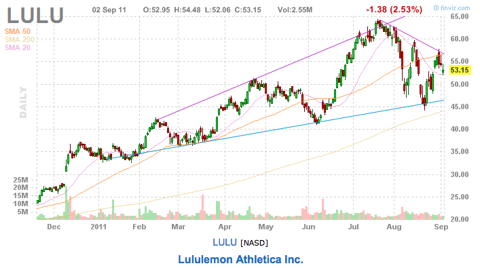 Disclosure: I am long SCO.

Additional disclosure: I am short NAV.I may initiate a position in lulu, fcx, or amd in the next 72 hours.