Georgia is home to some well known institutions including Coca-Cola (NYSE:KO), Peaches, and Cousins Properties (NYSE:CUZ). Of course, we all know that Coca-Cola, launched in 1886, is an iconic brand that is globally recognized with Berkshire Hathaway (NYSE:BRK.A); (NYSE:BRK.B) holding around 200 million shares (8% of the company) valued at around $11 billion. SunTrust Bank (NYSE:STI), another Georgia-based banking institution owns around 9% of Coca-Cola (KO) and Emory University, one of the richest Georgia-based universities in the U.S., holds another $3 billion in Coca-Cola stock. Like Coke, Peaches are also an appetizingly consumable product originated and distributed in Georgia with around $35 million in annual sales. Although the origin of the peach was in China, the "Peach State" produces around 40 Georgia-based varieties (around 11,000 acres statewide), ranking Georgia third nationally in peach farms per acre (behind CA and SC). And the Peach State is also home to Cousins Properties, a diversified equity REIT headquartered in Atlanta, and also another Georgia-made brand with a successful recipe for delivering something special.
The Business Model
Cousins Properties is a leading diversified real estate company with experience in development, acquisition, financing, management, and leasing. Based in Atlanta, Cousins Properties actively invests in office and retail projects. Since its founding by Tom Cousins and his father in 1958, Cousins Properties has developed 20 million square feet of office space, 20 million square feet of retail space, more than 3,500 multi-family units and more than 60 single-family neighborhoods. As one of the oldest publicly-traded real estate companies in the country, Cousins Properties went public in 1962 and became a REIT in 1987.
Because Cousins operates as a diversified REIT platform, the investment strategy ensures a relatively steady source of revenue generation. Recently, Cousins reorganized its business model to include the following five reportable segments:
Office

Retail

Land (for future development)

3rd Party Management

Multi-Family (including condo sales)
The office sector is one of the largest sectors of the Cousin's portfolio. Currently the office portfolio includes 21 buildings in GA, TX, AL, and NC. The 7.428 million square foot portfolio has a valuation of around $1.02 billion and $468.05 million of mortgage debt (source: Wells Fargo Research). Although Cousins Properties owns (including JV's) around 5% of the class A office space in Atlanta, the developer-centric REIT accounted for over 40% of square feet leased among the top 20 transactions in 2010.
The retail sector is predominantly made up of outdoor lifestyle center projects branded as "The Avenue" ®. Developed by Cousins, The Avenue ® projects include eight southeastern open-air lifestyle centers made up of premier national and local tenants. The Avenue ® concept represents around 3.1 million square feet (65%) of Cousin's 4.8 million square foot retail portfolio. Although the retail sector and Cousins overall retail occupancy ratio (82%) has declined during the recession, the company's retail portfolio enjoys minimum leverage (averaging 16% across the retail portfolio balance sheet) and recent operating results indicate overall occupancy improvements, a trend that should continue as many lifestyle tenants are also reporting positive consumer trends.
And in addition to diversification in product sectors, Cousins has also grown its geographic focus into other strategic markets. With around 5% market share in the Atlanta (office) market, Cousins has expanded its office and retail portfolio to include densely populated markets such as Austin, TX; Dallas, TX; Houston, TX; Charlotte, NC: and Raleigh, NC. This combined product and geographic diversification strategy should prove desirable as Atlanta, Dallas, and Houston are projected to be the 2nd, 3rd, and 5th fastest-growing American cities between 2000 and 2040, adding more than 14 million people. Also, Charlotte and Raleigh continue to rank among the top cities in the nation for business, jobs, and population growth.
The Portfolio
As a developer-centric REIT, Cousins Properties generates most of the assets managed where value is created the closest - Development. Because of its roots as a developer driven company, a substantial number of the core company assets are developed and/or co-developed and that is by far one of the most attractive investor attributes. Many of the portfolio assets were developed by Cousins and that is why the risk adjusted returns have been historically more attractive. Although Cousins operates a more complex REIT structure than other equity REITs, the portfolio metrics can be broken into the following sector classifications:
As noted above, there are around 40 core income-producing assets (totaling around 13.77 million square feet) in the Cousins portfolio. However, as part of the company's staged "capital recycling" program, Cousins recently announced likely dispositions of One Georgia Center (in Atlanta) and its remaining Industrial Portfolio in Texas. One Georgia Center is around 97% leased (major tenant is Georgia DOT) and the Industrial Portfolio is around 96% leased. It is likely that the $100 million in gross proceeds from these 2011 asset dispositions will provide future development and acquisition funding opportunities.
So as noted above, Cousins property portfolio spans approximately 13.77 million square feet with a combined value of around $3.18 billion (Source: Wells Fargo Securities). And using Wells Fargo Research model, Cousins recent NAV estimate was $8.25 per share. See Wells Fargo Research snapshot below:
Upon further investigation, Baird Research (rwbaird.com) models Cousins NAV estimate to be $9.50 per share with somewhat higher values associated with its income assets as well as non-cash flowing assets. So as you can see below, I reconciled these two recent outperform opinions into a more hybrid NAV valuation of $9.12 per share: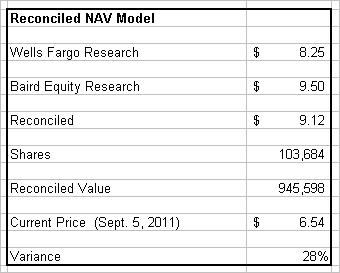 The Balance Sheet
As indicated above, Cousins maintains a conservative and flexible balance sheet with ample liquidity and minimal debt maturities that enable it to capitalize on potential acquisition opportunities to fuel long-term growth. So as you can see below, Cousins maintains a somewhat consistent asset base of around $1.2 billion in assets owned: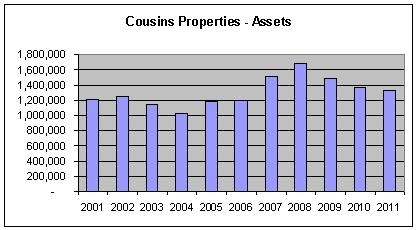 As noted, Cousins has consistently reduced its secured and unsecured debt to a current level of $498.034 million. This decrease is around 47% less than the company's highest debt levels in 2008.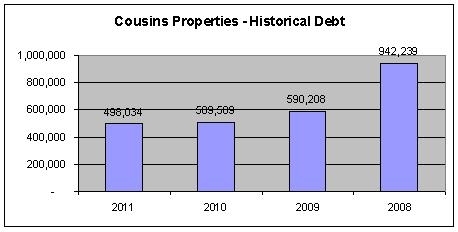 So as you can see below, Cousins breakdown of secured and unsecured liabilities are healthier than years past. Cousins' secured debt of around $372.634 million carries a weighted interest rate of 5.87% and the REIT's $345,000 unsecured revolver (with $125,400 drawn down or 63.7% remaining on the line) carries a weighted interest rate of 2.19%.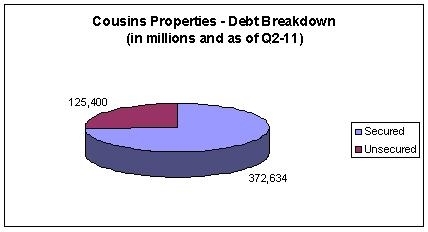 And equally impressive is Cousin's historic debt to asset ratio as the company has stayed focused on reducing leverage by selling off non-core assets and generating diverse revenue drivers: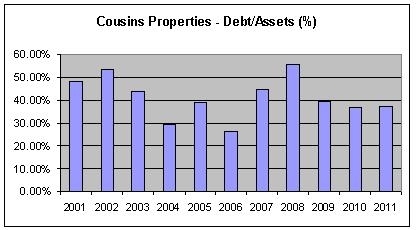 The Management
As mentioned earlier, Cousins Properties is a developer-centric REIT and the founder, Tom Cousins, and ownership have carefully formulated a talented team of leadership. Starting with the current President and CEO, Lawrence (Larry) Gellerstedt, III began his career as a construction estimator and project manager at Beers Construction. He tirelessly worked to become Chairman and CEO of that company. With a career spanning over 30 years and a long list of accolades and civic achievements, Mr. Gellerstedt is well known in Atlanta circles as a focused and trusted leader. Add to that list another veteran developer in Craig Jones. Mr. Jones has diverse industry experience with an impressive bio from King & Spalding Law firm and New Market Development. Mr. Jones was previously President of the Cousins Office Division and Chief Admin Officer before he became the company's current Executive VP and Chief Investment Officer. Many of the other senior officers are experienced in development and asset management strategies.
Another important element related to management is "insider ownership". With over 10% inside ownership, many employees and directors enjoy equity stakes in the company. With well-aligned ownership interests, this 54 year old company has plenty of "skin in the game". See the snapshot below of major holders:
In addition, Cousins Properties is comprised of many Institutional and Mutual Fund organizations. Here is a snapshot of the top 10 Institutional Owners comprising around 50% of the company:
The Development (Seeking Alpha)
At the core of the Peach-based REIT is the development pipeline and the current economic cycle is favorable for Cousins to begin to ramp back up. Because of the company's primary focus in high-growth, sun-belt markets, the long-term demographics are attractive for tenants seeking above-average growth prospects. As noted in Baird Research's August 5, 2011 Outperform Report:
"We believe CUZ is one of the more compelling investment opportunities in our coverage. The stock trades at a large discount to our $9.50 NAV (7.4% cap rate) and we view the earnings growth potential, through lease-up, development, and acquisitions, as one of the best in the REIT sector. Planned diversification away from Atlanta will help fund growth in other markets (TX, NC) and we view execution of that strategy as the next likely catalyst."
And as evidence of the development pipeline at Cousins, the company recently announced Emory Point, a 3-phase $102.3 million multi-use development in which Cousins will own 75% (primarily the retail component) with construction completion around Q4-12. Cousins was awarded this high barrier to entry assignment due to its long-held relationships with Emory University. Also recently announced was a $24 million Publix-anchored development in Tallahassee, Florida. Cousins sourced this ground-up retail deal through a JV partner and Cousins will own 100% of the 80% pre-leased shopping center. Other risk-adjusted pipeline deals include a multi-use project in Atlanta called "The Gulch". This master-planned transportation hub is to turn a downtown Atlanta parking lot and rail station into a robust transit passenger terminal. Further down the pipeline is another university based project (similar to Emory Point) in Chapel Hill, NC.
Also, as part of the company's "recycling" initiatives and setting the stage for its core investment focus, Cousins continued to reduce its non-core asset mix with the disposition of $84.6 million in condo sales, lots, outparcels, and land tracts. Here is a snapshot of the company's remaining residential lot breakdown: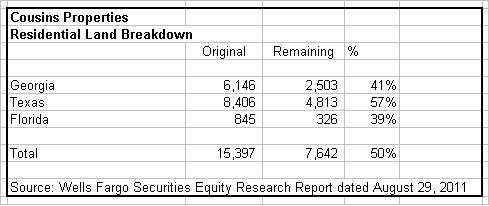 The Recent Results
Due to strong leasing performance over the past several quarters, economic occupancy increased from 85% to 88%. The retail portfolio increased from 87% to 88% leased, mainly driven by Avenue projects in Forsyth and Webb Gin. Also, Cousin's Terminus 200 asset reported an 85% occupancy level, up from 67% in the beginning of the year and 36% a year ago. In addition, Cousin's continues to build momentum with its renewal and expansion pipeline. The company's top 20 tenants have an average lease term of over 7 years and no major lease maturities until 2014. Here is a snapshot of the company's rentable square feet leased: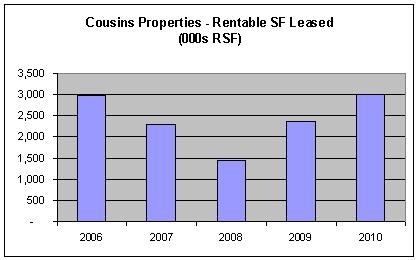 In its second quarter earnings period, Cousin's FFO was $10.9 million, up from $7.9 million in the second quarter last year. FFO was $.11 a share for the second quarter, up from $.08 a share in the quarter a year ago. The company narrowed losses for the quarter with a net loss available to common shareholders of $4.7 million compared with $8.6 million in the second quarter of last year. The current dividend is 2.8% (and growing) and the company is trading around 7% higher than its 52-week low. Here is a snapshot of Cousins and several other Peer REITs:
The Summary
"Your premium brand had better be delivering something special, or it's not going to get the business." -Warren Buffett
So clearly there is compelling value for investing in the Peach State REIT. The Cousins name is well respected with its brand identified where value creation is closest to the core (of development). The company's stock is currently trading at $6.54 a share and well below (28%) the hybrid NAV of $9.12 per share. NAV should move up over time as new leases and NOI gains come on line. In addition, the strategic capital recycling program should become beneficial as the operating efficiencies streamline and provide attractively priced risk adjusted returns to the development pipeline. Leadership is focused with a well-capitalized platform that should enhance the year-end performance results. Like other Georgia-based iconic institutions (like Coca-Cola), expectations are high for Cousins Properties and I am confident that the premium Peach REIT will continue to deliver something special for the months and years ahead.
Disclosure: I have no positions in any stocks mentioned, and no plans to initiate any positions within the next 72 hours.