I attempted to figure out a logical strategy for agency mortgage real estate investment trusts (mREITs). The business model was operating on all four-cylinders: Low borrowing costs, high net yield spreads, rising book values per share, and high dividends. President Obama and his administration have looked for a refinancing plan that will work.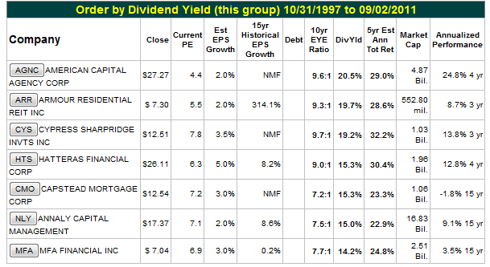 What happened to this perfect nirvana? Is it still present and I am reading to much into the rumored governmental interventions?
Governor Elizabeth A. Duke, in her September 1 "Rebalancing the Housing Market" speech, stated "One way to reduce the flow of foreclosed homes is to ease the payment strain on borrowers, which can be accomplished by modifying loans that are past due or by refinancing performing loans at lower rates." Her discussion is how the Federal Reserve can assist in offering a nationwide refi plan to U.S. home owners.
She confirmed why a refi plan is currently not working and what the key issues are:
The common theme in all of these frictions is that, in each case, the parties to the transaction are applying standard risk-management tools that would normally apply to low- or no-equity loans -- but they are applying them to risk they already own .... The economics of the situation suggests that if the first mortgage becomes more affordable, the existing risk exposure of all credit risk holders actually decreases .... Moreover, to the extent that more widespread refinancing reduces the overall volume of distressed mortgages, it likely reduces pressures on house prices which would, in turn, lead to lower losses on sales of foreclosed properties across all mortgage portfolios .... And finally, removal of barriers to refinancing would boost the impetus to recovery provided by lower long-term interest rates.

Thus, finding different approaches to the policies that are hindering refinancing would likely provide some support to the economic recovery while improving the circumstances of homeowners and reducing the overall level of credit risk borne by the various holders of the risk.
The plan offers the following benefits:
Addresses barriers to nationwide refi implementation.
This would be offered to FHA and VA mortgage homeowners too.
The plan is flexible to implement for GSE's, mortgage service providers, and in the best interest of taxpayers.
Problems are addressed in a most favorable outcome.
Impacts 30-million mortgage owners.
Saves 70-billion in lower mortgage payments per year.
The conditions would provide a refinancing option to those with agency mREITs who are current on their mortgage or become current within three months. Homeowners could choose between a 15-year or 30-year mortgage. The primary mortgage would be the only mortgage eligible. The interest rate would be 4%.
The plan is focused upon relatively fluid implementation. This would immediately, when the plan goes into effect, place prepayment risk on every agency mREIT. There isn't a viable reason to own agency mREITs with this highly-developed plan on the draft board. The Federal Reserve's Duke and Obama are clearly focused upon a plan to reduce current mortgage payments.
Agency mREIT Investor Actions
I own American Capital Agency Corp. (NASDAQ:AGNC), Annaly Capital (NYSE:NLY), CYS Investments (NYSE:CYS), Hatteras (NYSE:HTS) with protective puts. Any refinancing plan would likely put downward pressure on agency mREITs due to prepayment risk.
The plan is structured to the extent that investors must be aware of the plausibility of implementation. Agency mREITs are leveraged and could suffer more financial damage than a non-levered Government Sponsored Entity Mortgage Backed Security holding.
This document dovetails with the Goldman Sachs (NYSE:GS) August 16 presentation which addresses the inadequacy of prior-to-today financial intervention with the quantitative easing plan one and two. The money in this program quickly impacts homeowners. The Goldman Sachs document adds a level of confirmation to the direct outcome of this nationwide homeowner refinancing program. The government has to find a way to provide mortgage refinancing to homeowners. This would cause prepayment risk on mortgage backed securities.