Lexmark (NYSE:
LXK
), the Lexington, KY-based printer maker, is an unloved, misunderstood cash generating company priced for attractive returns in the coming years with limited downside. LXK is the only major, fully integrated printer company focused solely on printers. When I mentioned LXK to one of my colleagues, he remarked, "There's no money in printers." This is exactly the misunderstanding; for LXK, the money isn't in the printers, it's in the ink. Cartridge refills for inkjet and laser printers and other supplies provide a recurring, high margin revenue stream. The printer and ink business is a classic case of the "razor and blades" model perfected by Gillette.
While selling ink and supplies has long been the key to the printer business, competitive pressures and lower cost replacement ink have driven prices down on both printers and ink in the consumer market. In 2007, LXK made a bold strategic move to gradually exit the consumer market to focus on end users who print more often. This decision to forego revenues for higher long-run profits will soon begin paying off as the transition is nearly complete. While revenue and margins have declined faster than expected in the legacy segments, Lexmark's "core" higher end segment is increasing by double digits and upped its market share from 11% in 2009 to 14% last quarter.
Despite this major transition and a struggling economy, LXK has demonstrated remarkable returns and free cash flow generating ability. In fact, since 1995, LXK's ROE has only dipped below 20% twice. Free cash flow has been positive in 14 of the last 16 years and FCF as a percentage of sales has averaged over 8% over the last 10 years.

LXK is also growing LXK's international presence, holding the #1 share in Brazil and the rest of Latin America and increasing investment in LXK's Asian operations. Lexmark has long been recognized as the most innovative, technologically advanced company in the space. LXK's two largest competitors, Hewlett-Packard (NYSE:
HPQ
) and Xerox (NYSE:
XRX
), are using the cashflow from printing to invest in other areas such as enterprise software and business process outsourcing. HPQ's
recent acquisition of Autonomy
and selling of its PC business will only distract management further from the printing business. Meanwhile, LXK has invested in R&D and returned cash directly to shareholders, buying back 50M shares since 2002 and recently
announcing an increased buyback program
of $250M in the second half of the year. The cash not being returned to shareholders is being used to strengthen the business. The 2010 acquisition of Perception Software gives the company the ability to better integrate document management into its printers. This enables LXK to customize its services to it high usage customers such as banks and hospitals. For example, a nurse can scan a patient document, automatically linking it to the patient's records, print it out, and add it to the patient chart.
Risks
Like all investments, LXK has risks. The company must continue to invest in R&D and innovate to ensure that LXK's products add value to its customers. Though printing is a repeat business, if a competitor offers a vastly superior product, clients will switch. A recent issue with the logistics of delivering printers added significant costs and hurt margins earlier in the year. Management says it's ahead of schedule in fixing the problem and should solve it by the end of the year. LXK Is also dependent on a good economy; as LXK's 2009 results showed, if the global economy struggles, businesses print less and put off ordering new printers or refilling the ink.
Valuation
At its current price around $30 per share, LXK sells for a 20% free cash flow yield (FCF/EV). Very few companies sell this cheaply, let alone one with a strong balance sheet and a consistent record of profitability. LXK's primary competitors, Xerox and Hewlett-Packard, are not even this cheap, even though they also sell for relatively low multiples. As I mentioned earlier, while XRX and HPQ are inexpensive, I prefer LXK due to LXK's focused business model.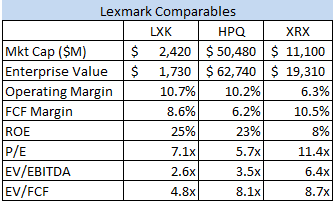 LXK should do around $4.2B in sales this year. Using LXK's average free cash flow margin of 8% over the last 10 years gets approximate 2011 free cash flow of $336M. Applying reasonable multiples and adding back the $690M in net cash provides a range of $42-60 per share. Various discounted cash flow scenarios also validated this valuation range.

After reporting strong earnings at the end of July, LXK jumped 21% to nearly $35, but in the recent market swoon, LXK has hovered in the high $20s, offering a compelling entry point for long term investors looking to print cash in their portfolios.
Disclosure:
I am long
LXK
.