Betting against the U.S. dollar has been a highly profitable activity over the past year, but some technical analysts think the greenback is due for a bounce.
PowerShares DB US Dollar Bullish (NYSEARCA:UUP) was up nearly 2% in Tuesday's stock pullback. The ETF tracks the dollar's movements against a weighed currency basket consisting of the euro, Japanese yen, British pound, Canadian dollar, Swedish krona and Swiss franc.
The Swiss franc was weakening Tuesday after the the Swiss National Bank set a floor on the euro/franc exchange rate.
Chris Kimble at Kimble Charting Solutions notes that the Dollar Index looks to be breaking its falling resistance trend line after recently creating a series of "higher lows." The current pattern looks very much like the one from 2008 when the greenback formed a bottom after a multi-year beating.
If the dollar does rally from here "it would suggest that 'risk assets' should be put under further downside pressure," Kimble wrote Tuesday. When the dollar broke above its resistance trend line in 2008 "not only did stocks fall in price, the majority of assets fell in price, including commodities" and gold, he said.
With few exceptions, including U.S. Treasury bonds, there was "no place to hide" in 2008 as the credit storm burst upon markets. The dollar "has made failed attempt after failed attempt" over the past year to break resistance, but if it does break ou,t "the majority of assets will come under pressure again," the analyst predicted.
The dollar ETF was down 6.6% year to date as of Sept. 2, according to Morningstar.
The fund is "finding support at the bottom of its four month range at $21 [a share]," said Tarquin Coe, technical analyst at Investors Intelligence, in a recent newsletter. "The flight to safety has enabled the fund to outperform equity markets for the past five weeks."
PowerShares DB US Dollar Bullish ETF (UUP)

click to enlarge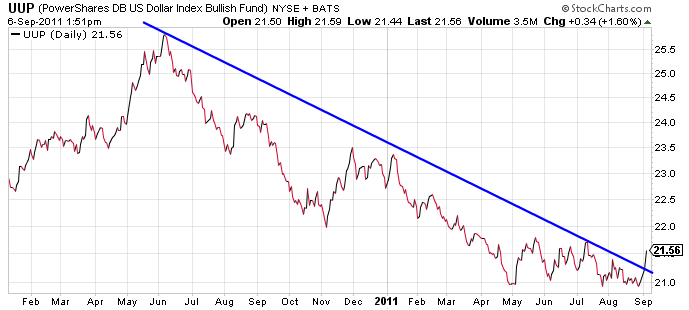 Chart source: StockCharts.com.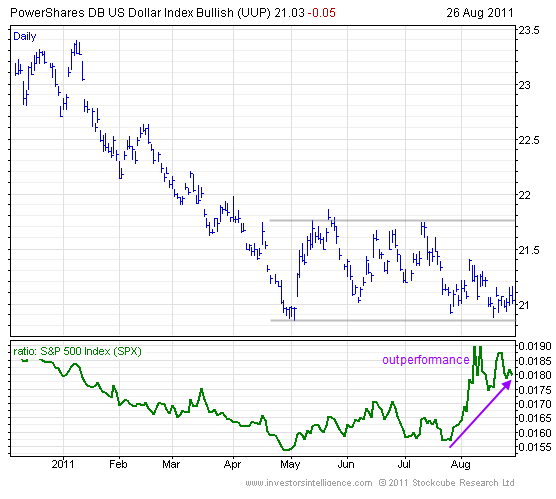 Disclosure: None