Not much talk today about the stunnng reversal in gold for the second time in the last month. Gold has now made two attempts in overnight markets to break above $1,900 and more specifically the $1,915 to $1,920 range. Both times the move has failed miserably.
Interesting to see the home page of Seeking Alpha this morning featuring the potential move of gold going to $2,000. Ominous sign of a peak?
Personally my firm has never had a position in gold other than the benefit that Freeport McMoran (NYSE:FCX) gets from their gold mining. Other than that, must admit that I've missed the run, but as an outsider looking in the reversals of late are interesting.
The world appears set to collapse with the European credit crisis looming large, but investors appear unwilling to buy gold above $1,900.
About the only comment I've seen today regarding this failed breakout comes from Minyanville. According to Jeffery Cooper this could be a Soup Nazi Sell Signal.
Almost all tops, on whatever timeframe, see a test failure of the high which could be a lower high, a double top, or a marginal new high.

This morning gold and GLD scored marginal new highs over their prior recent swing highs and have reversed leaving what looks to be a Soup Nazi Sell Signal if they close below the prior highs.

A Soup Nazi occurs on a new 20 day high that stabs back below a prior high of at least 4 days ago but within a 20 day lookback.

Many system traders are programmed to buy new 20 day highs, but if pattern is a late stage failed breakout characterized by price stabbing back through the prior swing high, there is "no soup for the you" as the infamous character on the Seinfeld Show would say.
The below chart of gold doesn't capture today's move, but one can easily see how a drop today after hitting new all time highs over night is technically very damaging.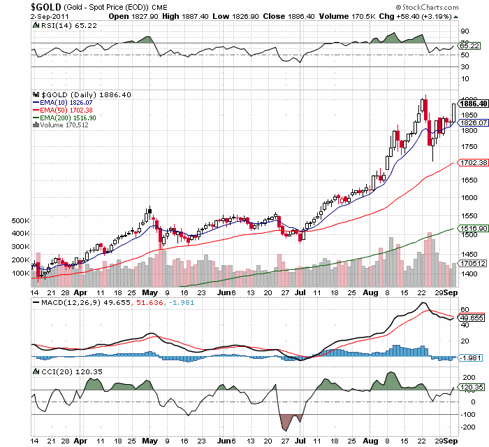 Click to enlarge


Disclosure: I am long FCX.