Toronto-Dominion (NYSE:TD) Bank, one of the six main banks in the country, released its Q3 2011 results, and man, it seems to be pretty good! Reportedly, last quarter profits have risen by 23% in the U.S. and Canadian consumer banking front. But only one front doesn't cut it for us, Alphas, right?
In the last 2010 annual report, the net income, standing at C$4.64 billion, was already higher than that in 2007, the year the Great Recession started. But in the span of 2008-2010, securities income, mainly from dividends and interest, went down to a total of C$3.78 billion in 2010, compared to over C$4.75 billion in 2009 and C$5.45 billion the year before that. Even the bank deposits went down by C$3.9 billion during this period. We can see a natural shrink in the economy over that time. But in overall, it showed gradual (in fact, really good in certain cases) improvement since 2009.
Now, fast forward to the latest quarterly report, here's a rundown on the four main business lines, viz. personal banking (both U.S. and Canada), wholesale banking, corporate finance related activities, and wealth management.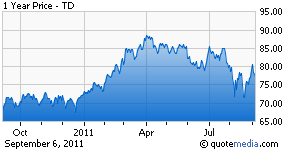 Personal and commercial banking in Canada showed 13% increase in the income last quarter, from that in same quarter last year. Personal and commercial in the U.S. showed a 21% increase in the income last quarter, compared to that in the same quarter in 2010. But it must be noted that when the growth in personal and commercial banking in Canada is due to a solid volume growth in deposits and trading, the same in U.S. is partly by volume growth and partly by acquisitions. And just after the quarter, TD and Bank of America (NYSE:BAC) signed a definitive agreement where TD is supposed to buy the MBNA credit card portfolio, to be effective by the first quarter of 2012. This will definitely help to enhance the U.S. market presence of the second largest Canadian bank.
But it seems, wholesale banking suffered this quarter, where the net income went down by 40%, compared to the same quarter last year. This is mainly due to a slack in the fixed income and currency trading revenues. Again an effect of a weakened economy!
Though the corporate segment made a loss of C$124 million, compared with C$304 million same quarter last year. It seems the company is utilizing the hedging concepts more efficiently this year. The dividend payout increased by 2 cents, which is the second time this year. And more so, its dividend payout is around C$2.5 per share, which is more than C$2.05 of Royal Bank of Canada (NYSE:RY), C$2.01 of Bank of Nova Scotia (NYSE:BNS) and C$0.05 of Banco Bradesco SA (NYSE:BBD).
But most importantly, I see a decreased P/E ratio, down to 11.9x last quarter, compared to 13.3x the quarter prior to that, which shows that the stock is not overvalued at the moment and has possibilities of appreciation in the near future. Moreover, the book value per share has increased C$44.87 per share last quarter, compared to C$43.41 in the same quarter year. And the current stock market value per share is C$78.36, according to the September 2 close. Perhaps, this will go up if the book value per share goes up, since in the banking industry, assets normally play a role in the share pricing.
Not to mention, the Tier 1 Capital that composes 80% of solid tangible common equity. Common stakeholders, like you and me, can definitely have some faith in the company for the time being.
"These are excellent results and we remain confident TD is on target to deliver its best year on record," Clark said in the Q3 press release. "With that said, we're cautious about our outlook for 2012 and expect that it will still be some time before the economy strengthens. We remain focused on managing the pace at which our expenses are growing, but we will also continue to make smart investments to strengthen TD for the future. Despite the uncertain environment, we believe we have the right strategy and earnings mix to continue to deliver strong results and ensure TD is well positioned for ongoing growth."
In my opinion, it might be good to go long on TD since it does show potential. But hey! This is finance and do take my words with a pinch of salt.
Disclosure: I have no positions in any stocks mentioned, and no plans to initiate any positions within the next 72 hours.