Without a doubt, the major story yesterday was a decision by the Swiss National Bank to hike its currency to the euro. The Swiss National Bank will peg the Swiss franc to the euro at the exchange rate of 1.20. The following action spurred abundant amount of volatility in the market place as EUR/CHF soared from 1.10 to 1.21. The action by Swiss authorities was felt in other major currency pairs as volatility presented plenty of opportunities for day-traders.
Risk aversion is clearly making a presence in the market as participants scramble to protect their investments from uncertainties. Increasing fear in regards to the peripheral nations is perpetuating a risk adverse mentality. Rumors of a Greek exit from the European Union have been floating around, perpetuating increasing loses in risk appetite vehicles.
Bearing the following premise in mind, safe havens have lost another participant – the Swiss franc. With the pegging of its currency to the euro, Swiss authorities have negated risk aversion flows to its currency, which generally tends to persist during times of uncertainty.
So what assets stand to gain in the process of risk aversion?
The U.S. Treasuries

– 10-year yields have fallen to a record low as investors scramble to put their assets into "risk-free" vehicles. A rally in Treasuries can continue to pick up steam if the risk adverse mentality persists. As Treasuries gain ground, the United States dollar tends to appreciate in value.

Gold

– An abundant amount of investors have been scrambling to catch appreciation in precious metals, especially gold. With its potential use as a currency, gold prices have fared well throughout uncertain times.

Swedish and Norwegian krone

– The northern nations of the European Union have fared well due to their conservative debt to GDP ratio and government budget surpluses. With this safe appeal of strong sovereign debt ratings, investors are flocking to the krone as they no longer have a place to place their money into the Swiss economy.
Despite the risk aversion mentality currently dominating the market, any optimism in the global economy could structure a relief rally in these risk appetite vehicles, including global equities, the euro, the pound, and commodity currencies.
click to enlarge image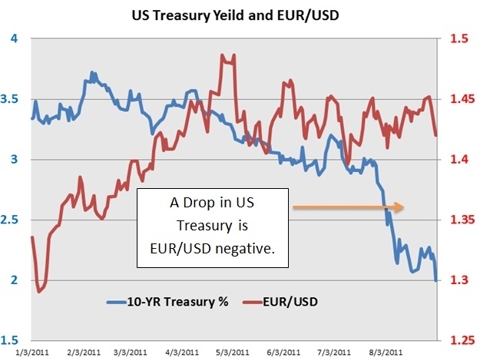 Click to enlarge
Disclosure: I have no positions in any stocks mentioned, and no plans to initiate any positions within the next 72 hours.