Petrobras (NYSE:PBR) is Latin America's largest company and the 5th largest oil company in the world. It currently produces 2.77 million barrels of oil equivalent per day. The company plans to increase production to more than 6 million barrels per day by 2020, by which time it expects to be the largest oil company in the world, surpassing the mighty Exxon Mobil (NYSE:XOM).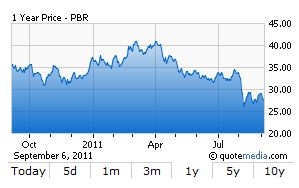 According to a new business plan, the company will spend about $225 billion through 2015, 57% of which will go towards exploration and development. Petrobras has said that it hopes to avoid issuing equity to finance its capital spending, and that operating cash flow will provide it with most of the money it needs. In fact, the company has no plans to issue stock anytime before 2020, meaning shareholders need not worry about dilution. Petrobras also plans to bolster its cash position by selling almost $14 billion of non-essential, lower-margin assets over the next two years.
Make no mistake, the company has virtually unlimited potential. It controls the Lula field, a massive deep water oil field located a few hundred miles south of Rio. The Lula field is one of many subsalt oil fields off Brazil's coast, which together may hold as much as 50 billion barrels of oil.
Petrobras is trading near its 52-week low of $24.51 and, on a valuation basis, it is cheap compared to its competitors.The stock has fallen more than 20% since the beginning of August and, at a recent price of $27.42, trades at just 6.39 times analysts' 2012 EPS estimates. This compares to a forward price-to-earnings ratio of 8.23 for Exxon, 7 for Chevron (NYSE:CVX) and 7.84 for ConocoPhillips (NYSE:COP).
Petrobras has higher gross margins and a higher net profit margin than Exxon, Conoco and Chevron, and the company's price-to-cash flow and return on equity are inline with its competitors. Perhaps the most compelling reason to consider investing in Petrobras is that, at current levels, the company trades below tangible book value (MRQ).
A word of warning: The Brazilian government owns 48% of the company's shares and may interfere with company business in the future. Nonetheless, Petrobras is a company worth owning, especially when it trades below book value.
Disclosure: I have no positions in any stocks mentioned, but may initiate a long position in PBR over the next 72 hours.