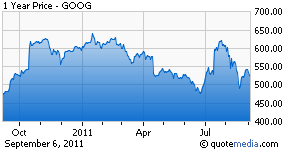 In a previous article, I talked about how Apple (AAPL) forced Google (GOOG) into a panic purchase of Motorola Mobility (MMI) for $12.5 billion dollars. We then learned more details of the acquisition in an article by Seeking Alpha contributor Tech Crunch; who described some of the details this way.
They're buying 20,000 employees (almost doubling their headcount.) They're buying an absurdly daunting armory of over 24,000 patents (I mean, come on: Motorola has the patent on the cell phone.) But there's one more thing that Google's buying, and it's one that shifts up the Android game all together: nearly 30% of Android's existing market share in the U.S.

After years of owning next to none of the hardware market share for their own software platform (even the so-called "Google phone" Nexus devices are made by HTC and Samsung), Google has just become Android's 2nd biggest manufacturer.
One of Apple's advantages has always been its platform unification whereas others such as Google's Android, had more of a fragmented platform. Basically Google saw an Apple advantage and wanted to strategically take it away by its acquisition. But the question is, will it be enough? I now realize that after having more time to dissect the synergistic components of the deal that I am now left with more questions for Google that I have answers.
How it started
If the term "ecosystem" causes one to think about Apple and not high school chemistry class, then the competition has already lost. This is what Google recently realized in its acquisition of Motorola Mobility; a deal I now consider an attempt at becoming an "Apple clone." Whether it works or not, this is precisely what other players such as Research In Motion (RIMM) and Microsoft (MSFT) need to take immediate notice of.
The thing that Apple has that others don't have is the ecosystem; some call it the network of developers. You know, the guys that build the apps, make the accessories, and not to be overlooked the groups of people who support Apple. Then there is the most important factor of all, the customers and the buzz that surrounds every Apple product. Another advantage is that Apple has this thing called the unified stack, which is that it owns everything from top to bottom in its computing paradigm. So it doesn't need to rely on other partners. It can make a very slick and extremely unified platform where "red tape" is non-existent to bring an app or a product to market. These issues, amongst many other caught up to Google and it was forced to take some action; $12.5 billion worth.
So now what?
Google is now clearly a player in the hardware space, but what does it mean for the company and for its partners as well as competitors? How does its shareholder feel about this deal; one where Google paid a hefty premium of over 60% above Motorola's previous closing price? If one investigates the deal a little more closely, we can see that even on an adjusted basis, Google is still paying well more than 20 times trailing EBITDA for Motorola Mobility but a little more than half of trailing revenue. As I noted previously, I have developed more questions than Google has provided answers.
What were they thinking?
I have seen this story before and can pretty much formulate a sense of where it is going to go. Although in Google's case and with its stellar track record it may not end horribly bad, but even with as great of a management team as it has, (at the onset) having enacted this deal is not going to appear terribly smart either. Cisco (CSCO) tried this and failed miserably and it had no choice but to revert back to its roots. It systematically bought companies that were not a part of its core competency. It ventured into markets such as set-top boxes in its acquisition of Scientific Atlanta as well as the Flip Video disaster. Another perfect example would be to look at Hewlett-Packards (HPQ) recent decision to exit the smart phone and PC market altogether. HP's clearly has said they are unable to compete with the likes of Apple and RIM.
So it boggles my mind to see why Google, a successful software and services juggernaut would make this deal and enter the hardware market. I keep going back to one simple answer; it works for Apple, so why not become a clone? Or better yet, "if you can't beat them, join them."
Google's instant "ecosystem"
As much as I question the merits of this deal, I can see where it offers Google similar advantages to what has made Apple so successful and causing players such as RIM and Microsoft to continue to play catch-up in their own smart phone efforts. Clearly integrating both the hardware and software is great thing, not just from the standpoint of a competitive advantage, but also it presents more stability to the user of the product. Not to mention ease of creativity for the developers of the apps as well as accessories. Before the acquisition, developers for Android would have to first select the platform, then they would need to decide on the hardware vendor and finally, they would have had to also create ports for the hardware. For developers, that's a significant amount of work and "red tape" to bring an app to market.
Summary
As many companies already know, competing with Apple is no easy task. But if any company can put up a great fight, I would have my money on Google. As more questions surround the merits of this transaction, it remains hard to not give the company the benefit of the doubt here. I don't recall anything venture on which it has traveled that has not been successful. Needless to say, its management will have its hands full to produce the return on what only appears to be an expensive attempts at becoming an Apple clone.