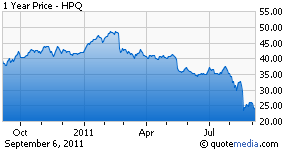 When a technology giant as prolific as Hewlett-Packard (HPQ) has been over the years continues to endure merciless beatings to the degree recently suffered by the stock after already having a relatively unassuming outlook, it causes me to step back and assess not only the state of the market today, but also more specifically the state of HP itself.
HP has been a mainstay in my portfolio for quite some time and a company that I continue to follow very closely. But I just can't seem to get a good grasp on what exactly it is suffering from. It is widely understood that HP's recent declines have been the result of underperformance. But there are two questions that I would like to know; has the bottom been reached and what are management's plans to fix its problems?
HP's CEO Leo Apotheker said the company needs to sharpen its focus and its consideration of options for its PC business. This realization arrived after only his first nine months on the job, during which time he "examined each of the company's businesses in depth" and "carefully considered the path forward." However, one of the most poignant statements that I read was where the CEO simply offered, "The tablet effect is real and sales of the TouchPad are not meeting our expectations."
Apple's (AAPL) iPads and Google's (GOOG) Android platform are now the dominant standards in that arena and it will likely stay that way for the foreseeable future. A couple of weeks ago we learned how quickly the competitive landscape can change on Wall Street. Google's acquisition of Motorola Mobility (MMI) told investors how fierce some rivalries can get when a dominant company such as Apple obtains a certain status.
Apple has made the word "ecosystem"; once known as an environmental term dealing with science, has now become a technological advantage; particularly from the standpoint of a unification. In some circles it's called "killing off the competition." Could this be an example of what Apotheker meant by suggesting that "the Toughpad is not meeting our expectations?"
The company is taking a new strategic direction; one that I think makes perfect sense. But investors must not make the mistake and expect an immediate turnaround; this is going to take some time to realize. I think investors would be wise to give HP the benefit of the doubt here; particularly after seeing how Cisco's (CSCO) restructuring was able to transform the company.
As bleak as things may sound, the company is not performing all that badly. The irony of it all is that since its acquisition of Compaq a decade ago, the strength of the company has been its PC business; and one of the segments that it is considering to discontinue. The Personal Systems Group, which remains the number one PC business across notebooks and desktops with 18.1% share, delivered revenue of $9.6 billion, down 3% from the prior year. But the operating profit for this segment was up 21% year-over-year to $567 million or 5.9% of revenue. This is up 120 basis points year-over-year, largely due to lower component costs and favorable customer mix.
Commercial Client revenue grew 9%, led by another strong quarter in workstations, which generated 19% revenue growth. Total Consumer Client revenue was down 17% versus the year-ago quarter. Both desktop and notebook were down 4% year-over-year as both segments continue to be equally affected by the weakness in the consumer demand.
HP also showed pretty decent levels of profitability during the quarter. Gross margin climbed 100 basis points, and while the company lost some of that momentum through the operating items, operating income still grew 3.8% and the company reported a small increase in margin. Not surprisingly, software, services as wells as printing were margin leaders.
Summary
Since recommending HP a short on June 16, the stock has plummeted 32% from a price of $35.09 to where it stands today at $24. To date, there have been half a dozen downgrades on HP's stock since the middle of May. With continued sluggish PC sales as well as what appears to be a lack of misdirection within the company, I can't really say that I see value here yet. I am still waiting patiently for its management to show me some reason for optimism and show that HP can stay competitive and adapt to the rising technological trends.
Disclosure: I am long CSCO.