When we wrote "3 Banks Trading Below Tangible Book Value and Near 52-Week Lows", Bank of America (NYSE:BAC) shares were trading at $10.79 or about 25.8% below tangible book value. About two months later, just prior to Warren Buffett's $5 billion private investment in BAC's 6% preferred stock, BAC shares fell to a year-to-date low of $6.99 or about 50.1% below tangible book value. Coincidently, BAC shares closed yesterday at $6.99 and reached an intraday low of $6.80 (19 cents below the controversial Buffett Put).
Buffett's money and brand-name allowed him to score a sweetheart deal for Berkshire Hathaway (NYSE:BRK.B) shareholders. BAC created a special type of preferred stock by issuing Berkshire 50,000 preferred shares, valued at $100,000 per share, for a total of $5 billion. The preferred shares will pay Berkshire 6% annually in perpetuity. Should BAC end the arrangement, they will have to pay Berkshire a 5% premium of $250 million. The kicker includes warrants for the option to purchase 700 million shares of BAC at the strike price of $7.14.
Another prominent value investor, and a Morningstar Fund Manager of the Decade, Bruce Berkowitz of the Fairholme Fund, has also been investing in BAC, but in common stock in the public markets. As of 5/31/2011, BAC was a top five holding of the Berkowitz's fund and accounts for 5.83% of his portfolio. Berkowitz acquired his shares for prices ranging from $10.50 to $13.72 or about $11.84 on average.
Nevertheless, BAC shares and financials in general continue to free fall as concerns escalate over risk of banks being undercapitalized in face of European sovereign debt defaults and a double-dip in housing (see chart below, click to enlarge).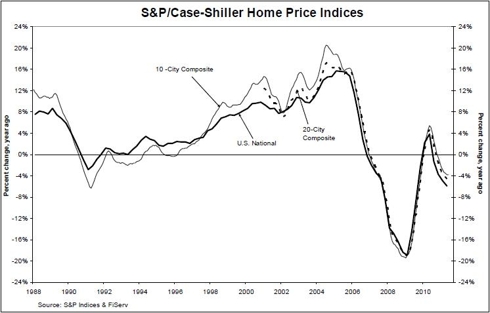 Click to enlarge
Conclusion
Barring systemic risks due to European sovereign debt implosion and/or collapse of too big to fail institutions such as BAC, investors might consider looking for opportunities in non-financial corporations while markets are gripped with fear and uncertainty as investors at large are throwing the baby out with the bath water. An efficient strategy would be to invest in a low-cost ETF such as the WisdomTree Dividend ex-Financials Fund (NYSEARCA:DTN) and/or the WisdomTree International Dividend Ex-Financials Fund (NYSEARCA:DOO).
Nervous investors without conviction should stay on the sidelines or consider investing in gold ETFs such as GLD.

Disclosure: I am long BRK.B.
Disclaimer: Before deciding to invest you should carefully consider your investment objectives, level of experience, and risk appetite. The possibility exists that you could sustain a loss of some or all of your initial investment and therefore you should seek advice from an independent financial advisor if you have any doubts.