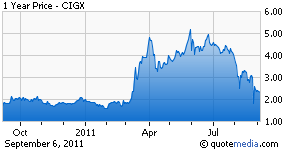 The 1-2 punch of a major stock market break and a decision by the Federal Circuit Court of Appeals has clobbered shares of Star Scientific (CIGX) and brought them down to just above lows reached last year when all the big interest in the stock began. Now the company has initiated a marketing campaign to sell a new product that has groundbreaking potential. It portends a macro change in the treatment of low-grade inflammation.
Let's talk about the science a bit because it is central to grasping the sea change that I think the Star product brings to the market. It's all about modulating and quieting NF-kB, a blood protein that serves as a first responder to harmful cellular stimuli. Because NF-kB controls many genes involved in inflammation, it is not surprising that NF-kB is found to be chronically active in many inflammatory diseases, such as inflammatory bowel disease, arthritis, sepsis, gastritis, and asthma, among others. It's important to note that heightened counts of these regulators are associated with elevated mortality, especially from cardiovascular diseases. The study of inflammation is preeminent in medical research and there are thousands of articles now referencing this "first" response of the immune system.
Now enter Star Scientific. Last Wednesday (8/30/2011) Star began selling Anatabloc™ online and by phone. I believe that Anatabloc™ could become a multi-billion dollar product. Why?
Simply, Anatabloc™ inhibits NF-kB. New testing at the Roskamp Institute shows that Anatabloc™ is more effective in lowering / moderating / inhibiting NF-kB's role in inflammation than the leading drugs in the market space — and they sell in the $billions. Furthermore, Anatabloc™ can be taken without concern about toxicity, and it's an over-the-counter, non-prescription product.
The Roskamp Institute has posted data – "inflammaging research" – revealing how (RCP-006) Anatabloc™ is more than four (4) times more effective than either Celebrex or Voltarol and three (3) times more effective that Lipitor in reducing inflammation in whole human blood. Lipitor and Celebrex are recognized to have advanced anti-inflammatory properties and have sold in the billions. Lipitor sales in 2010 were $10.7 billion.
The market for Anatabloc™ as a reducer of low grade inflammations is of staggering proportions: the product targets chronic inflammation known to be present in a number of coronary and vascular diseases, cancers and in auto-immune diseases such as thyroid disease, diabetes, asthma, Crohn's, Irritable Bowel Syndrome, Alzheimer's, Parkinson's and arthritis, besides numerous other conditions and bodily woes ― and that includes ageing.
An excerpt from the Wikipedia epidemiology page on cardiovascular disease encapsulates much of the Roskamp research thesis: "A fairly recent emphasis is on the link between low-grade inflammation that hallmarks atherosclerosis and its possible interventions. C-reactive protein [CRP] is a common inflammatory marker that has been found to be present in increased levels in patients at risk for cardiovascular disease.[22] Also osteoprotegerin which involved with regulation of a key inflammatory transcription factor called NF-κB has been found to be a risk factor of cardiovascular disease and mortality."
Links to the Roskamp research:
The upshot of the studies on inflammation listed above vaults CIGX into a new category — that of a dynamic Biotech with legions of possibilities which obviously include licensing, co-venturing, and buyout potential.
I believe that the impressive and compelling inflammation studies being carried out in this prestigious institute is fast gaining traction not only in the medical and research community, but in financial institutions too as the market for inflammation products grows as an opportunity for investment. It is to be expected that major media will soon grasp the weight of this story and follow with coverage.
Star has revealed that it is working with McColl Partners LLC at "structuring a controlled auction for bidding by pharmaceutical companies for licensing and/or co-venturing relationships."
I have reported an anecdotal story about a retired physician, scientist and former head of one of the most eminent cancer institutes in the country who recently viewed these studies of RCP-006 / Anatabloc™. Its ability to suppress NF-kB's as compared with the compounds that were tested at Roskamp got him immensely interested, and he is now doing a full-on study of Roskamp's research. Many scientists now believe that cancer is caused by NF-kB's gone "haywire," and further believe that a product that would suppress NF-kB's would have potential in both the prevention and treatment of cancer. See: Inflammation and cancer: How hot is the link? (The University of Texas M.D. Anderson Cancer Center)
The commercial "launch" of Anatabloc™ is being orchestrated by marketing giant InVentiv Health (a Thomas H Lee Partners subsidiary), a leading marketing and distribution company with experts in every aspect of product development, launch and commercialization. Their client list includes many of the largest, most successful pharmaceutical and biotech companies in the world, including Johnson & Johnson (NYSE:JNJ), Abbott Laboratories (NYSE:ABT), Novartis (NYSE:NVS), Merck (NYSE:MRK), Pfizer (NYSE:PFE), and Eli Lilly (NYSE:LLY).
InVentiv, a $2 billion company, has marketing and sales capabilities in 40 countries around the globe. I'm sure InVentiv did much due diligence before it took on the Anatabloc™ product to market. Also consider that it counts Pfizer as a client — noteworthy because sales of Lipitor (a direct Anatabloc™ competitor) were $10.7 billion in 2010. Talk about a marketing footprint. Wow! I am not alone when I muse that Anatabloc™ could become a multi-billion dollar product.
Thomas Lee Partners has invested approximately $22 billion of equity capital in more than 100 businesses with an aggregate purchase price of more than $150 billion.
Since the last reporting period "institutional ownership" has increased significantly for (CIGX), from 91 to 111 institutions that hold over 40,000,000 shares by my count. (The number includes Tradewinds, who just added another 150,000 shares on 8/23 and now holds 17.3% of the shares.) Also of note: in the last reporting period Goldman Sachs (NYSE:GS) added 474,810 shares.
The Roskamp Institute, funded by the National Institutes of Health and private donations, is conducting research using (RCP-006) Anatabloc™ on Alzheimer's disease, gastroenterology, rheumatology, cancer, auto-immune diseases (lupus), and cardio-atherogenesis (the process of atheromatous plaque development in arteries), among other conditions.
I'm an investor in Star Scientific shares, have bought shares on the open market, and have no other affiliation with the company other than as a shareholder.
Disclosure: I am long CIGX. I'm an investor in Star Scientific shares, have bought shares on the open market, and have no other affiliation with the company other than as a shareholder.