Deltek Inc (NASDAQ:PROJ) provides enterprise software and information solutions for government and private firms. The firm's sector probably scares away many investors. It has been shown across the industry as a whole that spending in the IT sector has been slowing rather dramatically. Digging into the company's financial statements revealed that a large amount of their revenues are generated through government contracts. Regardless of what anyone wants to say or what political party gets elected it should be pretty evident to everyone that spending is going to be cut in one way or another and, if at all possible, the government is going to trim its expenses as best it can. I think it is a pretty fair assumption that IT spending will be one of the areas that sees cuts in government spending.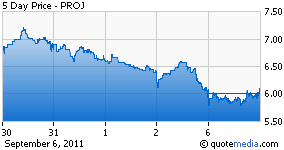 What I realized after looking at this business from a qualitative standpoint is how horrible the financial statements look. As of last quarter (June 2011) the current ratio is a mere .75. Thus, if PROJ sells every current asset they have they don't have the ability to pay all of their current liabilities by 25%. If you look at their total tangible assets to total debt you'll see that even if all tangible assets are sold off PROJ can only pay 40% of their total debts.

Revenues have seen little growth from 2006 while operating income and net income have been falling off a cliff. In 2010, PROJ declared a net loss for the first time in years. Selling expenses have risen by 75% since 2006 and revenues have increased a measly 20% all while cost of revenues has been relatively stagnant. With all this focus on selling more or better services and products the company hardly has anything to show for it. Cash levels have been nearly cut in half from Q3 2010 while current liabilities have increased slightly. After this I thought "These cash flows are going to look horrendous" and sure enough the Price to Cash Flow (TTM) is somewhere in the range of 205. A figure of 205 is absolutely unheard of. Operating cash flows have fallen some 34% since Q3 2010!

My only recommendation to investors holding this company is to make sure they are checking the news on a daily basis. This company is not going to skyrocket up in price any time soon and I find myself hard pressed to find any value here. If I continue to see this ongoing trend and I may consider a possible short position. This road is simply unsustainable. It reminds me of the game Jenga- everything is dandy until the building collapses because you couldn't pay your debtors.

Disclosure: I have no positions in any stocks mentioned, and no plans to initiate any positions within the next 72 hours.

Additional disclosure: I would like to short PROJ if this trend continues to the last quarter of fiscal 2011.