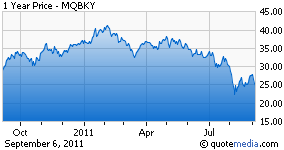 Macquarie Group (OTCPK:MQBKY), the world's third largest aircraft lessor, is preparing to bid for the aircraft leasing business of Royal Bank of Scotland (NYSE:RBS). It is yet not decided whether it will buy the part of or the whole unit, or a member of any consortium, but the initial offers stand between $6 billion and $8 billion, and things might realize pretty soon.
Ah! Macquarie seems to be in a mood to stretch its wings (pun intended), recalling that Macquarie Bank Ltd. signed an agreement with International Lease Finance Corp., part of the American International Group (NYSE:AIG) in April 2010 to buy 53 aircrafts for about $1.8 billion. Among them, the right to purchase six aircraft lines will be transferred to Macquarie AirFinance Limited (MAF), a global aircraft leasing company of which Macquarie owns 37.5%.
Now, most of these are Boeing (NYSE:BA) and Airbus aircrafts, some of the best, most-in-demand operating lease lines these days. Currently, Macquarie AirFinance manages around 161 jets, which is leased to 85 operators in 44 countries worldwide. Wow!
Whether it will be good for RBS, which seems to be tackling hard to amortize the $73 billion debt acquired during the 2008 recession, is another story, but let's see how it is going to help Macquarie in the long run.
Just as I was doing the AIG recap, I saw that it is also going to buy a few aircraft lines by 2012. Now what's going on here?
According to Airbus, the current global aviation market, worth $3.2 trillion, is supposed to grow by 4.8% till 2029, with the number of commercial aircrafts to be doubled in that time.
Check the Boeing market forecast chart below.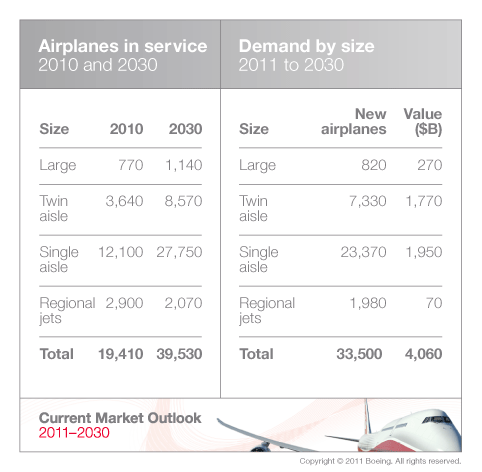 Expanding markets in Asia, Africa, Latin America and Middle East will spur huge passenger growth during that period.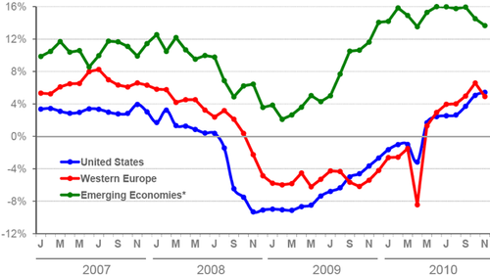 Click to enlarge
(Click to enlarge)
If this is what runs in Macquarie's mind, it is really a good long-term investment I must say.
And if you are thinking if Macquarie can justify spending so much cash, the last annual report does show an increase of A$1 billion in the operating revenue on FY2010. Only the burgeoning employment expenses seem to be cutting on the operating profit.
Even from the balance sheet, it shows the company is more into investing, rather than playing derivatives in this volatile economy. In fact, the Australia's largest investment house is trying to exploit this economic situation, with maximum investment and acquire as many assets as possible, out of Australia. The Macquarie capital house seems to be very active and has already spent around $2.4 billion on mergers and acquisitions, in Asia, Europe, Canada and United States. Last week, a Macquarie-led group took over Charter Hall Office REIT, estimated at $1.85 billion. It acquired the electric marketing and trading portfolio from the Integrys Energy Group (NYSE:TEG). It entered into an agreement with a Pakistani securities company, Foundation Securities in March 2011, and the year before that, it signed an mutually beneficial agreement with a Vietnamese securities company, VinaSecurities.
As an investor, its return on average equity stands at 8.16x, much better than 4.96x of DKN Financial Group and 6.5x of Quest Investments. And the price-to-book ratio still stands at 0.77x, much lower than 15.84x of BBX Corp and 8.5x of Cervantes Holdings.
To sum it up with silly common sense, Macquarie seems to be a good long buy at the moment. What do you say?
Disclosure: I have no positions in any stocks mentioned, and no plans to initiate any positions within the next 72 hours.