After rebounding 4.6% in July, China Internet stocks plunged 11.9% on average in August (Table 1), underperforming the monthly returns of NASDAQ Composite (NASDAQ:
QQQ
) (-6.4%), the BNY Mellon China ADR Index (-7.6%), and the Halter USX China Index (-8.5%). Such performance resumed the industry's latest downtrend, which started from May (-11.6%) and June (-9.3%). During the U.S. market turmoil in August, as investors became more risk-averse, China Internet's emerging sub-industries became the worst performers: social media, online video, and e-commerce stocks plunged 21.1%, 16.7%, and 15.0% on average, respectively. By contrast, traditional cash-cow sub-industries performed relatively better: Online advertising and online games stocks declined 11.7% and 12.6%, respectively. The most resilient sub-industries for the month were the less famous segments such as enterprise email and content delivery networks.
Microblogs may have reached the inflection point in China.
Social media stocks were the biggest decliners for the month, dropping 21.1% on average. China Internet newcomers Renren.com (NYSE:
RENN
) and Taomee (NYSE:
TAOM
) dropped 32.2% and 42.6%, respectively, dragging down the whole sub-industry. By contrast, long-time incumbents Sina (NASDAQ:
SINA
) and Tencent (
OTCPK:TCEHY
) were more resilient, declining 0.6% and 8.9%, respectively. This comparison shows investors believe that several traditional powerhouses are winning the battle against emerging companies in China's burgeoning social networking services (SNS) industry. As investors favor Sina and Tencent on the back of microblogs' explosive growth, I have noticed that microblogs' growth in China may have peaked, and the industry's inflection point may have arrived much earlier than investors had expected. Charts 1 and 2 show that search queries for microblogs and media coverage of microblogs have shown signs of slowing down. However, Chart 3 shows traffic to microblogging websites was still growing fast. Despite the divergence of data points and the reasonable theory that traffic (chart 3) is more meaningful than search queries (Chart 1) and media coverage (Chart 2), my key takeaway is that data points on microblogs have started to break their previous pattern of "all going up". For companies in this industry, this trend means they should have a growing sense of urgency in monetizing their services, because if they don't, they risk missing their best chance of achieving large-scale profits in SNS. After all, monetization of an Internet service will be increasingly more difficult as its growth gradually slows down. For investors, this trend means they should shorten their investment horizons and start monitoring the companies' near-term monetization efforts very closely.
Online games stocks will remain a safe haven for the rest of 2011.
During the latest three monthly plunges for China Internet stocks (
May
,
June
, August), online games stocks have demonstrated strong resilience. In addition, during China Internet stocks' good times (
February
,
March
,
April
,
July
), online games stocks outperformed the overall industry every month. These two patterns show that the online games sub-industry has held up pretty well in a volatile 2011 for China Internet stocks. These stocks do not feature Baidu's (NASDAQ:
BIDU
) near-monopoly market position, nor do they have Sina's huge room for imagination. However, they are product-driven businesses that have frequently bucked the trends of the overall stock market because of the earnings power of "hit" games especially during their first several months after launch. However, investors should recognize that because of the short-term hit-driven nature of the busienss, the leaders of Chinese online game stocks have rotated almost every month: NetEase (NASDAQ:
NTES
) and Giant (NYSE:
GA
) for Feburary, KongZhong (KONG) for March, Changyou (NASDAQ:
CYOU
) and Perfect World (NASDAQ:
PWRD
) for April, Tencent for May, Changyou for June and July, and Perfect World for August. Based on online games stocks' ability to buck market trends and their impressive track record year to date, I believe they will remain a safe haven for investors for the remainder of this year. Considering these stocks' rotation of leadership year-to-date, I believe an evenly-distributed portfolio consisting of the "Big Six" - Tencent (
OTCPK:TCEHY
)), NetEase (
NTES
), Shanda (NASDAQ:
GAME
), Perfect World (
PWRD
), Changyou (
CYOU
), and Giant (
GA
) - makes the most sense, and this portfolio will outperform the overall China Internet industry for the rest of 2011.
(Click charts to enlarge)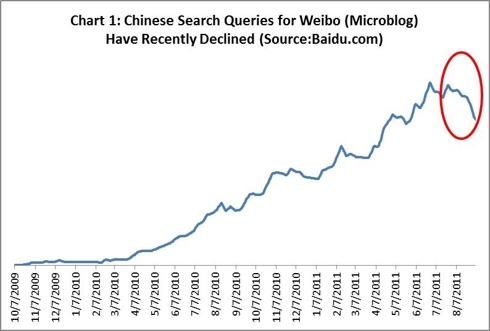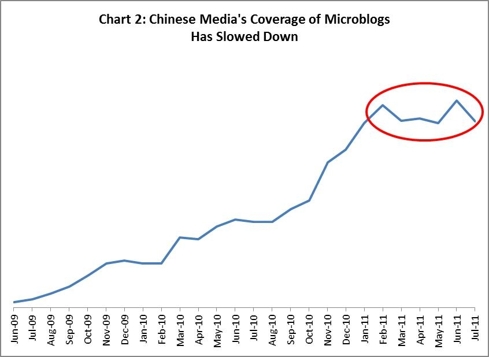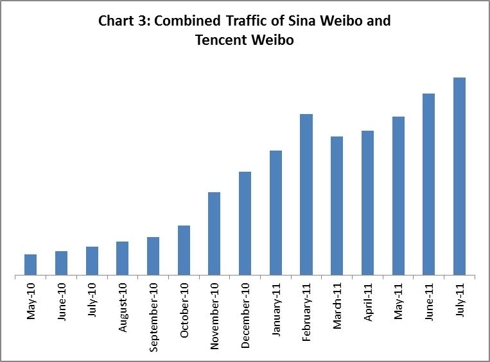 Table 1: China Internet Stocks' Performance in August 2011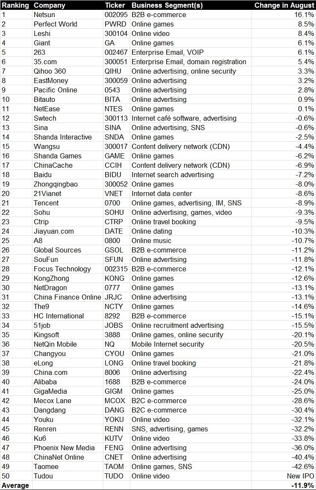 Disclosure: My virtual investment portfolio has a long position in GA, NCTY and NTES and a short position in DANG, MCOX and YOKU.