If you're trying to find some defensive dividend paying stocks that beat the market during the recent correction, check out the price performance data on these 3 dividend stocks :

(Click charts to expand)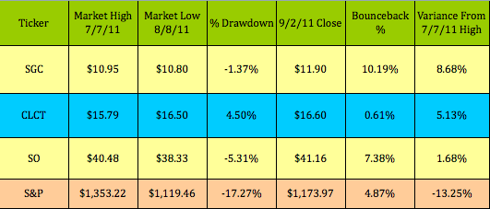 These dividend stocks all had lower drawdowns than the S&P. Shares of Collectors Universe, Inc. (CLCT) actually gained, because of its gold correlation, and were higher as of the 9/2/11 close than they were on July 7, when the correction started. Superior Uniform Group, Inc. (SGC) is a thinly traded stock, with an avg. volume of approx. 3000 shares/day. Southern Company (SO) is in the defensive Utilities sector, which is the leading sector for 2011.
Here's the info on dividends for this group: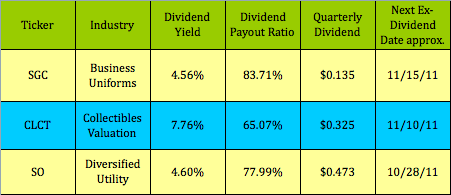 Due to their attractive dividend yields, all of these stocks are listed in our High Dividend Stocks by Sector Tables.

We've also listed Southern Co. in both our Covered Calls Table and our Put Selling Table, due to its fairly high options yields.
Financial Metrics: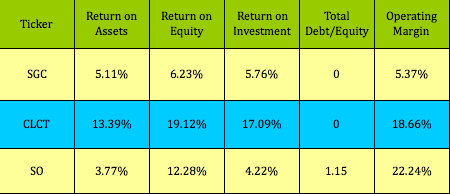 Valuations:
CLCT just completed its fiscal year on June 30, 2011. The figure below is adjusted for a non-cash impairment charge, and one-time deferred tax benefits/charges.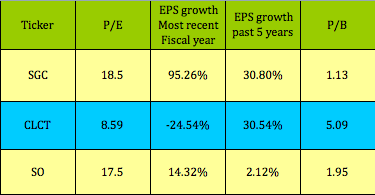 Disclosure: I am long SGC, CLCT.
Disclaimer: This article is written for informational purposes and isn't intended as individual investment advice.