We've been eyeing Honeywell (NYSE:HON) ever since it reported second-quarter results a number of weeks ago. The firm has hit our trigger buy price in the low-to-mid $40s per share range, and we're anticipating upside to $60 per share by early 2012. We have included a link to our 16-page equity research report on Honeywell here and have pasted a snapshot of the first page of the report below.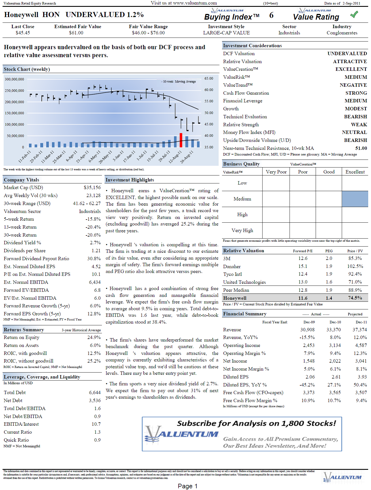 (Click to enlarge) Source: Valuentum Securities, Inc.
In Honeywell's second quarter, the firm's top-line expanded 15% (7% organic growth), while earnings per share jumped over 40% from the same quarter a year ago thanks to a 70 basis-point expansion of segment margins to 14.3%. The key driver fueling the growth was solid performance in the firm's aerospace commercial aftermarket (up 21% in the period) reflecting strong spare sales and higher aircraft utilization rates. Total aerospace sales advanced 6% from the same period a year ago, while segment profit only advanced 2% thanks to margin pressure in the division (excluding the impact of certain payments, however, margins would have been up 110 basis points in the segment). Management expects its commercial aerospace segment to continue to be strong, and we agree. Build rates at Boeing (NYSE:BA) and Airbus (EADSY.PY) are expected to advance considerably thanks to rate increases across their narrow body platforms and initial deliveries of new builds (787 Dreamliner). We expect Honeywell's aerospace segment to capture a nice portion of this strength going forward.
The top line for its ACS segment increased 20% from last year's quarter, thanks primarily to acquisitions and the ongoing general industrial recovery (organic growth in the segment was 6%). Management indicated the strong performance for this segment was driven by an uptick in retrofit activity thanks to new product introductions and energy efficiency initiatives across its customer base. Segment profit for its ACS division increased 24%, as segment margins increased 40 basis points due to higher throughput. Looking ahead, the firm indicated that building solutions will see some acceleration in the back half of the year, as it converts some of its large wins in 2010 (currently in backlog) into revenue. However, our enthusiasm for this division is somewhat tempered by the current domestic economic malaise, specifically softness in the commercial construction end markets.
Its Transportation Systems segment had a particularly strong showing. Sales in this segment jumped 26% compared with the second quarter of 2010, while segment profit surged 45% thanks to margin expansion of over 150 basis points in the division. Management suggested that turbocharger unit sales were up in the "high-teens" during the quarter, and we think the strong pace will ensue in coming periods, as Honeywell continues to achieve a relatively high win rate on new gas and new turbo-diesel programs globally. However, the firm did mention that the rate of growth will moderate a bit as production schedules and diesel penetration rates level off, particularly in the current third quarter.
The firm's Specialty Materials segment increased 12% from the same period a year ago, and segment profit increased 31% thanks to material margin expansion of 200 basis points. Management indicated that it continues to see a recovery in global refining and continued strength in its petrochemical end markets. Further it suggested that UOP's book-to-bill remains over one, with growth expected to accelerate in the second-half of the year. However, the firm cautioned that its current strong margins in this segment may face some headwinds due to commodity-inflation factors. We'll be watching profitability in this segment closely in coming periods.
Honeywell bumped up its full-year revenue guidance to the range of $36.1-$36.7 billion (up $100 million from its previous range) and its 2011 earnings-per-share estimate to the range of $3.85-$4.00 per share from $3.80-$3.95 per share previously. Management expects organic revenue growth to be slightly lower in the second half than in the first (5%-8% versus 9%), but we view this more as conservatism than any tragic shift in Honeywell's top-line potential. In fact, we think strong growth at UOP and aerospace will likely enable it to beat its organic top-line forecasts for the year, though key risks regarding the global economy and weakness in the euro remain. As for earnings, Honeywell warned that margins may face some pressure in the back half due to the dilutive impact of acquisitions and some pressure in Specialty Materials. However, we would not be surprised to see another beat-and-raise performance in its third quarter.
The company also reiterated its 2011 free cash flow guidance of $3.5-$3.7 billion, excluding contributions to its pension plan. We expect net income conversion to free cash flow to continue to be strong, as it was during its most recently reported second quarter. In terms of cash use, the firm continues to plow funds into its pension plan (now 90% funded) and buy back shares. Though we find Honeywell's management to be shareholder-friendly, we'd prefer the firm look more opportunistically to buy back shares at lower levels than today's. In all, we're bullish on Honeywell's outlook, and we'd be looking to add it to our Best Ideas portfolio in coming weeks.
Disclosure: I have no positions in any stocks mentioned, and no plans to initiate any positions within the next 72 hours.