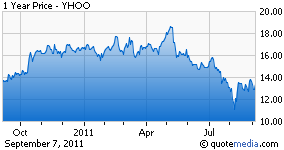 Short answer: No.
Yahoo (NASDAQ:YHOO) was one of the Internet's first great names, in the 1990s. It had first-mover advantage in search, but it took its eye off the ball.
Yahoo became a portal, buying a host of "information" assets now worth nothing and then evolving, under Terry Semel, co-founder Jerry Yang and Carol Bartz, into something like what AOL wants to be. It's a content site – sports, news, finance – along with pieces acquired in better times.
It's those pieces that investors are focused on, especially a roughly 40% stake in Alibaba Group.
Is that stake worth anything near the $16.3 billion Wall Street currently values Yahoo at?
Thornburg Investment Group thinks the Alibaba holdings alone are worth $11.45/share. That's because Alibaba, based in Hangzhou, China, is not only the Amazon.Com and eBay of that country, but the chief online wholesaler as well, with 430 million registered users. It spun out its payment service Alipay last year on government orders, and has ambitions in the cloud, phones and tablets, along with the cash flow to execute them.
In other words, Alibaba is everything Yahoo is not. While some here are looking at "strategic buyers" like Microsoft (NASDAQ:MSFT), Verizon (NYSE:VZ) or AT&T (NYSE:T) to take out Yahoo, it's really Alibaba CEO Jack Ma who will drive this transaction. Yahoo, for all intents and purposes, is a Chinese company.
Bartz was just the latest in a string of U.S. CEOs who missed the point of online content, which is to create marketplaces, to facilitate buying and selling, and to get a piece of that action. It is the sizzle, not the steak, and that's all you have after selling the Alibaba stake – a lot of noise.
So if you like speculating on China, and betting on the goodwill of Chinese executives toward their U.S. counterparts, by all means take a flyer. Personally I think you'll do better at a Macau casino. Sold in pieces, the remainder of Yahoo is worth very, very little, a brand - like another AOL - that needs to be killed.
Now if Ma could do a deal to take over the company and use it as a shell to bring Alibaba to America, I might think different.
Disclosure: I have no positions in any stocks mentioned, and no plans to initiate any positions within the next 72 hours.