One of our Alpha fellow contributor seems to be musing on the possibility of Chimera Investment (NYSE:CIM) being taken over by Annaly Capital Management (NYSE:NLY). That is an interesting consideration, but will it happen? And if it is realized, what will follow?
I find this line curious especially: "Chimera is externally managed by Fixed Income Discount Advisory Company, a wholly-owned subsidiary of Annaly Capital Management, Inc." FIDAC externally manages both Crexus Investment and Chimera Investment. Furthermore, Crexus Investment (NYSE:CXS) focuses more on commercial mortgage-backed securities, while Chimera Investment focuses more on residential mortgage-backed securities.
So might Annaly Capital Management acquire Chimera? Annaly mainly invests in agency securities, and another Alpha contributor's research shows over 70% of the Chimera portfolio is held in the non-agency residential MBS. Would Annaly Capital Management diverge from its usual investment strategy in this unstable, downturn market and go for low-market-valued, non-agency assets? If It were me, I wouldn't.
The housing market outlook in 2011, according to Kiplinger, shows the residential REIT market will need some time to turn around amid unstable economic conditions and high unemployment. High foreclosure and short-sales rates will be hard to overcome in the short term at least. Low mortgage rates might play a factor in attracting foreign investors, but the condition of the economy might not be attractive to home buyers, who may want to relocate to the United States, or buy a vacation home. Even for that, if they are engaged in business, they would first try to invest in the US commercial sector, and that leads me to think commercial real estate will bounce back faster than residential.
Though I am not saying US commercial real estate assets seems to be in the upward momentum, the chart clearly shows below that commercial property prices, especially office properties, have fallen by 43% since 2010, are now in a moderating phase. With increasing transaction volume and rent growth, a rebound might be in sight for the coming few years. This will be spurred by easy CRE loans at low interest rates from by the banks.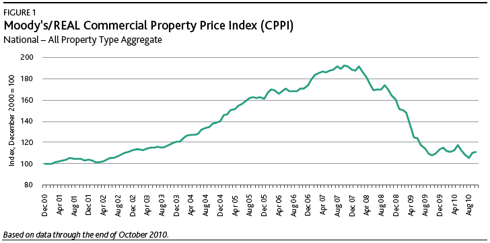 So if Annaly wants to acquire something, it ought to go for Crexus rather than Chimera, right?
Investment advisory and servicing fees went up to $58 million in FY10 from $48.95 million in FY09, which means it is already making progress in the management advisory segment. Why would it want to stop that by buying Chimera? Moreover, even Annaly is focusing harder to cover up the losses in the interest rate swaps and hedging activities, so any wrong or risky move is unwise at the moment.
All in all, Annaly is not in a good position to engage in risky buys. Moreover, if it has to go for one, Crexus would be a better bet. I vote no for Chimera.
Disclosure: I have no positions in any stocks mentioned, and no plans to initiate any positions within the next 72 hours.