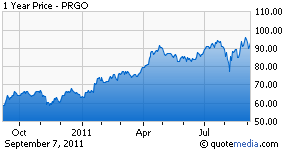 Last year when the cold and flu season forced me to visit the local pharmacy, I was amazed at the countless options staring back at me from the cough and cold aisle. Should I buy cherry or mint? Suppressant or expectorant?
A
nd should I get one with or without an antihistamine? The choices were dizzying. One choice, however, was easy. Generics remain much cheaper than store brands. And that means sales growth for Perrigo (NASDAQ:PRGO).
The recession and lackluster recovery have spending conscious consumers shopping more for private label products, and over-the-counter ("OTC") medicine is no exception. Companies are increasingly aware of the consumer appetite for quick and easy solutions, absent of doctor visits and prescriptions. And this is driving more products from behind the counter to the aisle. In the next five years, Perrigo expects another $10 billion of such branded products will make the shift to OTC, creating opportunities for generic manufacturers like Perrigo to grab market share.
The ongoing adoption of private label helped Perrigo's consumer healthcare segment sales climb 9% to $434 million last quarter. The company saw growth in all its product categories and new products boosted sales by $18 million. Next year looks even brighter. Perrigo is guiding for 12-14% growth in the segment as OTC market share continues to climb and new products are released, including generic versions of Johnson & Johnson's (NYSE:JNJ) Prevacid, with $225 million in branded sales, and Mucinex, with branded sales of $145 million.
But, generic OTC isn't the only market driving Perrigo's sales higher. The company also has a strong pipeline of generic prescription drugs. And with higher co-pays and additional coverage tiers, consumers also are turning to generics behind the counter. Last quarter, pharmaceuticals segment sales were $92 million, 12% higher than last year. Of that, new products accounted for $10 million in sales. And full year pharmaceutical sales were up 44.7%. Next year should be even better. In July, the company closed on its acquisition of Paddock, which brought along $200 million in annual sales and a pipeline popping 25 abbreviated new drug applications. Segment sales also benefit given recently launched products have $230 million in branded sales market share opportunity. As a result, Perrigo estimates segment sales will be up 55-57% in FY2012.
Perrigo also sells nutritional products, such as private label vitamins and supplements. The segment generated $123 million in sales last quarter, thanks to Perrigo's $808 million acquisition of infant nutrition player PBM Holdings last year. The deal boosted Perrigo's reach into China, where infant nutrition has grown at a compounded annual rate of 28.5% since 2005, and added $41 million to quarterly sales. In the coming year, the segment is expected to launch a generic version of Align, which has $85 million in branded sales, and expand its China distribution. As a result, Perrigo is forecasting 5-7% segment growth this coming fiscal year.
Results at its active pharmaceutical ingredients ("API") division were the only hiccup last quarter. Sales were 5% lower year-over-year and 20% lower sequentially. Some of the weakness was offset by higher demand for the active ingredient in generic Temodor in Europe. And the launch of the active ingredient actracurium is expected to help FY2012 segment sales grow 9-11%. Further out, Perrigo's deal to provide the API for generic Temodor to Teva Pharma (NASDAQ:TEVA) in the U.S. once Merck loses patent protection in Q3, 2013 offers opportunity.
All this growth, coupled with cost control, is boosting profit. Consolidated operating margins rose 1.6% to 19.6% for the fiscal year while adjusted EPS from continuing operations rose 32%, well ahead of its forecast. In FYQ4, gross and operating margins were up 2.5% and 5.1%, respectively. FY2011 cash flows of $374 million were near the high end of guidance, which has helped debt ratios. Meanwhile, refinancing programs have brought Perrigo's average weighted interest on total debt to below 4.5%.
Overall sales increased 21.5% for the FY2011 to $2.76 billion while FYQ4 sales were up 14% to $705 million. Ongoing market share growth, new products and acquisitions support the company's guidance for earnings of $4.50-4.65 for FY2012, which is 12-16% above FY2011. With 45 new products expected to add $190 million in sales, an estimated 15-18% top line revenue growth next year, growth in Asia and ongoing patent expirations, Perrigo offers shareholders a solid opportunity for upside.
Disclosure:
I have no positions in any stocks mentioned, but may initiate a long position in PRGO over the next 72 hours.