By Bryan McCormick
A week ago we analyzed the sectors within the S&P 500 to see what was driving the index at a more granular level. When we look at sectors we can immediately grasp what is in and out of favor, and that can help us understand quite a bit about sentiment. It gives us another dimension other than pure price, and that can give us better insights about possible direction.

In the year-to-date graph below, a heat map of the percentage returns of the sectors, we can see that the financials are still leading on the downside. For this year they are down well over 20 percent.

The best-performing sector remains the utilities. Of the three sectors that are positive of the year, all are considered "safety" areas where investors hide when they want to avoid risk: utilities, consumer staples, and health care.

The outperformance and asset flows into these sectors shows little favorable change for those who believe a "risk-on" trade is warranted. More importantly, the sector breadth remains skewed to safety even on a day when the index itself is up significantly.

What has driven returns today is a very large set of moves in the financials, which were down more than 23 percent on the year just yesterday, and in energy. Crude and coal are two areas that are seeing big gains today, and that has helped pull the tape broadly higher.

Despite the big gains, energy has yet to turn positive as a broader sector. We will have to see if the bounce there can take hold.

When we looked at the sectors last Wednesday, energy had edged into positive territory along with consumer discretionary. That day the index hit its most recent highs since the latest downturn began in late July and early August.

An improvement in sector breadth would appear necessary for the index to head substantially higher. The safety sectors have limits in their ability to make further gains, given the inherently more conservative nature of their assets and limited valuation multiples.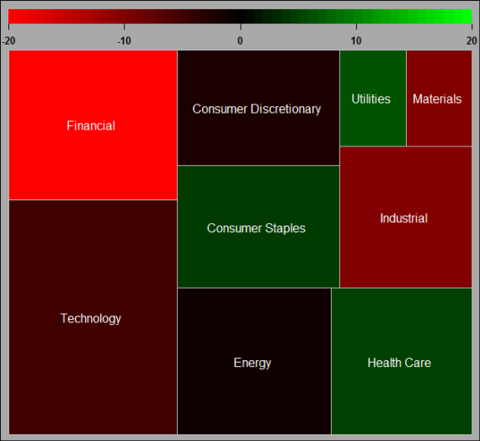 Click to enlarge

(Graphic courtesy of DeepFoo Analytics)