Our analysis of silver lends credence to our position on gold prices. While silver should see weakness due to the same aforementioned reasons as gold, we believe that the recent action of silver as compared to gold sheds further insight into why silver should continue to underperform.
Furthermore, gold's outperformance of silver even as supposed safe haven flows increase the price of gold are further testament to the bubble mentality growing in the gold market. If gold was truly being bought as a monetary easing hedge, silver would have increased by at least as much as gold if not more due to its usual status of being a higher "beta" gold alternative. However, the fact that gold has markedly outperformed gold shows that buyers of gold are only interested in gold, and not as much the other precious metals. This is because gold has become a speculative market, and the attention being placed on gold is causing the price appreciation, not a true secular shift into precious metals as a monetary alternative.
The following chart shows the price of silver and the price of gold, normalized for percentage since August 1st.
click to enlarge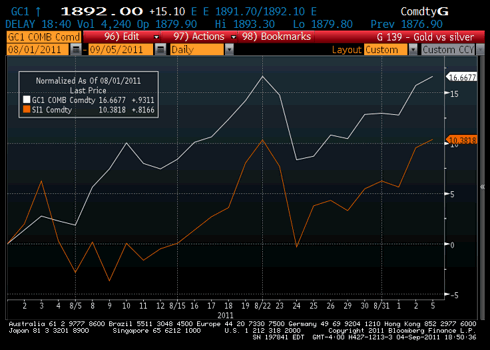 Click to enlarge
As can be seen, gold has significantly outperformed silver during this time period. We expect this outperformance to continue due to silver's industrial uses as well as silver's safe haven status. In short, if gold continues to rise due to equity market uncertainty, silver will most likely underperform because of its industrial applications. Unlike gold, 50% of silver mined each year is used in industrial processes, so an economic slowdown is bearish for silver. On the other hand, if gold falls due to a shift in market sentiment against precious metals, silver will do worse than gold as it's smaller stature in the precious metals market means that the same amount of money coming out of it will influence it to a larger percentage degree. Essentially, there are two ways to lose on silver whereas gold has just one.
Trade Recommendation
With silver's limited upside in either a bullish or bearish precious metals scenario, we recommend selling call options on silver. The SLV October 48 calls could be sold for $1.00 each. In such a trade, investors would profit as long as SLV is under 49 on October 22nd. Given that 48.35 is the all-time high for SLV, and our bearish stance, we believe the risk/reward characteristics of this trade are attractive.
Disclosure: I have no positions in any stocks mentioned, and no plans to initiate any positions within the next 72 hours.
Additional disclosure: Short silver calls