A specialized exchange traded fund that profits when gold strengthens against stocks fell more than 10% on Wednesday as investors piled into equities and fled safe-haven assets.
FactorShares 2X Gold Bull/S&P 500 Bear (NYSEARCA:FSG) was down about 12% at last check. Wednesday's markets served up a double-whammy for the ETF as the S&P 500 vaulted nearly 3% while gold futures tumbled.
Manager FactorShares describes the fund as a leveraged spread ETF designed for investors who think gold will increase in value relative to large-cap U.S. equities in one day or less. The fund tracks the spread, or difference in daily returns, between gold and U.S. stocks through a leveraged long position in gold futures and a leveraged short position in S&P 500 futures.
Easing tensions in the Eurozone, at least for the moment, helped boost U.S. stocks.

Meanwhile, iShares Gold Trust (NYSEArca: IAU) shed 3.2%.

FactorShares 2X Gold Bull/S&P 500 Bear ETF (FSG)

click to enlarge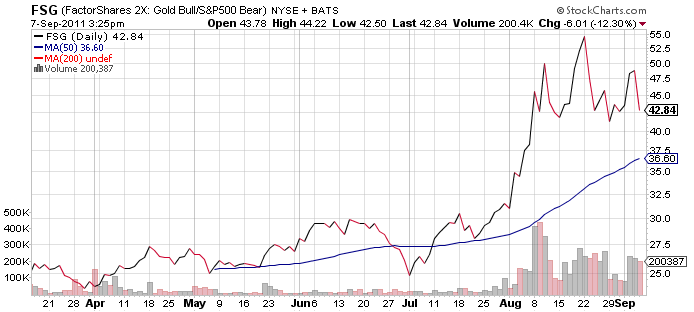 Max Chen contributed to this article.
Disclosure: None