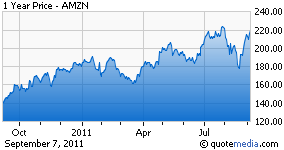 Since the iPad was released in 2010, Apple (NASDAQ:AAPL) has dominated the tablet market with what looks like ease. Numerous challengers to the iPad have come and gone. Motorola, (NYSE:MMI), HP (NYSE:HPQ) and Dell (NASDAQ:DELL) have all tried to challenge the iPad, and all have failed. However, there is one company with a challenger that has yet to be revealed, and it is a company that may very well be the only viable challenger to the iPad's throne. And that challenger is Amazon.com, (NASDAQ:AMZN) which we think is not only a buy due to its tablet prospects, but its fundamental business as well.
When one thinks of Amazon one usually thinks of an online Wal-Mart (NYSE:WMT), not a tablet manufacturer. But with a tablet launch looking increasingly likely (click here), we felt it was time to highlight Amazon's prospects in this field. In our opinion, Amazon has several things going for it that other non-Apple tablet manufacturers do not.
Loss-leadership: Apple has shown us that its $499 iPad is what other tablets are measured against. Pricing a non-Apple tablet above it (think Xoom) does not work, nor does pricing it below (Acer, Dell, etc...). Apple leads the tablet field in profitability and margins, placing its competitors in a bind. They cannot manufacture tablets as cheaply, (due to Apple's supreme supplier/manufacturer relationships) forcing them to price their tablets higher. This fails because none of these tablets are as good as the iPad, and pricing them even higher only highlights those deficiencies. On the other hand, manufacturers cannot price their iPad competitors below the iPad, as they would lose money. While it is clear cheap tablets, such as a $99 TouchPad, sell, they also lose money. This goes against the very reason for being in the tablet market. The end result is that competitors to the iPad are either overpriced or cheap, in both name and quality. But we feel that Amazon can overcome this. While there is no doubt that the Amazon tablet will be relatively inexpensive, we do not feel this will come at the expense of quality. Amazon is perfectly willing to take a loss on hardware to sell content, as the Kindle has shown us.
Content: Amazon's store of content is second only to Apple itself. Amazon now sells more Kindle books than actual books and this has more than covered its losses on selling the Kindle. Amazon is notorious for sacrificing profits in the short-term for long-term profit growth, and we feel this endeavor will be no different.
Sales network: Amazon has an unparalleled distribution center for its tablet. Amazon.com, the world's most popular shopping website, is a perfect way to sell anything. The Kindle would have never been such a success had it not been made by Amazon itself and endlessly promoted on the website. Amazon will surely do the same thing with its tablet. It will literally sell itself. Combining that with the expanding streaming content available for Amazon Prime customers and it will be a combination that no other non-Apple manufacturer will be able to beat.
We are not going to pretend that Amazon will dethrone Apple (our largest holding) as the tablet king. But we feel that Amazon, if it executes as it has in the past, should be able to carve out a profitable niche for its tablet, making it an even more compelling stock. In our opinion, Amazon is the last company left that can stand up to Apple in the tablet business.
Now we turn to the fundamental reasons Amazon is a great stock for long-term investors.
Amazon is changing the way we shop and what we expect from our shopping experience. It made free shipping an industry standard and few websites have Amazon's ease of use. Sales increased by 51% last year, both in North America and internationally. And while Amazon does not disclose Kindle sales it did state that "sales growth of Kindle devices accelerated in second quarter 2011 compared to first quarter 2011." (click here) Skepticism abounded about the Kindle when it launched, but the critics have been proven wrong and the Kindle dominates the dedicated e-reader market.
Most companies tout their rapid international growth, which Amazon has plenty of, given that international sales increased 51% year-over year. But few companies are able to grow just as rapidly in their home markets, where Amazon's sales also rose 51% year-over year. Amazon is well-positioned to capitalize on the secular trend of growth in e-commerce, which will grow regardless of macro-economic conditions. It is irrelevant to Amazon if people shop less. What matters is that they do more of their shopping online. Amazon has been preparing for this day, which is why its net income has stagnated, even while revenue has soared. Amazon makes no secret of the fact that it is willing to sacrifice profits in the short-term for long-term success.
Amazon is an expensive stock by any measure, trading at a P/E of over 92 and a forward P/E of 89. But Amazon's net income has been depressed due to its investments in technology and infrastructure, which we feel will soon begin to pay off handsomely. Net income at Amazon has quadrupled between 2006 and 2010. (from 45 cents/share to $2.53/share) In addition, Amazon has a good balance sheet, with over $6 billion in cash ($13 per share).
Click to enlarge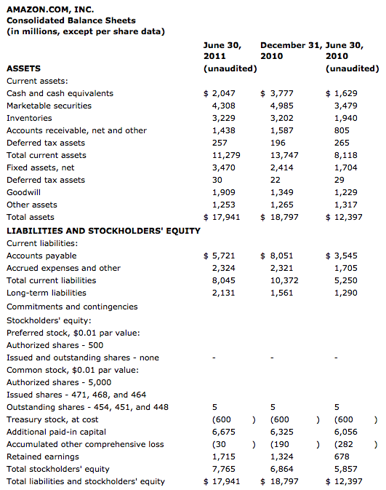 Click to enlarge
As for the tax issue sprouting up in several states, we feel that Amazon will navigate this as well. Currently the company pays taxes in only five states. They are Washington (where it is based), Kansas, Kentucky, North Dakota and New York, where it is challenging the legality of the law. The Supreme Court is on Amazon's side, and Amazon can simply cut its affiliates in states that press it on taxes, (such as California) or not build warehouses in those states. The morality of Amazon's tax issues can be debated endlessly, but for practical business purposes, they are a competitive advantage that Amazon will not give up without a fight, and it is a fight that it is currently winning.
Amazon has shown its detractors time and again that it will do what is needed for long-term success. The short-term does not matter to Amazon. What matters is the long-term. And patient shareholders have been rewarded for it, with the stock up over 12,400% since its IPO, compared to the S&P 500's 40% advance in the same time period.
Click to enlarge

Click to enlarge
Amazon could very well unnerve undedicated shareholders with stagnant income as it invests in its infrastructure to prepare for an online future. But those who have stayed with the company have done well, and we feel will continue to do well in the future.
Amazon is a buy at these levels due to its tablet initiative, which we believe is the only tablet even remotely capable of competing with Apple. In addition, the secular growth opportunities Amazon has make this stock a great investment for long-term shareholders. Analysts agree with this. S&P rates Amazon a buy with a $250 price target. Barclays sees the stock reaching $240 and BofA Merrill Lynch sees it at $255. Amazon is uniquely positioned to capitalize on a secular shift to online shopping and we think that investors in Amazon will be richly rewarded for it.
Disclosure: I am long AAPL.
Additional disclosure: We are long the PowerShares NASDAQ Internet Portfolio ETF, which gives Amazon a 9.94% weighting. In addition, a mutual fund we own gives Amazon a 1.24% weighting.