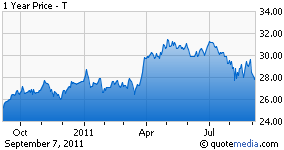 Before taking a look at the Department of Justice (DOJ) suit against AT&T's (NYSE:T) proposed acquisition of T-Mobile from Deutsche Telekom AG (OTCQX:DTEGF), two things should be very clear. First, AT&T has an extremely attractive dividend yield of more than 6%. Second, the safety of that dividend hasn't changed.

It should not be shocking that the DOJ filed suit, but the timing certainly took AT&T CEO Randall Stephenson by surprise. While being interviewed on CNBC's "Squawk Box" only an hour before the DOJ filed suit, Stephenson said: "We are deep into the analysis with the Department of Justice, and it's all the questions and data gathering you might expect." If AT&T had expected this to sail through, is it likely that they would have spent more than $11 million lobbying Congress in the first half of the year?

Some of the quotes from the statement issued by the DOJ about the reasons for the suit are:
Deputy Attorney General James M. Cole said: "The combination of AT&T and T-Mobile would result in tens of millions of consumers all across the United States facing higher prices, fewer choices and lower quality products for mobile wireless services. Consumers across the country, including those in rural areas and those with lower incomes, benefit from competition among the nation's wireless carriers, particularly the four remaining national carriers. This lawsuit seeks to ensure that everyone can continue to receive the benefits of that competition."
Sharis A. Pozen, Acting Assistant Attorney General in charge of the Department of Justice's Antitrust Division, said:
"T-Mobile has been an important source of competition among the national carriers, including through innovation and quality enhancements such as the roll-out of the first nationwide high-speed data network. Unless this merger is blocked, competition and innovation will be reduced, and consumers will suffer."
Clearly the DOJ has some concerns. Industry and antitrust experts remain divided about whether the DOJ's concerns can be addressed and the level of flexibility of all the parties. A Bloomberg article written shortly after the statement was issued quoted antitrust experts with views that ranged from there was no way to reach a settlement to the view that AT&T could make the deal happen with additional concessions.

One of the strongest motivations for AT&T to get the deal approved is the break-up fee. According to the AT&T web site, the company "will be required to pay a break up fee of $3B, transfer to T-Mobile certain AWS spectrum that is not needed by AT&T for its initial LTE roll out, and provide a roaming agreement to T-Mobile on terms favorable to both parties." According to Bloomberg, Stephenson said the total value of the fee and concessions could be as much as $7 billion. That is certainly a lot of motivation on the part of AT&T.

According to the NPR website, Pozen said, "our door is open. If they want to resolve those concerns, we can certainly do that. Here, we filed a lawsuit, and we're going to proceed in court. We'll see what happens next." Next will most likely be a lot of meetings and discussions among DOJ, AT&T, T-Mobile and Deutsche Telekom (and perhaps Sprint (NYSE:S)) culminating with a hearing before U.S. District Judge Ellen S. Huvelle scheduled for September 21st. According to Business Week, the parties were instructed "to file a joint proposal by Sept. 16 for scheduling the litigation that would 'facilitate the just, speedy and inexpensive' management of the case. And the parties were to come to court on the 21st ready to discuss 'the prospects for settlement' of the government's antitrust lawsuit seeking to block the company from buying T-Mobile."

Will AT&T agree to divest portions of the acquired spectrum or customers? There may be details in the agreement that were previously not disclosed that allow the price to be renegotiated if the DOJ requires too many concessions. What is Sprint looking to obtain?

Sprint jumped in, filing its own lawsuit to prevent the acquisition. Much of its press release echoed the concerns of the DOJ. Part of the release noted the acquisition would:
Harm retail consumers and corporate customers by causing higher prices and less innovation.
Entrench the duopoly control of AT&T and Verizon (NYSE:VZ), the two "Ma Bell" descendants, of the almost one-quarter of a trillion dollar wireless market. As a result of the transaction, AT&T and Verizon would control more than three-quarters of that market and 90% of the profits.
Harm Sprint and the other independent wireless carriers. If the transaction were to be allowed, a combined AT&T and T-Mobile would have the ability to use its control over backhaul, roaming and spectrum and its increased market position to exclude competitors, raise their costs, restrict their access to handsets, damage their businesses and ultimately to lessen competition.
The goal for AT&T is to acquire spectrum. As smart phones become more prevalent and data demand continues to increase, the spectrum is getting more crowded. Already AT&T and Verizon are instituting tiered pricing to try and alleviate the demands on their networks. The DOJ is concerned about lack of competition, declines in innovation and harm to customers that use cell phones for voice on some of the lower priced plans.

It would seem that all parties would be motivated to make some concessions and come to an agreement rather than fight a protracted court battle and risk losing. Regardless, the price of AT&T remains attractively priced with a healthy dividend. For those who are a bit more risk averse and are looking for an income opportunity, there is a chance to mitigate some of the downside risk by using a covered call strategy.

Disclosure: I am long T.

Additional disclosure: I have no positions in any of the other stocks mentioned, and no plans to initiate any positions within the next 72 hours.