Each month we update our Bakken Players piece. It's a long graph covering metrics on the pure and not so pure Williston Basin players focused on the Bakken and Three Forks plays. The metrics covered range from your standard forward price to cash flow and TEV to EBITDA multiples to production adjusted acreage valuation reads. It's a long post, and it covers a lot of aspects of the companies, many of whom we own.

Today let's shorten that and just look at one metric: Production growth per share. Most of the names in the Bakken Players list have grown absolute production volumes from the Williston in line with a rising rig count in North Dakota and now in Montana. But share offerings along the way have in some cases muted this growth at the per share level which is key for investors as they hold the names for long term growth, not long term dilution. Moreover, with the more mature and diversified names on the list, like Continental Resources (NYSE:CLR) and Whiting Petroleum (NYSE:WLL), you expect the production per share figures to be higher (which they are) but also less growthy (which they also are). But look to the little guys like Kodiak (NYSE:KOG) and Northern Oil and Gas (NYSEMKT:NOG) and the chart is still firmly of the "up and to the right" variety.
Click to enlarge charts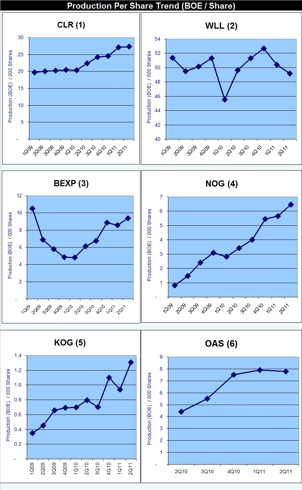 Click to enlarge


Click to enlarge
As the curves have accelerated, in most cases, share price has not - largely due to a weaker equity market - kept pace as can be seen here:
Click to enlarge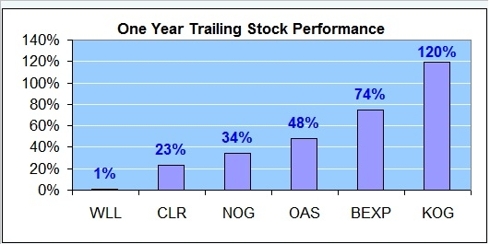 Click to enlarge
Zeroing back in on the little guys, note that both NOG and KOG have just about doubled their production per share over the last year, and KOG has done this in the face of not one but two equity offerings. And KOG's share price has easily outpaced the moves by the rest of the group over the last year to reflect this growth even though it is come from a very small base. Now don't get me wrong. I like KOG and have owned it for several years now with the thought that it would rally as it first explored in and then began to develop its core acreage in the FBIR and again now as it steps out into more areas west of the Nesson. So its doubling was expected and the 300% (or thereabouts) year-over-year absolute production growth this year is again driving strong stock performance. And besides, they've gotten their need for a secondary out of the way probably until at least late 2012 so that's a weight they no longer have on the stock. So I'm not at all crying about the rise in the shares.

But I am taking issue with the relative lack of movement, in light of its own per share growth, that we have seen with NOG. While 34% is strong in an one year period for a small-cap growth name, the company's production is "hockey sticking" now. The shares are only suppressed at current levels due to a concerted short effort that has not seen the implied negatives for the story come out in the real world but has managed - with a little luck given the bad weather and then a dip in crude prices - to leave the stock in a sort of limbo. Despite the distractions of the shorts, the company continues to hit on all cylinders which in NOG's non operated case means growing production, keeping per unit costs down, and adding to acreage which will get drilled by experienced operators in a hurry and not linger as the goat pasture you see at some other firms. Expect them to staff up soon in advance of further growth and expect a mid year reserve report, the first, to leave the shorts wondering if they've overstayed their welcome. Anyway, a lot more on the site so please feel free to check here for further details on all of these names including where we plot these curves going in the future.

Disclosure: I am long WLL, BEXP, KOG, OAS, NOG.