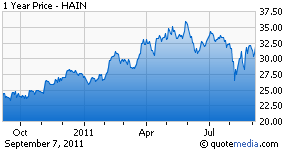 Business Line
Hain Celestial (NASDAQ:HAIN) manufactures and provides organic health products and "better for you" products. HAIN has an enormous number of product lines in Whole Foods Markets (NASDAQ:WFM) and the Fresh Market, both of which are spread across the United States. Don't think for a second that HAIN is naïve and doesn't realize the global opportunities for its product lines. HAIN considers global acquisitions as an integral part of its business strategy. In a recent HAIN 10-Q filing the company states, "We believe that by integrating our various brands we will continue to achieve economies of scale and enhanced market penetration."
HAIN has an investment in a joint venture in Hong Kong with Hutchison China Meditech, which is a majority owned subsidiary of Hutchison Whampoa Limited. This joint venture markets and distributes co-branded infant and toddler feeding products as well as selected HAIN brands in Hong Kong, China and other Asian markets. HAIN recently acquired Danival SAS, a manufacturer of certified organic food products based in France. This product line includes over 200 branded organic sweet and salted fruits, vegetables and delicatessens distributed across Europe. This acquisition also complements the organic food line of the "Lima" brand HAIN currently has in Europe. HAIN also acquired GG UniqueFiber AS (herein referred to as GG) in January 2011. GG is a manufacturer of all natural high fiber crackers and is based in Norway. These products are distributed in the United States, United Kingdom and continental Europe. HAIN manufactures internationally and its products are sold in more than 50 countries.

Fundamentals
The most recent quarter ending 06/30/2011 shows revenues have grown some 30% from a year earlier. Gross margins have increased by almost 2% to 28% while cost of revenue has fallen to about 72% from 74%. Selling expenses grew almost identically with revenues (about 30%) but according to regression analysis they are 99% correlated. Thus for every $1 more spent on selling it would appear $.99 or so is seen in sales generation. Net income has almost doubled from the previous year up to $12.85M from $6.69M. Operating cash flows have improved to $58.66M from $ -11.98M from a year earlier showing some significant growth in cash flows. Hain has also grown its return on equity from 1.19% a year ago to an impressive 6.3% last quarter. While sales have been increased, Inventory levels have been carefully managed during this era of growth for the firm. Inventory on hand has decreased from 347 days a year earlier to 309 days in the recent quarter.

What Is HAIN Worth?
Analyst consensus EPS for 2012 is around the $1.55 range. HAIN trades at a P/E of about 25 to 30 with the highest P/E I've seen in the last three years being 40. If we go with an extremely conservative figure of 20 we come to a price of about $31 a share which is around where it currently trades. Once we move to a more realistic P/E ratio of 25 we instantly see an increase in price of 25% to $38.75 for the stock. HAIN has an R2 value of .73 when compared to SPY, indicating about a 73% correlation between the S&P 500 and HAIN.

Conclusion
HAIN is a no brainer for almost all investors looking for a solid growth story. The company is in a growth industry and a growing global trend for healthier eating and supplements. HAIN has a very bright future ahead of itself and with valuations at about where they currently are it is not unreasonable to see a 25% or greater gain in this stock one year from now. However it is important to remember that with HAIN being 73% correlated with the general market it could be vulnerable to large macro events that drive the stock markets down. If we see a global recession it is an almost certainty that HAIN will suffer in stock price and sales.
Disclosure: I am long HAIN.