Thompson Creek Metals (TC) owns two mines in North America that produce molybdenum, a mineral used in steel production (with smaller markets in chemicals and vitamin supplements). In addition, the company is developing a copper and gold mine in Mt. Milligan, British Columbia, expected to be completed by the end of 2013.
TC's numbers are gaudy. Its trailing P/E is 6.4, based on the company's non-GAAP (and slightly lowers) earnings of $1.23 a share. Cash on hand of over $500 million covers the company's current debt load of $369 million. The company's tangible book value sits at about $10.15 a share, 28% above Friday's close of $7.90.
Despite the glossy numbers, TC stock has struggled. The stock is off 46% year-to-date, and the struggles are especially frustrating when compared to its top competitor, Molycorp (MCP) (click to enlarge image):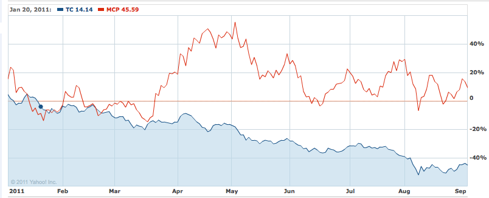 2011 year-to-date chart courtesy Yahoo Finance; MCP in red, TC in blue
To make matters worse, TC's falling stock price has moved in almost direct opposition to the price of its sole product:
Thompson Creek Average Realized Sales Price for Molybdenum, Per Pound, Last 8 Quarters
Quarter
Price
June 30, 2011
$17.28
March 31, 2011
$17.39
December 31, 2010
$16.05
September 30, 2010
$15.30
June 30, 2010
$16.84
March 31, 2010
$14.50
December 31, 2009
$12.37
September 30, 2009
$12.75
Data from the company's most recent earnings release
And despite recent weakness in the broader economy, CEO Kevin Loughrey expects continued strength in the price of moly. In an interview with Mining Weekly early last month, Loughrey noted that the market was
Quite different [than] it was in 2008...we're seeing intensity of use increase in moly, which might more than make up for some reduction in the rate of growth.
To be sure, there are reasons for the stock's recent slide. Overruns in capital expansions have hurt the company; the expansion of the Endako moly mill is currently $140 million over budget (with a little over $100 million the responsibility of Thompson Creek), and delays have pushed the mill's opening to early 2012.
Earlier this year, the company raised its estimated expenditure target on the Mt. Milligan gold/copper mine to over $1.2 billion, though it reiterated a target date of completion by the end of 2013.
Stock dilution is another issue; the company's float has grown from 56 million shares to 168 million currently, with another 30 million warrants and options outstanding. Much of the dilution occurred with the company's 2010 purchase of Terrane Metals, in addition to stock offerings in 2008 and 2009 used to raise capital for expansion. (The company did not issue any debt until a $350 million offering in May of this year, and shareholders can at least be comforted that the two recent stock offerings were priced at C$14.00 and C$21.50 in 2009 and 2008, respectively.)
Finally, macro concerns are impacting the commodity markets in general, and in particular projections for steel consumption. Since over 80% of molybdenum is used in the steel production process, there are fears that moly could see another price dip as it did in 2008, when it fell to lows of about $8 a pound, a level at which Thompson Creek would have no chance of producing a profit.
Despite the worries, Thompson Creek offers good value to potential investors, and is exactly the type of stock investors should look for in a correction, as I argued two weeks ago. The short-term overruns have been disappointing, but long since priced in. Tangible book value, as mentioned previously, is over $10 per share. Second-half earnings will decrease, as production at the Thompson Creek mine will drop dramatically (due to plans previously announced by the company), but the 68 cents (non-GAAP) the company earned in the first six months provide a solid cushion for a company priced at $8.61 after a dramatic jump on Wednesday.
The future of Thompson Creek depends on two things:
First, the price of molybdenum. Moly prices have been rather steady for two years, ranging from $12 to $17, after a dizzying run between 2003 and 2009, when the metal's price went from $5 to $45 to $35, just before crashing to about $8 a pound amidst the economic carnage of the 2008-2009 recession. Emerging market demand (China is now a net importer of the metal) and increased use in steel production should provide enough support for double-digit per-pound prices, even amidst a global slowdown. The lack of speculators in moly (as opposed to gold or copper) should help stability, as prices are set solely by industry operators. Thompson Creek does not need a return to $35-$45 level of a few years back, but a stable price in the teens will allow for consistent profitability.
Secondly and more importantly, the company must execute on the Mt. Milligan project. Thompson Creek's true value lies in its expansion into the gold and copper markets. At current prices, CEO Loughrey has estimated the project would generate over $600 million in revenue annually, with operating costs pegged at $210 million. This pre-tax profit of approximately $400 million annually should support a valuation much higher than TC's current $1.3 billion market cap.
If the company can successfully manage its new gold and copper mine, Thompson Creek looks significantly undervalued. In conjunction with its merger with Terrane, TC sold 25% of the gold stream from the Mt. Milligan project to Royal Gold for $311 million. Under the agreement, Thompson Creek receives $400 per ounce (approximately the expected cash cost), with Royal receiving the rest. The deal was made with gold around $1,200 an ounce; with gold now nearing $1,900, it seems Royal got the best of the deal.
The question is: what is the remaining 75% stake still held by Thompson Creek worth? Conservatively, based on the Royal agreement, one would estimate about $1.2 billion. CEO Loughrey noted last month, the 25% Royal stake was worth "well over $400 million now," with gold prices just above $1,700 an ounce.
Given the company still must spend $1 billion to complete the mine, it represents a solid investment -- and at least $200 million in value for the enterprise. This does not count the copper reserves, which are estimated to provide similar revenues to the gold mined from the site, at a projected cost of 90 cents per pound (it closed Friday at $4.10), and projected output of 81 million pounds.
Indeed, if properly managed, the Mt. Milligan mine has the potential to justify TC's current valuation all by itself. The company currently has a $1.3 billion market capitalization, with $400 million in long-term liabilities net of cash. We conservatively can estimate the total current value of the Milligan gold stream at $1.6 billion, based on the Royal deal and higher gold prices.
That gold stream offers an estimated $350 million in annual revenue, at a price 4.6 times production cost (assuming a gold price of $1,800 per ounce.) The copper stream from the mine offers an estimated $330 million in annual revenue at a price 4.5 times production cost. If we value TC's 100% ownership of the copper stream at $1.2 billion -- again, a conservative estimate given its similarity to the potential of the gold reserves -- the total value of TC's Milligan reserves, net of costs, is about $2.4 billion. Subtract the $1 billion in spending required, and the present value of Thompson Creek's ownership in the Mt. Milligan project can be conservatively estimated at $1.4 billion.
This is an impressive asset for a company with an enterprise value of only $1.7 billion, with profitable, running mines extracting molybdenum and two potential finds awaiting exploration in Canada (the Berg and Davidson properties).
Finally, Thompson Creek offers a hedge against the uncertain economic winds blowing. In a global expansion, its molybdenum mines should see increased returns (as noted, moly prices were more than double current rates just a few years ago). Likewise, a economic downdraft should support the current gold bubble show of strength in the gold market, increasing the value in the Mt. Milligan project.
TC has shown strong support in August around the $7/share level, and Wednesday's jump may signal renewed investor interest. The stock is speculative, as most mining stocks are (it has a beta of 2.84!), but the downside seems well priced in. If the market awakens to the inherent value of the Mount Milligan asset, Thompson Creek has some solid upside potential.
Disclosure: I have no positions in any stocks mentioned, but may initiate a long position in TC over the next 72 hours. I may trade options in TC stock at this week, either bullish (for speculation), or bearish as a hedge against ownership or potential ownership of the stock.