ACI Worldwide (NASDAQ:ACIW) - Currently trades at $27.70
Potential Upside: $8 to $10 per share
Market Capitalization: $ 915M
Cash: $171M; Total debt: $75M
Shares Outstanding: Approximately 34M
Dates to watch out for: Dec. 2011 to Dec. 2012
Sector: Technology; Industry: Technical & System Software
Main Catalyst: IBM Master Alliance and Warrants, IBM's M&A Strategy, Regulation, Fundamentals
Trading timeline: 12 to 18 months
What does ACIW do? -
ACI Worldwide, Inc. develops markets, installs and supports a line of software products and services primarily focused on facilitating electronic payments. In addition to its own products, ACI distributes, or acts as a sales agent for software developed by third parties. These products and services are used principally by financial institutions, retailers and electronic payment processors, both in domestic and international markets. Its products are sold and supported through distribution networks covering three geographic regions, the Americas, Europe/Middle East/Africa (EMEA) and Asia/Pacific. Each distribution network has its own sales force that it supplements with independent reseller and/or distributor networks. Its products are marketed under the ACI Worldwide and ACI Payment Systems brands. Its products address three primary market segments: Retail banking, Wholesale banking and Retailers. (Source: Google Finance)
WHY ACI Worldwide: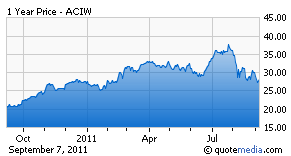 Despite the fact that ACIW has gone hostile in an effort to take over S1 Corporation (NASDAQ:SONE) and that the stock has declined over the past 6 months, I remain bullish on the company even in these bearish stock markets. People might think it's crazy to bet on a tech company in the impending downturn, especially one related to the financial sector. They would say "Can't I see what's happening to BoA (NYSE:BAC) or other financials?" How about " I don't want to invest in anything related to financials, where 4% to 5% market swings are the norm of the day and all financials are taking a beating!"
However, the beauty of ACIW is that its business model caters to the very fabric of the financial institution, not only facilitating their functioning but effectively and potentially reducing their costs. In effect, if understood correctly, ACIW is the type of company we might need to invest in given the current market movements. The following points should make it very clear why this company might end up being a great buy at current levels or anywhere lower than where it trades now.
What are the catalysts for the upside?
A. IBM Master Alliance - A strong incentive to acquire: On Dec.16, 2007, ACIW entered a strategic alliance with IBM regarding joint marketing and optimization of their electronic payments application software and IBM's middleware and hardware platforms, tools and services. The Master Alliance grants IBM warrants to acquire approximately 9% of ACIW's equity. These warrants grant IBM the right to purchase 1.42M AICW shares at $27.5 and an additional 1.42M shares at $ 33.0. The warrants are exercisable until 2012. In addition, the agreement was amended in 2008 regarding payments to ACIW.
Under the terms of the alliance, each party will retain ownership of its respective intellectual property and will independently determine product offering pricing to customers. This technology IP that ACIW will retain makes it an even more wanted target by IBM. Furthermore, what makes it easy for IBM to acquire the firm is ACIW's increased migration to IBM hardware. As opposed to ACIW's BASE24 product, which operated exclusively on HP (NYSE:HPQ) non stop servers, the new BASE24-eps which is replacing the legacy BASE24 product has migrated to IBM's systems. BASE24 along with the BASE24-eps constitute more than 50% of ACIW's revenues.
B. IBM's M&A strategy - Evidence of why ACIW might be on the radar: Firstly, IBM's strategy that was detailed in a conference call on Feb. 15, 2011 stressed IBM's intentions to further its interests within the software and business intelligence space through acquisition. Of the 125 acquisitions completed by IBM since 2000, 75 have been within the software space while 25 were business analytics related. Major 2010 acquisitions include: National Interest Security Company (Jan. 2010, Analytics & software); Intelliden (Feb. 2010, Automation software); Sterling Commerce ($ 1.4B, May. 2010, Automation Software); Coremetrics (Jun. 2010, Analytics); Datacap (Aug. 2010, Automation software); Unica ($ 480M, Aug. 2010, Analytics) and Netezza ($1.7B, Sep.2010, Analytics) among others.
ACIW's migration to IBM hardware creates opportunities to produce synergies. Moreover, ACIW management stated that 67% of new business in 2010 has been on the IBM platform. Secondly, ACIW has an existing presence in emerging markets - a key area of focus for IBM. Besides having a presence in the US, IBM is targeting banking sectors in emerging markets such as Russia, China, and Brazil, where ACIW has banking clients.
Thirdly, IBM has emphasized that a firm with intellectual property and a solutions business that is "highly scalable and hasn't scaled globally yet" along with an approximate market capitalization of $ 1.0B will make an attractive acquisition target. ACIW fits both of those criteria with its entrance into business analytics, its strong intellectual property, and an approximate $1.0B market capitalization, all providing evidence of the company's attractiveness as a takeover target for IBM. Lastly, ACIW also enjoys ongoing partnerships with Oracle (NASDAQ:ORCL) and HP, both of which have been acquisitive within the software and business intelligence space.
C. Regulation: In 2010, Congress passed the Durbin amendment that prohibits financial institutions from increasing interchange fees to cover fraud charges. Furthermore, on Dec. 16, 2010, the Federal Reserve issued a Proposed Rule to Limit Debit Card Interchange Fees. The idea is to save merchants from paying interchange fees unrelated to the banks' costs, with the further thought that consumers would reap some of the savings.
Effective date was Jul. 21, 2011. Banks stand to lose a substantial fee income. ACIW, which is one of the leaders in fraud management, will benefit from the regulation, as more and more banks move towards fraud prevention rather than fraud insurance. This may lead to increased IT spending on fraud prevention software such as those implemented by ACIW, adding to the firm's bottom-line.
D. Fundamentals: ACIW trades at a P/E of 22x compared to its competitors who trade at 18x, while EV/EBITDA stood at 8.8x for ACIW compared to 10.20x for its peers. One reason for the slightly higher valuation might be ACIW generating 65% gross margins as opposed to 50% for its competitors. Operating margins have steadily increased too, from 5% in 2008 to 15% in 2011.
Despite improved margins and EPS, ACIW faces economic headwinds, such as availability of credit, consolidation in financial sector and electronic payment transaction volume. However, an uplift in revenues may come from initiatives implemented in 2010 such as the embedding Prognosis product into BASE24 & BASE24-eps and introduction of mobile banking products. Prognosis provides intelligent payment service management through in-depth monitoring and analysis of transactions and can be used to provide business analytics to clients.
Meanwhile, mobile banking provides flexibility and greater access to clients banking needs. Assuming an average competitor EV/EBITDA of 10x and an average 30% takeover premium paid for software firms within the past three years, ACIW can be potentially valued at between $32 to $40 a share.
Disclosure: I have no positions in any stocks mentioned, and no plans to initiate any positions within the next 72 hours.