After posting my most recent article it dawned on me that I had neglected to include any utility companies on my dividend list. Few investors outside of the dividend community have much respect for utilities. They do not produce the flashy double digit growth numbers of high tech companies like Google (NASDAQ:GOOG) and Apple (NASDAQ:AAPL). However, in times of economic uncertainty you would be hard pressed to find a more stable sector with more secure dividends.
With this in mind, today I would like to take a look 10 of the largest utility stocks (click to enlarge images):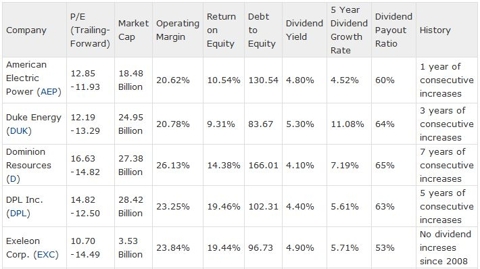 Click to enlarge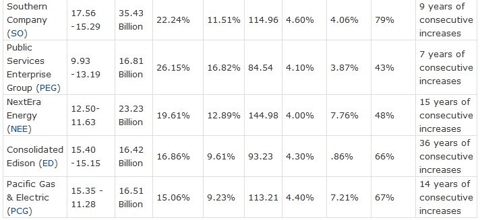 Click to enlarge
Here are my 5 favorites from the list above.
Duke Energy (NYSE:DUK): DUK is an energy company with assets in the United States, Canada and Latin America. It is the biggest nuclear power company in America. At 5.30%, Duke provides the largest yield of any of the companies on the list. It has an average payout ratio of 64% with an average 5 year growth rate of 11.08%. This growth rate is the highest of any of the ten stocks that I examined. Its multiple is below average for the sector. Also, DUK has a comparatively low debt to equity ratio at 83.67 and a low return on equity ratio. For the past 3 years it has been able raise its dividend.
Dayton Power & Light (NYSE:DPL): DPL is a public utility that sells electricity to residential, commercial, industrial, and governmental customers in a 6,000-square-mile area of West Central Ohio. Of the 5 stocks that I chose, it has the largest market cap at 28.42 billion. DPL provides the investor with a 4.40% dividend yield and a 63% payout ratio. It has a 5.61% average growth rate over the past 5 years. DPL is trading at a relatively average multiple when compared with its competitors. It has one of the highest return on equity ratios in the industry at 19.46%. The debt to equity ratio is about average at 102.31. For the past 5 years it has been able to increase its dividend payments.
Exeleon (NYSE:EXC): EXC is an electricity generating and distributing company headquartered in Chicago. Exelon has 5.4 million electricity customers and serves 485,000 natural gas customers in the Philadelphia suburbs. Exelon has full or majority ownership of 17 nuclear reactors in 10 nuclear power plants. It is the smallest company on the list with a market cap of 3.53 billion. It has a very solid yield of 4.90% and a great payout ratio of 53%. This lets us know that there is still plenty of room for the dividend to grow. Over the last five years, it has increased its payout at 5.71% rate. It has a very high return on equity at 19.44% with a relatively low debt to equity ratio of 96.73.
Public Service Enterprise Group (NYSE:PEG): PEG is a publicly owned gas and electric utility company in the state of New Jersey. It is New Jersey's oldest and largest publicly owned utility. PSEG currently serves nearly three quarters of New Jersey's population in a service area consisting of a 2,600-square-mile. PSE&G is the largest provider of gas and electric service, servicing 1.7 million gas customers and 2.1 million electric customers. PEG is currently trading at 9.93 x past earnings which represents the lowest multiple on the list. The company has one of the lower yields on the list, coming in at 4.10%. At 43% it has the lowest payout ratio of the 10 companies. It has been steadily increased its payouts for the past 7 years. Over the last 5 years its dividend has grown by an average rate of 3.87%. The NJ provider has a high return on equity of 16.82 and a low debt to equity ratio of 84.54. All the metrics point to PEG as being one of the best in show.
Pacific Gas & Electric (NYSE:PCG): PCG is the utility that provides natural gas and electricity to most of the northern two-thirds of California. PG&E's utility-owned generation portfolio consists of an extensive hydroelectric system, one operating nuclear power plant, one operating natural gas-fired power plant, and another gas-fired plant under construction. Of my 5 picks, PCG has, in my opinion, the most stable dividend history. The company has been increasing its dividend for the past 14 years. The 5 year average growth rate of its dividend is 7.21%. The company has a solid yield of 4.40% and a dividend payout ratio of 67% which is towards the higher end of the list. PCG has a return on equity of 9.23% which is below the average. It also has one of the higher debt to equity ratios at 113.21.
Disclosure: I have no positions in any stocks mentioned, and no plans to initiate any positions within the next 72 hours.