Back in July I published an article here on Seeking Alpha recommending a short of TiVo (NASDAQ:TIVO). Days earlier, analyst Tony Wible of Janney Montgomery Scott had speculated about a TiVo takeover, estimating a $20 per share takeover price for the maker of set-top digital recording boxes, with suitors including Google (NASDAQ:GOOG), Microsoft (NASDAQ:MSFT), and Rovi (NASDAQ:ROVI). The stock jumped 5% as Wible's commentary spread, closing at $10.73.
Over the short term, I was right and Wible was wrong. TiVo was not acquired, and its stock tanked soon after, falling by one-third in less than six weeks to a 52-week low of $7.06. Later that week, the company announced a $100MM share repurchase, and the stock began to regain some losses, rebounding to the $8/share level. On August 23rd, Caris and Company upgraded the stock, with a target price of $11, providing another bump.
It wasn't until the next day, August 24th, when the company reported strong second quarter earnings, that TiVo stock took off. The stock jumped 17% on the earnings news, and has added an additional 18% since then to close Wednesday at $11.22, a 10-month high. Most notably for traders, the stock has broken through long-term resistance at just under $11/share. Here's the chart: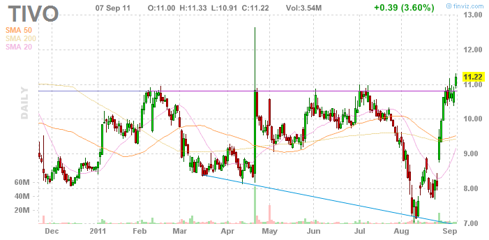 [Chart courtesy finviz.com]
After TiVo's strong rebound, the question for potential investors is: Has the story changed? In that July article, I noted the key challenges facing TiVo stock:
1. The company does not make any money. In fact, it never has, on an operating basis. The company's only profitable year was 2009, when it was profitable due to the initial round of damages paid by DISH Network (NASDAQ:DISH) in a patent infringement case. (That case was finally settled in May for $500 million, including $300 million upfront.) Tivo will be profitable again in 2011, thanks to the finalization of the DISH settlement, though the company has lost $56 million in the first six months excluding the DISH proceeds.
2. Its litigation pipeline is near empty. After the DISH settlement, the only remaining major targets are Verizon (NYSE:VZ) and AT&T (NYSE:T). Maxim Group's Mark Harding estimated the potential combined payout from those suits at about $300 million. No other major pending cases were noted in the company's 10-K, save for a dispute with Microsoft over a patent far less important than the company's "time warp" patent at the center of the DISH, Verizon, and AT&T disputes.
3. It is hemorrhaging subscribers. In 2009 and 2010, TiVo's subscriber base fell by 38%, while its acquisition costs rose by 50%. After its first quarter conference call, CEO Tom Rogers claimed the company was "not too far from turning the corner on subscriber growth," which I joked was CEO-speak for "God willing we will make some money before we all get fired." In addition, new subscribers, most of whom were added through licensing deals, were producing far less revenue than the retail customers that were leaving the company in droves for non-TiVo DVRs.
Did those strong second-quarter earnings change our thesis?
On an earnings basis: no. The company's net loss of $19.6 million for the second quarter beat estimates and the company's guidance of $25-27 million, but was still a decline from the year-ago loss of $15.3 million. Lost in the hype about the earnings "beat" was the fact that third quarter guidance was below analyst expectations at a loss of $27-29 million, compared to $20.6 million in the prior year quarter. (Higher litigation expense and increased marketing spending seem to be the main culprits.) Using the midpoint of the guidance gives TiVo a twelve-month trailing loss of $118 million, or nearly $1/share.
On the litigation front, little news was reported. Trials against Verizon and AT&T will commence in October, according to the company's second quarter conference call. CEO Rogers gave little in the way of guidance as to the expected results of those trials, and certainly no news to change investor assumptions as to the expected value of those lawsuits.
As far as subscriber growth, there was some reason for muted optimism. Total subscribers dropped 33,000 in the quarter, an improvement on the loss of 88,000 reported in the first quarter. MSO subscribers (those who use TiVo devices through partnerships with cable operators) actually increased by 10,000, while retail subscribers dropped by 43,000. New deals with Grande Communications, a long-awaited restart of the DIRECTV partnership, a new arrangement for set-top boxes with Comcast, and encouraging preliminary results from the company's agreement with the UK's Virgin Media all show promise for future subscriber growth. The FCC's new rules on home media, and the introduction of CableCARDs should help TiVo compete better with the non-branded DVR's of providers such as Time Warner (NYSE:TWX) and Comcast (NASDAQ:CMCSA).
But, on the conference call, Rogers noted that "we're hoping in the relative near future for our overall subs to go positive", which sounds an awful lot like his quote three months earlier about being "not too far from turning the corner." In other words, the company may be on the right track, but the progress reported doesn't seem to justify the recent bullishness on the stock.
In fairness to the company, it has improved its subscriber revenue, despite the overall drop. Revenue per subscriber (ARPU) for partner customers jumped dramatically year-over-year, from $1.20 to $1.94 due to new contracts with far more favorable terms. Retail ARPU jumped as well, from $7.63 to $8.31, due to higher pricing. Yet the long-term problem remains: TiVo must gain many thousands of customers to make up for the lower revenue per customer under its licensing deals. The quarter's results show the problem in detail: TiVo lost 43,000 retail customers producing nearly $100 in revenue annually, while it gained 10,000 "non-owned" customers who each provide about $25. That's about $4 million going out the door, and $250,000 coming in. It is this mix that will make TiVo struggle to grow revenue and return to profitability.
Over the past twelve months, TiVo has lost 200,000 retail subscribers. Should that rate continue, and assuming the current ARPU, it will take 800,000 new MSO subscribers simply to maintain current revenue numbers, at which the company is losing over $100 million annually. The company right now has 763,000 MSO subscribers, and gained only 10,000 last quarter. In other words, the company must double its partner subscriber base simply to maintain current losses, ignoring the continuing decline in its retail base. The good news, for now, simply does not seem good enough.
In short, the story does not seem to have changed much, except for one thing: patents. The $4.5 billion sale of the patent portfolio of bankrupt Nortel Networks in July, followed by Google's $12.5 billion purchase of Motorola Mobility (NYSE:MMI) a month later, have brought market attention to the potential monetization of intellectual property. TiVo's portfolio -- 210 issued patents, and 389 outstanding applications -- has, in the new patent "boom", attracted similar interest. Analysts asked about the portfolio repeatedly in the conference call, after Rogers announced in the introduction his take on the situation:
We are very pleased to see that patents and intellectual property in general are becoming increasingly more valuable. And we believe as a result of our creativity and engineering focus, we have one of the more significant advanced patent portfolios out there in these fields. We'll continue to evaluate how to get the most out of this portfolio as the patent world continues to evolve.
Rogers did not delineate any specific plans, but speculation has mounted both about the company selling the portfolio or -- again -- being taken over by a company seeking the patent trove.
The question is: Why? Rogers can talk all he wants about the "quality...versus the quantity" of his patent portfolio but the fact remains that only one of the 210 patents has shown any real value: the "time warp" patent at the heart of the DISH, Verizon, and AT&T disputes. And, as noted in my previous article, the company appears to be out of targets with which to assert that patent (the company itself has not mentioned any in conference calls or its 10-K). The rest of the portfolio simply licenses technology that has supported a failed business model for the past eleven years.
Furthermore, while the purchase of Motorola Mobility by Google may have contributed to the higher potential valuation of patents, the move still has to unsettle TiVo management. Motorola is a leader in set-top boxes, and there has been speculation that Google will use Motorola to further promote its flailing Google TV service. A combination of Google TV along with YouTube could create the kind of competitor that would transform the living room and render digital recording itself obsolete. Yes, TiVo is expanding its reach through products like the Insignia TV's at Best Buy (NYSE:BBY), but it has not as of yet shown any ability to truly compete outside of its existing realm.
In short, despite the patent optimism, the story remains little changed for TiVo. Assuming a $300MM valuation on the AT&T and Verizon settlements, it has an enterprise value of $590 million at Wednesday's closing price of $11.22. At that price, investors -- or a would-be acquirer -- are purchasing an unprofitable business with a patent portfolio of uncertain value, requiring a long road to profitability, amid threats from technology, convergence, and competitors including leaders such as Apple (NASDAQ:AAPL), Cisco (NASDAQ:CSCO), and Google (GOOG). TiVo's present valuation requires either a massive bid for its patent portfolio or a return to profitability. Despite the recent bull run, there is little evidence that either option is a realistic scenario.


Disclosure: I have no positions in any stocks mentioned, but may initiate a short position in TIVO over the next 72 hours.

Additional disclosure: I may also trade TIVO options this week.