Despite earnings and revenues growing over 100% and 80% respectively, Apple receives a 15 PE multiple.
Is the market pricing Apple correctly?
In my last article, I compared Apple with high PE stocks. Apple grew its revenue and earnings faster than the stocks trading at much higher valuations, including Salesforce.com (NYSE:CRM) trading at a PE of over 600.
Let's look at Apple's PE "peers", the companies the market has similarly priced.
I screened tech stocks trading between a PE of 13 and 16, market caps over $10 billion and came up with Nokia (NYSE:NOK), Yahoo (NASDAQ:YHOO), IBM (NYSE:IBM), Cisco (NASDAQ:CSCO) and Ericsson (NASDAQ:ERIC). Here's the Apple's Peer PE List.


Nokia has been smashed by the iPhone and Android. Yet, it's in hailing distance of Apple's PE. You can argue that its pricing makes sense on P/S and P/CF. (Hey, you can argue anything.) Moreover, Its dividend yield is a red flag.
Crazy as it seems, Yahoo is actually valued more highly than Apple in terms of PE and Price to Cash Flow.
Ericsson is a lumbering large tech name.
IBM and CSCO are not far off Apple's valuation.

First, let's size up each company's revenue growth in the chart below.
Apple clobbers all of them. It's not even close. Revenues have grown slowly in comparison to Apple. All five companies haven't had a year in which revenue has grown more than 20%, except for Yahoo earlier in the decade. Pay special attention to Yahoo, a company with decelerating revenue growth and more loved than Apple by PE valuation!
Since 2004, Apple's revenues that have grown every year by at least 30%. Over the last three years, they have accelerated. This is a $355 billion market cap company growing its revenues faster than at any other time in the last 15 years.

The charts below show revenue and earnings growth percentage year over year from 2001 to 2010. Year 2011 is the revenue and earnings growth for the first 6 months of the year over last year's analogous period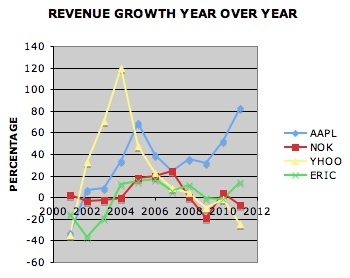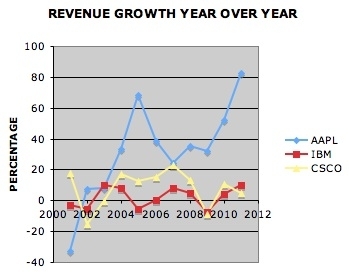 Apple has accelerated earnings growth. Its peers have not. Since 2004, Apple has increased its earnings by 45% or more every year, except for a "sub par" 2008 when they only grew 36%. This company is making 107% more money than it earned last year.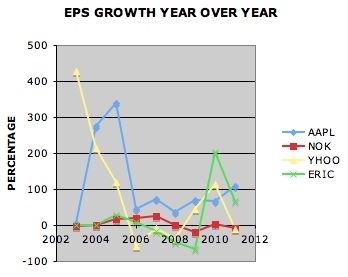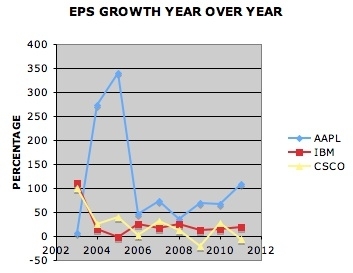 Apple is grossly undervalued when compared to its PE peers. It would be wise to invest in the company before Mr. Market recognizes his mistake.



Disclosure: I am long AAPL.