In my article "Drug Maker Dividend Stocks With Strong Growth Prospects", I already mentioned Sanofi (NYSE:SNY) as an outstanding company with a yield above 5%.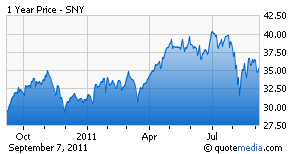 On September 6, 2011 it came with its new long term objectives (.pdf).
The most important highlights from its strategy update are: Over 2012-2015, Sanofi expects to deliver sales growth of at least 5% on average and higher business EPS growth.
Growth platforms and Genzyme (GENZ) are expected to provide more than 80% of group sales in 2015.
New cost-control initiatives, together with Genzyme cost synergies, are expected to generate savings of EUR 2bn by 2015.
Solid progress on R&D transformation with the potential to launch 19 projects by end of 2015.
Sanofi reaffirms its commitment to improve shareholder return with a progressive increase of payout target, expected to reach 50% in 2014 from 35% for 2010.
If you look to its advanced stage R&D portfolio you see that it is a booming business.
At the beginning of February 2011, the Sanofi portfolio comprised 55 projects in clinical development of which 13 are in Phase III or have been submitted to the health authorities for approval.
click to enlarge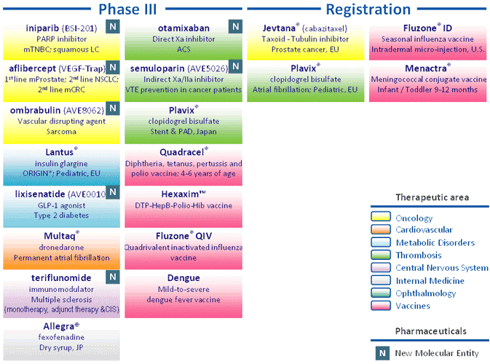 Click to enlarge
After the company already published good interim results in July and raised its guidance for the full year, this is another encouraging announcement. Their strategy plan is solid and ambitious, both in terms of cost cutting targets and in terms of growth prospects. It is clear confirmation of the 'new' Sanofi as it transforms itself into a leading biotech company.
Disclosure: I have no positions in any stocks mentioned, and no plans to initiate any positions within the next 72 hours.