When reading through the recent Salesforce.com (NYSE:CRM) Dreamforce Analyst Session presentation (obtain from the upper right hand corner box), a reader should be constantly struck by the desire to grow at all costs. Both Sales & Marketing and Research & Development costs soared beyond the rate of revenue growth. Another striking point is slide 55 that shows how the FY12 Guidance Midpoint for revenue has increased by $185M or roughly 9% while the Non-GAAP EPS has dropped. Now the earnings drop is mostly associated with the purchase of Radian6, but it further highlights how CRM is buying revenue.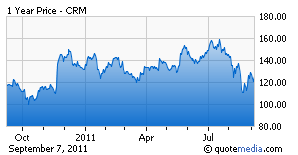 The company claims that the payoff better positions them for future growth. Growth at a cost, no doubt. With the company reporting $2.1B in annualized revenue, now might be the time to strop growing at the sake of profits. The expectation is that it'll increase the bottom line as it reaches maturity. One has to wonder if the cloud space breaks down the barriers to competition. Will a customer using a cloud service be that loyal when they aren't tied into expensive computer systems and software as in the past? Won't it be easier to switch from a cloud system than an operating system such as Windows from MSFT or SAP when those companies hit major growth scenarios?
Defining Period For Dominant Software Leaders
Slide 16 highlights the aspirations of the company based on past software leaders like Microsoft (NASDAQ:MSFT), Oracle (NASDAQ:ORCL), and SAP (NYSE:SAP). Apparently the sweet spot of growth is from $2B to $8B in revenue. My guess though is that the other companies were making cash hand over fist as they entered the dominant phase. Not to mention, due to inflation that sweet spot has surely increased dramatically, maybe even doubling.
CRM is interestingly following the Amazon.com (NASDAQ:AMZN) model of huge spending to fuel fast growth. Ultimately, even the low margins lead to nice profits. Investors appear happy with the plan as the company trades at a lofty forward P/E of 67. What happens though if the sector turns them into the Akamai (NASDAQ:AKAM) of cloud computing? AKAM remains a dominate play in CDN though margins have come under great pressure as competitors line up to chip away at customers, and hence, profitability.
Why not strive to be like all the other companies it lists or even the dominant tech company of the day in Apple (NASDAQ:AAPL)? AAPL proves that superior products and services should not only command a premium price, but sell themselves without massive outsized expenses.
Growth At All Cost
When reviewing the Q2 earnings report, one should be struck by the highlights seen below:
First enterprise cloud computing company to exceed $2.1B annualized revenue
Record quarterly revenue up 38% YoY
Deferred revenue up 37% YoY
Operating cash flow up 9% YoY
Total customers rise to 104,000 up 21,600 or 26% YoY
Did you catch the number that doesn't fit in that section? Seems like playing a kids game of finding the number that doesn't fit in the sequence. For a company with 38% revenue growth that dominates the cloud CRM space, it sure seems poor for operating cash flow to only grow 9%. Oh, and where is the mention of earnings per share?
Marketing & Sales expenses are a whopping 52% of sales. Though of the opinion that CRM has built a better system, my thought process comes into question when realizing that it takes more sales reps to keep revenue growth a float. The software apparently doesn't sell itself no matter how appealing.
Controversial Accounting
Recently an analyst from Bernstein Research, Mark Moerdler, asserted that CRM has substantially increased its reported results with the use of aggressive accounting practices. By far the biggest claim is that CRM capitalizes sales commissions instead of expensing them as incurred. While not illegal, the analyst claims the typical software company follows the more conservative model of immediate expensing.
While understanding the analyst's point of view, generally, even as a CPA I don't understand the accounting view that expensing commissions immediately and recognizing revenue over the period of the contract is valid. Sure, the expense is already spent, but it doesn't match the revenue with the expense. Ultimately though, with cash going out for the commission and cash coming in for the service, the cash flow statement might be a better view of this company.
The other issues are rather tame and I don't see them as a limiting factor for investing in this stock.
Conclusion
CRM can only be played as a momentum stock. When the song ends and the legs of growth are gone, the multiple will compress faster than a competitor will develop a better software system.
Slide 27 should scare any investor out of holding this stock. The chart shows how revenue growth has gone from 20% to 35%+ while S&M headcount growth has swollen from 10% to 50%+. Those aren't the trends a dominate software player should have after surpassing a $2B run rate.
Oddly, the market rewarded them for surpassing revenue growth targets and gave them a pass on earnings. This will not last.
Disclosure: I am long MSFT.