Holding a position in Silvercorp (SVM), I've naturally been watching the steady downward trend in the price with more than a bit of concern. Granted, silver's been much more volatile than gold, but other silver stocks, such as Silver Wheaton (NYSE:SLW) and Hecla Mining (NYSE:HL), have been slowly recovering from the shellacking that occurred after the sudden and unexpected rounds of margin increases on silver contracts that effectively caused a sharp pull back in the price of silver, and by extension, the silver miners. (I've owned SLW in the past, but have never owned HL).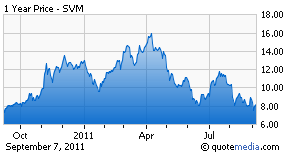 However, an item from Marketwire sheds more than a bit of light on the matter. An anonymous letter sent to the Ontario Securities Commission, the firm's auditors (Ernst & Young, LLP), and various media outlets suggests that there may be a "Potential $1.3 Billion Accounting Fraud at Silvercorp."
Naturally, company spokesman Dr. Rui Feng, the CEO, vehemently denies the allegations, saying:
this type of manipulative scheme is baseless and which depresses our share price and harms our shareholders. While we are fighting these manipulation schemes, we will continue with our ongoing share buyback program, increase our investor relations efforts, and continue to focus on growth through exploration, acquisitions, and mine development. We are pleased with our current operations and look forward to reporting another profitable quarter.
While I've certainly been aware of the ongoing problems with various Chinese stocks trading on western exchanges, often getting listed via reverse mergers which skirt the normal IPO process, I certainly did NOT see this one coming.
There are several aspects to this affair that make me question the validity of the accusations being levied against SVM.
1) The fact that the letter sent to the Ontario Securities Commission was sent anonymously. In the other cases of such accusations of fraud/malfeasance by Chinese firms, the folks making the accusations, like the firm Muddy Waters Research, did not hide behind the cloak of anonymity. Of course, it's possible that the whistle blower is a Chinese "Deep Throat"; that is, a highly placed corporate insider, in which case he (or she) could be justifiably skittish about disclosing their identity.
2) SVM has been paying dividends consistently since 2007. The annual amount/sh is as follows:
2007: $0.1492
2008: $0.0359
2009: $0.072
2010: $0.08
(Figures per Morningstar)
If SVM was some sort of "blue sky" mining scam, it doesn't seem likely that the firm would engage the payment of dividends. There are far too many ways to siphon off cash in a mining firm without raising any eyebrows to have to pay some dividends to cloak fraudulent activity.
3) Granted, it might be more than a bit difficult for an analyst or investor to make the trek to China (the Henan province, specifically) in order to verify all of the facts and details of SVM's mines and production, but the firm's in the process of applying for a Small Mine Permit in northern British Columbia for their Silvertip project, a silver-lead-zinc mine. The argument of hiding behind inaccessibility of their mines would hardly hold up in B.C., Canada.
SVM's 2011 general annual stockholders' meeting is to be held on September 23, in Vancouver, and no doubt, it will be an interesting one.
Sources:
Marketwire
Silvercorp company website
Morningstar
Disclosure: I am long SVM.