Global video game sales will rise to $68.4 billion by 2012 and are set to outpace growth from all other entertainment sectors. Although this massive growth will be led by console games, online ones will also see a substantial influx from $6.6 billion in 2007 to $14.4 billion in 2012. (source)
Hence, it comes with no surprise that Citigroup (NYSE:C) analysts have started to cover Activision (NASDAQ:ATVI) and Electronic Arts (ERTS), as they also anticipate the gaming industry's turn away from store-bought discs and toward online and mobile gaming.
The analysts have given a "Buy" rating to Activision given the wildly successful World of Warcraft game and its lucrative track record in China. EA has been given a "Hold" rating since it's unlikely it can achieve the same sort of traction that Activision has. (source)
We've dug a bit deeper by looking at 10 years of their financials and brought you some of their notable pros and cons.
Activision may be a stock to examine since it is undervalued, holds an impressive portfolio of games and its management has maintained satisfactory net profit margins. On the other hand, EA is overvalued, has been inconsistent in maintaining a good return on its investments and has not been able to deal with the competition as well as Activision.
Activision (ATVI)
Activision also seems to be making some noise among its fans as well as the Citi analysts. Just last weekend, Activision hosted a convention that brought together Call of Duty fans in huge airplane hangars, paintball fields and off-road tracks where they could immerse themselves in Activision's much-anticipated "Call of Duty: Modern Warfare 3" game. (source)
Activision's Growth Price (FCF), using a discount rate of 15%, shows that its stock is currently undervalued by 96.26%. Overall, its financial strength over the last 10 years seems strong, as it has experienced an increasing positive Free Cash Flow as well as an adequate Cash Return on Invested Capital since 2001.
(Click charts to expand)

Despite the impressive game portfolio, Activision is still in a competitive industry. Net Profit Margin has ranged from -3% to 11% and Capital Expenditure Ratio has yo-yoed over the last five years.


This sort of capital intensity is unsurprising given how much is at stake. The Call of Duty series generates billions of dollars in revenue but consumes more manpower than most video game companies have working on all of their franchises. (source)
See Our ATVI Report Here.
Electronic Arts (ERTS)
EA has also been moving into the mobile gaming space. EA has been trying to give away its premium brands for free on the Android OS, such as Tetris, to take advantage of the over 550 000 new Android devices activated daily. This move will utilize an ad-funded models, which is especially useful when games such as Tetris experience long gaming sessions. (source)
However, this may not be enough to entice investors. EA is currently overvalued by its Growth Price and Stability Price by 47.63% and 53.11% respectively and shows lackluster fundamentals across the board.
Although it has consistently had cash in the bank and the Cash Return on Invested Capital seems to show some improvement, Return on Equity remains poor.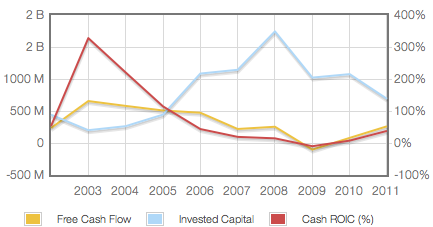 Moreover, a comparison of EA's Net Profit Margin to Activision reveals that it has found it difficult to deal with the increasingly competitive gaming space. Since 2006, net profit margin has ranged from -25.83% to 8%.

See Our ERTS Report Here.
Disclosure: I have no positions in any stocks mentioned, and no plans to initiate any positions within the next 72 hours.