A new back of the envelope table shows a number of interesting items:
Half of the value in the stock is its cash position. I had originally thought the company would pay more than it did for its acquisition of acreage in Montana. This cash position will slowly dwindle over the next year as it gets somewhat busier with the drillbit.

2Q volumes were in line with 1Q volumes, coming in at a mere 77 bopd due to weather related constraints. Recall that these guys report on a January 31 end, so this is still the second quarter that others reported a month back.

Current volumes are 600 bopd. Not a typo. No wonder management has been actively buying the stock during the market's recent pullback.

Management is now indicating a 2011 exit rate of over 1,000 bopd ... the old comment here made last quarter was that the year would exit close to 1,000 bopd. Sounds more confident now.

They company's added 2,000 more net acres in the Williston since last notice, bringing the total to 74,000. Not sure where those are so I've excluded them for now, but given where the stock is trading and giving no credit for anything but cash - not production and certainly not their other acreage positions - the Williston acres are carrying value of about $1,600 / acre. Time will tell if the Montana position is worth that, but on the whole, the number is cheap. If you give $0 per acre to the Montana position you are left with the North Dakota side at $3,800...still cheap. On to the table, more comments below it.
click to enlarge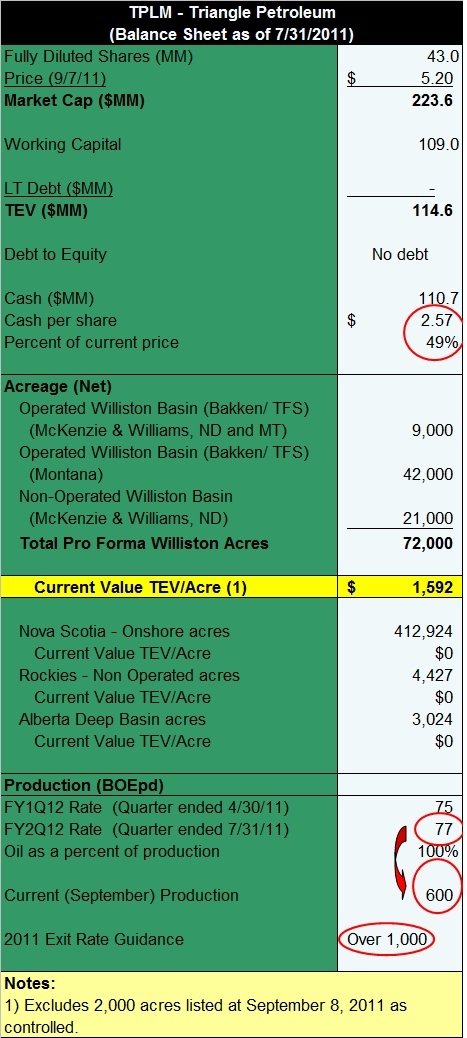 Highlights:
Announced 5 strong non-operated wells across McKensie, Dunn, and Williams with an average IP of 1,969 and an average working interest of 11.6%

Received its first permit for the long planned first North Dakota operated well

Announced it has hired an adviser to find a JV partner in the Williston

Capex budget for next twelve months is $136 mm, which is a one operated rig program and a continuance of the non-operated program. Sounds like it stays that way until it gets a JV partner and additional financing.
Nutshell: It's not yet about the operating numbers here, that's more of a 2012 story. Production was flat quarter to quarter due to weather, but the expected 2H11 ramp is underway with a bang now. Operating expenses for the quarter are largely not attributable to the company's main line of business in the Williston (frac pond expenses in their inactive Nova Scotia program), but going forward we should get a good look at how low cost of an operator their model will allow them to be.
The current run rate and reiteration of the exit rate along with the conservative stance towards spending should embolden some covering analysts to reiterate their Buy ratings on the name. We continue to hold an overweight position in the ZLT having added multiple trading positions in the name in recent months.
Conference Call: Today, 11 am EST. Looks like no webcast but dial in is (877) 331-9829 (participant passcode # 97272762). International parties may dial-in using (973) 935-8352
Disclosure: I am long TPLM.